Pressure Soars at Japanese Nuclear Reactor in Aftermath of Killer Quake
TOKYO, Japan, March 12, 2011 (ENS) – Power to cooling systems at two nuclear power plants in Fukushima prefecture was knocked out Friday by the biggest earthquake ever recorded in Japan, forcing thousands of nearby residents to evacuate as as pressures rose and workers scrambled to prevent meltdowns.
Police said Saturday that 420 have died and 784 are missing as a result of the massive 8.9 earthquake that struck at 2:46 pm local time Friday and the giant tsunami it unleashed.
The national government declared the country's first nuclear emergency and last night ordered 3,000 residents living within three kilometers (two miles) of the Fukushima Daiichi Nuclear Power Station and Fukushima Daini Nuclear Power Station to leave the area immediately.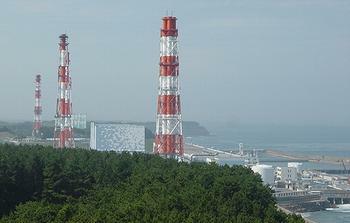 TEPCO's Fukushima Daiichi Nuclear Power Station (Photo by Kei)
A few hours later, the government widened the evacuation zone to 10 kilometers (6 miles) around each of the two power plants, forcing nearly 14,000 people to flee. Nuclear emergencies have been declared at both power plants, which are located just 11.5 kilometers (7.1 miles) apart in the region hardest hit by the quake.
A total of seven reactors were automatically shut down by the earthquake, but officials say they could still melt down if pressures inside the containment vessels rise too high.
Japan's Nuclear and Industrial Safety Agency said radiation levels had soared 1,000 times normal inside Daiichi's Unit 1 and were measured at eight times normal outside the plant near the main gate.
Officials began venting radioactive vapors from the Daiichi unit Saturday morning to relieve pressure inside the reactor. Damaged electric cables had to be reconnected before the venting could begin.
Tokyo Electric Power Company, TEPCO, which owns and operates the nuclear plants, confirmed that radioactivity is escaping from the Daiichi power station. "Measurement of radioactive material (Iodine, etc.) by monitoring car indicates increasing value compared to normal level. One of the monitoring posts is also indicating higher than normal level. We will continue monitoring discharge of radioactive material from exhaust stack and discharge canal," the company said Saturday morning.
The earthquake knocked out power at the Daiichi plant, and because power to the backup generators also failed, the cooling system was unable to supply water to cool the 460-megawatt No. 1 reactor unit.
A backup cooling system is being used, but the nuclear safety agency said pressure inside the No. 1 reactor has risen to more than twice the level considered normal.
Prime Minister Naoto Kan inspected the Daiichi nuclear power plant on Saturday and visited other affected areas. "I realized the huge extent of the tsunami damage," Kan told reporters back in Tokyo.
At TEPCO's Fukushima Daini nuclear plant, three reactor units are heating up even though they were automatically shut down when the earthquake struck at 2:46 pm local time on Friday, the company said.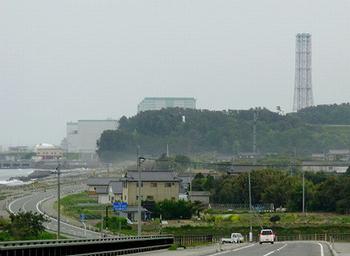 TEPCO's Fukushima Daini Nuclear Power Station (Photo by Kei)
A seriously injured worker is trapped in the crane operating console of the exhaust stack at the Daini plant. At 5 am Japan time Saturday, TEPCO said "his breathing and pulse cannot be confirmed." Another worker at the plant was slightly injured.
The outside measurement of radiation at Daiichi was far below the allowed limit for a year, report nuclear safety agency officials, who said it would take 70 days standing at the gate to reach a person's annual limit for radiation exposure.
Defense Ministry official Ippo Maeyama said troops trained for chemical disasters had been deployed to the plant in case of a radiation leak, along with four vehicles designed for use in atomic, biological and chemical warfare.
In Miyagi prefecture, a fire broke out in a turbine building of the Onagawa nuclear power plant, but it was later extinguished, said Tohoku Electric Power Co.
The magnitude 8.9 quake offshore the northeast coast of Japan's main island of Honshu island was the biggest to hit Japan since record-keeping began in the late 1800s.
It ranks as the fifth-largest earthquake in the world since 1900 and was nearly 8,000 times stronger than quake that devastated Christchurch, New Zealand last month, scientists said.
The U.S. Geological Survey said there were 123 aftershocks, 110 of them of magnitude 5.0 or higher.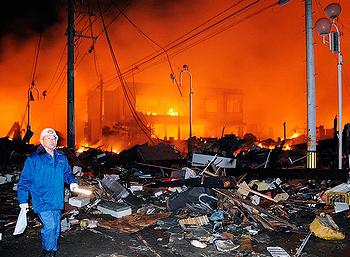 Ruins left by the earthquake burn in Iwaki City, Fukushima prefecture (Photo by Valter Figueira)
The quake and aftershocks rocked dozens of cities and villages along a 2,100-kilometer (1,300 mile) stretch of coast, damaging roads and bridges and snapping power and telecommunication lines.
Tall buildings in Tokyo, hundreds of miles from the epicenter, swayed. Tokyo's Narita International Airport was closed, subways, buses and trains in Tokyo and the surrounding area were stopped.
Prime Minister Naoto Kan, who was attending a parliamentary session at the time, has established an emergency response headquarters, which he is heading.
Chief Cabinet Secretary Yukio Edano said an initial assessment found "enormous damage," adding that the Defense Ministry is sending 8,000 troops to the hardest-hit region.
Fire broke out at the Cosmo oil refinery in the city of Ichihara and burned out of control with 30-meter flames roaring above the city.
The tsunami hit Hawaii before dawn Friday, with most damage done on the Big Island. The waves swept across beachfront roads and inundated hotel lobbies. The waves carried one house out to sea. Low-lying areas in Kahului, Maui's largest town, were flooded by nine-foot waves.
Police in southern Oregon and northern California say several people were swept off beaches Friday.
A 25-year-old man is presumed drowned after he was swept into the Pacific Ocean near the Klamath River in northern California. Police said the man and two friends went to the coast to take photos of the tsunami. His friends returned safely.
A brother and sister walking on the beach in southern Oregon were pulled out to sea by powerful tsunami waves Friday, Oregon State Police reported. Camping with friends between Gold Beach and Brookings, they had not heard about the tsunami or the earthquake in Japan. Two volunteer firefighters pulled the woman from the water; the man was able to swim free on his own.
Boats smashed together in marinas and harbors in northern California and Oregon and some were washed out to sea. Damages were estimated by authorities to be in the millions of dollars.
Copyright Environment News Service (ENS) 2011. All rights reserved.