Japan Quake Kills Hundreds, Shuts Nuclear Plants, Generates Giant Tsunami
TOKYO, Japan, March 11, 2011 (ENS) – An enormous tsunami generated by one of the strongest earthquakes on record smashed Japan's east coast Friday, claiming at least 300 lives, most in the tsunami-hit coastal city of Sendai. The death toll is expected to rise given the severity of the disaster.
Measured at magnitude 8.9 by the U.S. Geological Service, the quake struck off the northeast coast of Japan's largest island, Honshu, at 2:36 pm local time, resulting in tremendous damage across a wide area.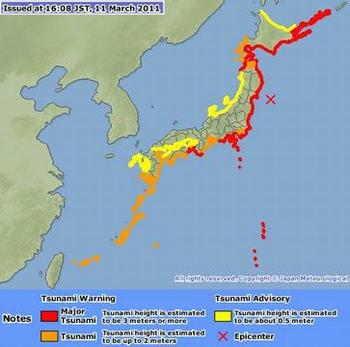 Tsunami impact map courtesy Japan Meteorological Agency
The initial quake was followed by more than 50 aftershocks, many of them greater than magnitude 6.0.
The earthquake unleashed a 7.3 meter (24 foot) high tsunami that has swept five kilometers (three miles) inland in Fukushima Prefecture and destroyed hundreds of homes in Iwate Prefecture.
Tsunami warnings were issued across the Pacific Ocean as far south as Antarctica and as far east as Canada, Alaska, the U.S. West Coast, Ecuador, Colombia and Peru.
All Pacific islands, including Hawaii, are on tsunami alert. People were ordered to evacuate coastal areas in Hawaii, the Philippines, Indonesia and Russia. In Guam, wave action caused two U.S. Navy submarines to break their mooring lines.
In Tokyo, Prime Minister Naoto Kan has established an emergency response headquarters with himself as the head to cope with the disaster.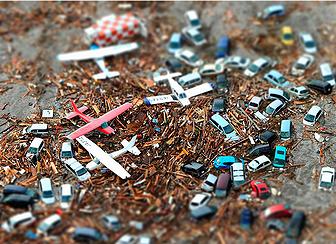 Devastation at the Sendai Airport, March 11, 2011 (Photo credit unknown)
The Prime Minister declared Japan's first-ever "nuclear emergency," but tried to reassure the public, saying, "As for our nuclear power facilities, a portion of them stopped their operations automatically. At present we have no reports of any radioactive materials affecting the surrounding areas."
Four nuclear generating stations – Onagawa, Fukushima Daiichi, Fukushima Daini and Tokai – automatically shut down following the initial earthquake, according to Japan Atomic Information Forum, JAIF.
At 10 pm Friday night, the government ordered 2,000 residents within a three km (two mile) radius of the Fukushima Daiichi power station to evacuate because the plant's emergency core cooling system has not been able to cool the reactor. The reactor is not leaking radiation but its core remains hot even after a shutdown.
TEPCO officials say water levels inside the reactors at the Fukushima-Daiichi plant are still falling. The company has been trying to restore its emergency power system so that it can add water to reactors to forestall the exposure of nuclear fuel rods. Nuclear fuel requires continued cooling even after a plant is shut down.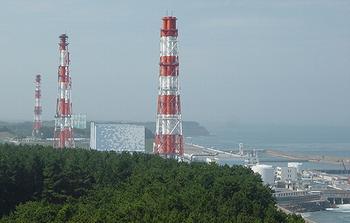 An emergency has been declared due to falling water levels at TEPCO's Fukushima-Daiichi nuclear power plant. (Photo courtesy TEPCO)
TEPCO authorities also reported a fire at the Onagawa nuclear power plant, which has been safely extinguished.
Aftershocks continue to threaten the nuclear power plants. A second earthquake of magnitude 6.5 has struck Japan near the coast of Honshu, near the Tokai plant.
JAIF also reports that the Rokkasho nuclear fuel reprocessing facility in Aomori prefecture is being powered by emergency diesel generators.
The Higashidori 1 nuclear power station, also located on Honshu's northeast coast, was shut down for a regular inspection. All other nuclear facilities are reported to be operating normally.
TEPCO says a total of about 3.8 million households initally lost power. The company has since restored power to most of its Tokyo customers, but power is still down for about 2.5 million customers across eight prefectures.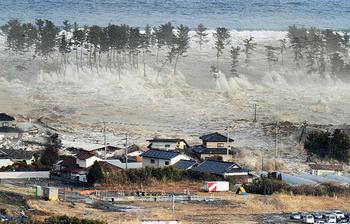 Tsunami wave at Natori City (Photo credits unknown)
The earthquake caused the shutdown of seven thermal power stations, 14 hydro power plants and many substations.
Japanese TV images show rubble, cars and boats being swept along at 40 km/h (25 mph), drowning people who could not escape. Muddy waves rushed upstream along the Natori river in Sendai city, flooding farmland.
The walls of water that hit nearly all Japanese coastal areas have damaged roads and broken telecommunications lines. Train services in northeastern Japan and in Tokyo, which usually carry more than 10 million people a day, have been suspended.
Tokyo's Narita airport is closed until further notice. A building near the harbor in Tokyo caught fire and burned, emitting clouds of black smoke over the city. Houses caught fire in Natori City as waves swept inland.
The Japanese government has mobilized some 8,000 troops for search and rescue and disaster assistance.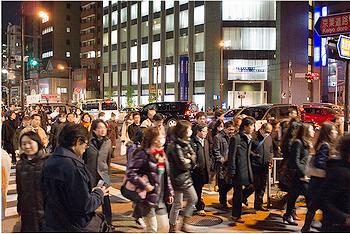 Unable to use subway, buses or trains, Tokyo residents try to reach home on foot. (Photo by Kenji Kai)
After an emergency cabinet meeting, Prime Minister Kan urged people to be calm, cautious and vigilant. "The government will make every possible effort to ensure the safety of the public and keep damage to the minimum possible extent."
UN agencies say they are on standby to assist in Japan and any other countries that may also be hit by tsunamis in the wake of the quake, which was one of the strongest in recorded history.
UN Secretary-General Ban Ki-moon said the UN would do all it could to mobilize humanitarian assistance and disaster risk reduction teams as soon as possible.
In his remarks today Ban noted that Japan is one of the most generous benefactors to other countries in the wake of a disaster.
Secretary of State Hillary Clinton said, "The U.S. Government has offered immediate disaster relief assistance, and we are working closely with the Government of Japan to provide additional help. Our consular officers in Japan and in the United States are working to gather information and assist U.S. citizens in Japan who may have been affected by the earthquake."
In Hawaii, the tsunami warning has now been downgraded to a tsunami advisory. Waves reached as high as nine feet in Kahului, Maui early this morning according to Maui Civil Defense. Gerard Fryer, a scientist with the Pacific Tsunami Warning Center, said the water reached a third of mile inland on Oahu.
Governor Neil Abercrombie said, "We were fortunate that a more destructive tsunami did not materialize."
"As we assess the extent of the damage here in Hawaii, our hearts go out to the people of Japan who have suffered and continue to suffer immeasurable loss as a result of this major earthquake, tsunami, and aftershocks," the governor said. "As one island people to another, we stand with them in solidarity and in sympathy for the challenges they face."
Copyright Environment News Service (ENS) 2011. All rights reserved.