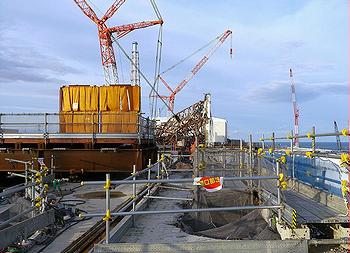 TOKYO, Japan, March 19, 2013 (ENS) – A power blackout occurred Monday at Japan's damaged Fukushima Daiichi nuclear power plant, knocking out the system that cools four pools of water holding spent fuel rods.
Operator Tokyo Electric Power Company, TEPCO, said the blackout took place just before 7 pm Monday. On Tuesday, TEPCO restored cooling systems for spent fuel pools at two of the three reactors affected by a power failure, but could not explain why the power had gone out.
The affected system is used to cool three pools containing about 2,100 spent fuel rods from the plant's number 1, 3, and 4 reactors, which suffered core meltdowns in the week following the March 2011 earthquake and tsunami that knocked out power to Fukushima Daiichi.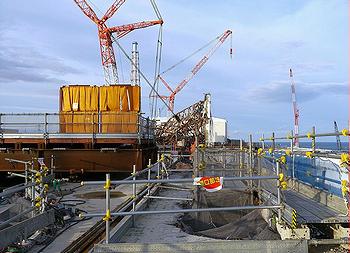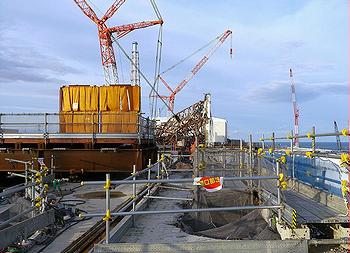 TEPCO said the blackout also has interrupted the cooling system for another pool containing about 6,300 rods, and it has also affected part of a system that disposes of contaminated water.
TEPCO officials said a total of about 8,500 spent fuel rods are stored in the four pools.
Company officials say the power outage has not halted the injection of coolant into the damaged reactors.  They reported that at four pm temperatures in the pools were measured at 25 degrees Celsius. Temperatures are said to be rising at 0.1 to 0.3 degrees Celsius per hour.
The officials said it will take about four days for temperatures in the pools to exceed 65 degrees – the legal limit. "There is no problem with the spent fuel pool water temperature control considering that there is a sufficient margin to the maximum allowed temperature (65°C)," TEPCO said in a statement.
No abnormality has been detected in radiation levels in areas surrounding the plant in Fukushima Prefecture, they said.
However, today a new all-time high radiation level was reported in a fish near the Fukushima Daiichi nuclear plant. The fish was caught at the port adjacent to the nuclear site, TEPCO said March 15.
A fat greenling, Hexagrammos otakii, a luxury delicacy in Japanese cuisine, was found to contain radioactive cesium at 7,400 times the government's food safety standard.
Government officials said the reading of 740,000 becquerels per kilogram is the highest ever recorded in sampling surveys of marine life done since the March 2011 disaster.
On Friday, the Abe Government began work to revamp Japan's energy policy. A subcommittee of the Ministry of Economy, Trade and Industry's Advisory Committee for Natural Resources and Energy held the first of a planned series of meetings which aim by the end of 2013 to draft a new plan to meet Japan's future energy needs.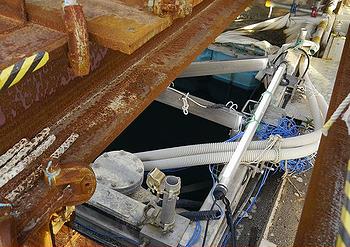 But in a discussion of the country's renewable energy facilities, the panel ignored a pledge by the previous government to phase out nuclear power, which had been supplying about 30 percent of the country's electricity until most nuclear plants were shuttered in the aftermath of the Fukushima Daiichi nuclear meltdown.
In 2012, the then-governing Democratic Party of Japan promised to close all nuclear plants by the end of the 2030s.
But the current administration, led by Prime Minister Shinzo Abe's Liberal Democratic Government, believes that move would undermine Japan's competitiveness.
In a February 28 speech to Parliament, Prime Minister Abe pledged to restart nuclear plants that can pass stricter guidelines.
The new guidelines are expected to be approved as early as July by the new watchdog agency, the Nuclear Regulation Authority.
Currently, most of Japan's nuclear plants are closed, or their operation has been suspended for safety inspections. The last of Japan's 54 reactors went offline for maintenance on May 5, 2012, leaving Japan entirely without nuclear power for the first time since 1970.
Despite protests from both the city and prefecture of Osaka, Unit 3 of the Ōi Nuclear Power Plant was restarted on July 1, 2012, and by September 2012, a second reactor at the Ōi plant also was restarted. These two are now Japan's only operating nuclear power reactors.
Copyright Environment News Service (ENS) 2013. All rights reserved.