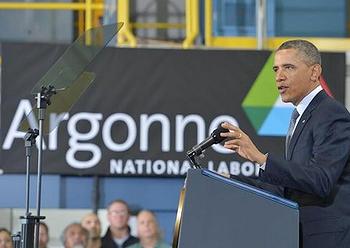 ARGONNE, Illinois, March 15, 2013 (ENS) – President Barack Obama today again called on Congress to establish a $2 billion Energy Security Trust for investments in research that will make the vehicle and fuel technologies of the future cheaper and better.
Speaking at the Argonne National Laboratory outside Chicago, where scientists have done breakthrough research in advanced batteries, President Obama reiterated the Energy Security Trust proposal he made in his State of the Union speech last month.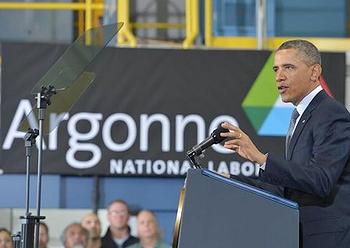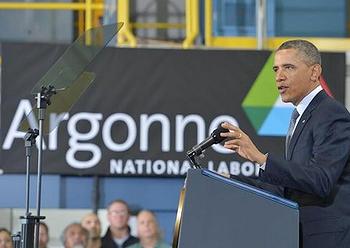 Concerned about the chilling effect of sequester budget cuts on scientific advancement, President Obama said an Energy Security Trust would help to keep scientists working. A trust fund would allow the government to "support American ingenuity without adding a dime to our deficit," Obama said.
"We can support scientists who are designing new engines that are more energy efficient; support scientists that are developing cheaper batteries that can go farther on a single charge; support scientists and engineers that are devising new ways to fuel our cars and trucks with new sources of clean energy – like advanced biofuels and natural gas – so drivers can one day go coast to coast without using a drop of oil," the President said.
Obama cited a new report issued today by the U.S. Environmental Protection Agency that shows America already is becoming a global leader in advanced hybrid and plug-in electric vehicles as well as fuel-efficient cars and trucks. From 2007 to 2012, vehicle CO2 emissions have decreased by 13 percent and fuel economy values have increased by 16 percent, the EPA reports.
"You walk into any dealership today, and you'll see twice as many hybrids to choose from as there were five years ago. You'll see seven times as many cars that can go 40 miles a gallon or more. And as costs go down," said Obama, "sales are going up."
"Last year, General Motors sold more hybrid vehicles than ever before. Ford is selling some of the most fuel-efficient cars so quickly that dealers are having a tough time keeping up with the demand," the President said. "So by investing in our energy security, we're helping our businesses succeed and we're creating good middle-class jobs right here in America."
"So we're making progress, but the only way to really break this cycle of spiking gas prices, the only way to break that cycle for good is to shift our cars and trucks off oil," he said. "That's why, in my State of the Union address, I called on Congress to set up an Energy Security Trust to fund research into new technologies that will help us reach that goal."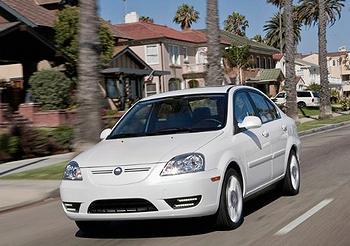 The President's proposal sets aside $2 billion over 10 years to support research into a range of cost-effective technologies – like advanced electric vehicles, homegrown biofuels, fuel cells, and domestically produced natural gas.
Obama told the Argonne audience that while he would like to take credit for the idea of an Energy Security Trust, he can't.
The proposal is modeled after a plan submitted by a group of former military leaders and business executives who are committed to reducing U.S. oil dependence. The group, called Securing America's Future Energy, or SAFE, is headed by retired Marine Corps Gen. P.X. Kelley and FedEx Corp. Chairman and CEO Frederick W. Smith.
The funds for an Energy Security Trust would be set aside from royalty revenues generated by oil and gas development in federal waters of the Outer Continental Shelf, which are already included in the administration's five year plan.
These revenues are projected to increase over the next several years based on a combination of leasing, production, and price trends, with additional revenues potentially generated as a result of reforms being proposed in the FY 2014 Budget. The Trust is paid for within the context of the overall budget, the White House said in a statement.
The President said, "The reason so many different people from the private sector, the public sector, our military support, this idea is because it's not just about saving money; it's also about saving the environment, but it's also about our national security."
"For military officials – like General Paul Kelley, a former Commandant of the Marine Corps – this is about national security," said Obama. " Our reliance on oil makes us way too dependent on other parts of the world, many of which are very volatile."
"For business leaders, like Fred Smith, the CEO of FedEx, this is about economic security, because when fuel prices shoot up, it's harder to plan investments, expand operations, create new jobs," he said.
"So these leaders all say we need to fix this," Obama said. "This is not a Democratic idea or a Republican idea. This is just a smart idea. And we should be taking their advice. Let's set up an Energy Security Trust that helps us free our families and our businesses from painful spikes in gas once and for all. (Applause.) Let's do that. We can do it."
Environmentalists welcomed the President's proposal – but with reservations.
Michael Brune, executive director of the Sierra Club, said, "While we applaud the President for proposing new investments in clean transportation innovations such as advanced battery technology for electric vehicles, hydrogen fuel cells and alternative fuels, we urge him to focus on these clean technologies rather than fossil fuel options like natural gas vehicles. If the President is truly serious about moving beyond fossil fuels and fighting the climate crisis, natural gas is not the answer."
"The Sierra Club strongly opposes opening up new land to destructive drilling and fracking, as has been proposed in Illinois," said Brune. "The President should instead go all in on electric vehicles and clean energy sources like wind and solar, while boosting common sense climate solutions like energy efficiency."
Alliance to Save Energy President Kateri Callahan said, "Every day we don't advance public policies to drive energy productivity is a day we waste energy and we waste money. Congress should join with the President today in the race to a more energy-efficient America."
Copyright Environment News Service (ENS) 2013. All rights reserved.