Poll: More Americans Now Believe in Climate Change
ANN ARBOR, Michigan, March 6, 2012 (ENS) – A growing number of Americans believe the global climate is warming, according to the latest National Survey of American Public Opinion on Climate Change.
This is the fourth year the survey was conducted by the Ford School of Public Policy at the University of Michigan and the Muhlenberg College Institute of Public Opinion.
The percentage of Americans who believe in global warming has reached its highest level since the fall of 2009, rebounding from a period of decline, according to the new nationwide survey.
About half of Americans point to their personal experiences with warmer temperatures as the main reasons they believe global warming is occurring, the pollsters found.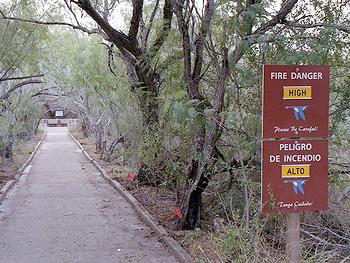 Fire danger warning sign at Santa Ana Wildlife Refuge in Texas, December 2011 (Photo by aerowrenchr)
A young man in Texas, which experienced record drought and high temperatures in 2001, identified the primary reason for his view that the Earth is warming to "temperatures last summer that were awful," while another young Texan stated that the "droughts this past summer" were the primary reason that she believed temperatures on Earth are increasing.
A male senior citizen from Illinois, who feels that there is solid evidence of global warming, told his interviewer, "Winters just aren't as cold as they were in the past."
On the other hand, people also fail to believe climate change is occurring based on personal experience. A young New Jersey woman told her interviewer, "our weather seems just as cold as in the past," while a middle-aged man in Minnesota observed, "we had more snow last year than ever."
In these cases and many others Americans turn first to the weather they experience as the key reason for their acceptance of global warming.
When the initial survey was done in the fall of 2008, 72 percent of Americans said they believed there was solid evidence that average temperatures on Earth have been getting warmer over the past four decades.
The number declined to 65 percent in the fall of 2009 and fell further to 58 percent a year later.
But the most recent survey shows that in the fall of 2011, the number rebounded to 62 percent, ending the period of decline.
Views about global warming continue to be split along party lines, with three out of four Democrats saying there is solid evidence for climate change, the polls said.
Republicans are almost evenly divided, with 47 percent agreeing there is evidence Earth is getting warmer and 42 percent believing there is not enough proof.
The survey found that most citizens who do not see evidence of increasing temperatures believe that scientists and the media are distorting the evidence. More than eight out of 10 of the non-believers said scientists are overstating the evidence.
By comparison, fewer than three out of 10 Americans who think global warming is occurring stated the belief that scientists are building up evidence of global warming to suit their personal interests.
The telephone survey, conducted December 4-21, 2011, involved calls to randomly selected households and cell phones throughout the United States. The margin of error for the 887 completed surveys was 3.5 percentage points.
Click here to view the full report.
Copyright Environment News Service (ENS) 2012. All rights reserved.
Environment News Service (ENS) © 2012 All Rights Reserved.