Native Americans Arrested Blockading Keystone XL Pipeline Trucks
RAPID CITY, South Dakota, March 7, 2012 (ENS) – Several dozen Native Americans critical of TransCanada's proposed Keystone XL tar sands pipeline Monday blockaded two large trucks in a six-hour standoff at Wanblee, South Dakota.
About 70 people joined the blockade, bringing food and water, and parking their vehicles across the road to prevent the trucks from traveling across the Pine Ridge Reservation in the south-central part of the state.
Eventually, five people were arrested by tribal police and the trucks went on their way to Canada under police escort.
One of the blockaders arrested was grandmother Debra White Plume, an opponent of the Keystone XL Pipeline project who also was arrested on September 12, 2011 protesting the pipeline in front of the White House with hundreds of other demonstrators.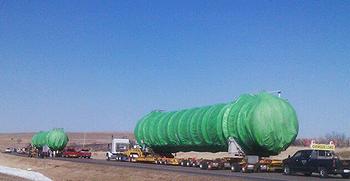 Totran trucks are blockaded at the Pine Ridge Reservation border. (Photo courtesy KILI Radio)
White Plume and her husband Alex White Plume as well as Sam Long Black Cat, Andrew Ironshells and Terrel Ironshells were taken to jail in Kyle, South Dakota, held for three hours, charged with disorderly conduct, and released on personal recognizance bonds.
The two trucks are owned by Totran Transportation Services, Inc. with offices in Calgary, Alberta and Houston, Texas.
Debra White Plume told the "Rapid City Journal" that the truckers said their company was saving money by driving through the reservation on their way to an oil field in Canada. She was told the trucks contained empty containers for drinking water, White Plume said.
She said the truckers were using reservation roads to avoid paying the state of South Dakota $50,000 per truck to use state highways.
Through the afternoon, KILI, a radio station on the Pine Ridge Reservation, posted a call for people to join the blockade several times on its Facebook page.
"XL Pipeline trucks are being held there at the border by our Lakota Oyate, OST Police and State Troopers in an effort to keep them from entering our territory," the KILI alert states. "Even the state troopers told the trucks they have to turn around and cannot bring their … pipeline or other materials on to our reservation."
The truckers refused to turn around, claiming they had corporate rights that supercede other laws.
"I told them nicely we did not want any trouble," Alex White Plume told the Native News Network after his release Monday night. "But we were determined not to let them use our roads."
Debra White Plume is a Lakota grassroots leader with Owe Aku, an Oglala Lakota organization in South Dakota that works to revitalize Lakota culture and on 1851 and 1868 Fort Laramie Treaty rights.
White Plume told "Censored News," after her arrest at the White House, "This is an issue of the full recognition of our right to say no, as sovereign independent indigenous nations. The colonial U.S. government doesn't have our best interest in mind, nor the rights of Mother Earth."
"Our Lakota people oppose this pipeline because of the potential contamination of the surface water and of the Oglala aquifer," White Plume said. "We have thousands of ancient and historical cultural resources that would be destroyed across our treaty lands."
TransCanada is seeking to build and operate a 1,700-mile-long pipeline that would carry heavy bitumen oil from the tar sands of northern Alberta to refineries in Oklahoma and on the Texas Gulf Coast.
While President Barack Obama in January denied a Presidential Permit to allow the pipeline to cross the U.S. Canada border, he has indicated he would be open to considering a new application once a route through Nebraska that avoids the Ogllala aquifer has been agreed.
TransCanada says it is preparing a new application and has devised a new Nebraska route that will be made public shortly. Meanwhile, the company is proceeding to build the portion of Keystone XL from Chushing, Oklahoma to refineries on the Texas Gulf Coast, which does not require a Presidential Permit.
Opponents of the Keystone XL pipeline warn that mining the heavy bitumen from Alberta's tar sands destroys the environment, transporting the oil threatens water supplies, including the Ogllala aquifer, and burning the oil would release a massive amount of climate-warming greenhouse gases into the atmosphere.
Copyright Environment News Service (ENS) 2012. All rights reserved.