Poll: More Americans Believe in Global Warming This Year
WASHINGTON, DC, September 16, 2011 (ENS) – More Americans today believe that global warming is occurring compared to one year ago, according to a new Ipsos poll conducted on behalf of Stanford University and Reuters news agency and released today.
Currently, 83 percent of all adults surveyed say that global warming has been happening while only 15 percent say they believe that it has not been happening.
The poll finds a statistically significant increase in the number of Americans who believe the Earth has been warming – from 75 percent one year ago in 2010 to 83 percent now.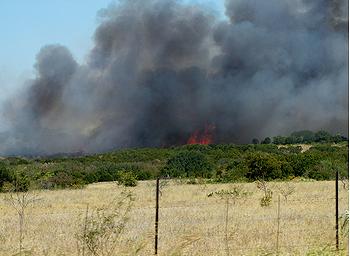 During the worst drought in decades, wildfire rips through parched trees and grass in Bosque County, central Texas, September 5, 2011 (Photo by Brittany Mclemore)
Global warming has been a central focus in the recent Republican presidential primary debates.
While attitudes on the climate issue differ between Democrats and Republicans, the divide is not as great as the political debate might imply, says the global market research firm Ipsos in its release of the survey results.
Almost three-quarters (72 percent) of Republicans believe global warming has been happening, as do 92 percent of Democrats.
Still, the survey also shows that the climate skeptics have become more certain in their beliefs that global warming is not happening. The IPSOS measure of certainty has risen from 35 percent in 2010 to 53 percent in 2011.
The percentage of those surveyed who are certain that climate warming has been happening also has risen over the past year, from 45 percent to 53 percent.
A large majority (71 percent) believe that if warming has been happening, it has been caused either partly (45 percent) or mostly (27 percent) by human activities, which 27 percent believe warming to be the result of natural causes.
On this issue, the political polarization is more apparent – 37 percent of Democrats believe global warming is the result primarily of human action, while only 14 percent of Republicans believe this.
Today, 43 percent of Republicans believe global warming is the result of natural causes, up from 35 percent in 2010. Self-identified Tea Party members display still more certainty (49 percent) that global warming is caused by natural events.
Looking forward, a large majority of those surveyed (72 percent) expect the world's temperature to continue rising over the next 100 years if nothing is done to prevent it.
Here too, Democrats are much more likely to believe in global warming's continued impact (88 percent) compared to Republicans (57 percent) or Tea Party members (49 percent).
The Reuters/Ipsos poll of 1,134 adults, including 932 registered voters, had a margin of error of three percentage points for all respondents and 3.1 points for registered voters.
Copyright Environment News Service (ENS) 2011. All rights reserved.
Environment News Service (ENS) © 2011 – 2012 All Rights Reserved.