Frankfurt Auto Show a Smorgasboard of Electric Mobility
FRANKFURT, Germany, September 15, 2011 (ENS) – The Frankfurt Auto Show swung into gear today with a full range of drive types unveiled at special events – classic drives optimized through hybridization, plug-in hybrids and range extended vehicles up to the pure battery-powered electric cars and vehicles powered by hydrogen fuel cells.
Held every two years, the world's biggest motor show was officially opened by German Chancellor Angela Merkel.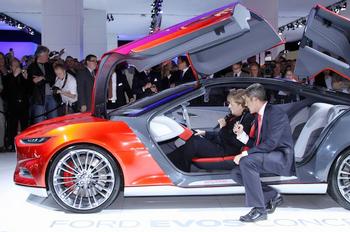 German Chancellor Angela Merkel takes the driver's seat of the Ford Evos Concept car at the Frankfurt Auto Show, accompanied by Matthias Wissmann, president of the VDA, September 15, 2011 (Photo courtesy Ford-Werke GmbH)
"Electro-mobility, electric and hybrid cars, are very much the window of the future," Chancellor Merkel said in her opening speech. "But one can't hold their breath for electric cars now."
Merkel estimated there could be as many as one million electric cars on the road by 2020, but "it would really take another generation of car buyers" before the trend is widespread in Germany, she said.
Matthias Wissmann, president of show organizer the German Association of Automotive Industries, VDA, said there are 1,012 exhibitors from 32 countries offering a total of 183 world premieres.
The automotive manufacturers alone are presenting 89 world premieres, and the suppliers have 94 world premieres, he said.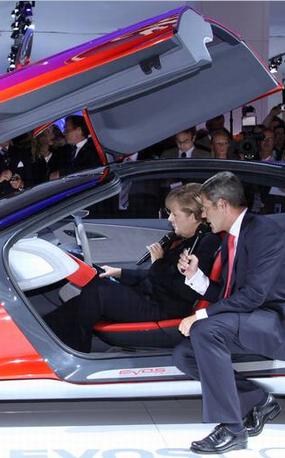 Angela Merkel and Matthais Wissman
Following two Trade Days, September 15 and 16, the show will be open to the general public from September 17 to 25.
This year, the Electric Mobility Congress is a first for the Frankfurt Auto Show. Exhibitors, politicians, journalists and visitors will discuss the future of mobility and of the automobile at the all-day Congress on September 21.
High-ranking representatives of the automotive industry from BMW, Daimler, Volkswagen and Robert Bosch will speak about electric mobility. Federal Minister of Transport Dr. Peter Ramsauer is expected to deliver a statement at the Congress.
Special sustainability events and symposia will focus on car-sharing, telematics and Europe's new carbon dioxide labeling for passenger cars.
The German government intends to help customers choose fuel-efficient vehicles by labeling passenger cars to show their energy consumption and greenhouse gas emissions. A CO2-efficiency label will be introduced at the end of 2011 that allows comparison of vehicles within their segment.
Vehicles will be assigned to classes ranging from A+ (green for high efficiency) to G (red for poor efficiency) depending on their CO2 output in relation to their weight.
Consumer information, in the form of labels showing a vehicle's fuel efficiency and CO2 emissions, must be displayed at the car's point of sale, on posters and promotional material.
Wissmann said, "The new eco-label offers customers genuine added value. It provides precise information about a model's overall effect on the climate, because on the one hand it indicates the absolute CO2 output of the vehicle and on the other its color-coded scale provides information about how efficient the car is within its particular category."
Sustainable mobility is well represented in the Hall of Electric Vehicles with over 20,000 square feet of exhibition space devoted to the topic of electric mobility.
Sampling a few of the electric mobility offerings…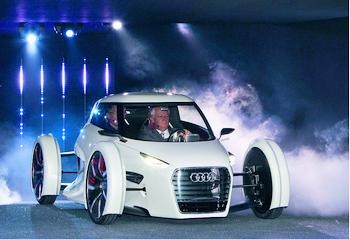 The Audi urban concept makes its debut in Frankfurt with rock-star staging for dramatic effect. (Photo courtesy Audi USA)
The Audi Urban Concept is a 1+1-seat, ultra-light car for congested urban spaces, built according to strict principles of lightweight construction, efficiency and reduction. Two e-tron electric motors provide the propulsion – giving the Audi urban concept the ability to accelerate powerfully. A lithium-ion battery supplies the energy.
Daimler is presenting the smart fortwo electric drive, the smart forvision with solar roof and lightweight high-tech plastic wheels and the F 125! research vehicle, which offers a glimpse of the zero-emission luxury sedan of tomorrow.
The SLS AMG E-CELL auto body shell being shown by Mercedes-Benz AMG is made out of lightweight carbon-fibre composite material, which is structurally integrated into the aluminium body shell and firmly bonded with it. The high-strength and stiff CFRP component helps to reduce weight, while also serving as a housing for the battery modules.
The carbon-fibre battery shell is conceived as a "zero intrusion cell" to meet the very highest expectations in terms of crash safety said Benz. It protects the battery modules inside the vehicle from deformation or damage in the event of a crash.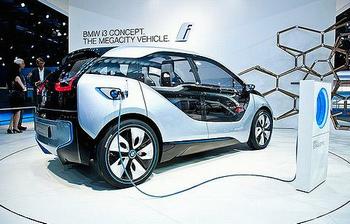 BMW's new electric i3 at the Frankfurt Auto Show (Photo courtesy BMW)
BMW's Rolls Royce is premiering its 102EX vehicle based on Rolls Royce's classic Phantom with an electric power train engine. BMW chairman Norbert Reithofer said at the show Tuesday the 102EX demonstrates that "zero-emission motoring is on the agenda" even for the luxury brands.
At the opposite end of the scale, BMW is presenting its petite electric i3, which saves weight through its high-tech carbon-reinforced plastic, and its i8 hybrid sports car. Both will be available at dealerships starting in late 2013.
Ford is holding several world premieres, most notably the Ford EVOS concept car and the ultra-low CO2 Ford Focus ECOnetic, which is set to be the most fuel-efficient car in its class when it goes on sale in early 2012.
The Fiesta ECOnetic has a certified CO2 emissions level of just 87 g/km, making it the lowest emission car in its class and one of the lowest on Europe's roads.
Ford's green credentials also are getting a boost from the new 1.0-litre EcoBoost engine.
"Ford is making a strong statement at the Frankfurt Motor Show, with several very exciting global product reveals and our significantly expanded show stand," said Stephen Odell, chairman and CEO, Ford of Europe.
"From the all-new Focus ST in five-door and Wagon version to the new Fiesta and Focus ECOnetic, we are excited to be showing our best ever vehicle line-up. We are also giving a glimpse into the future of Ford design with the stunning Evos concept," said Odell.
The Volkswagen brand is the world premiere of the new small car VW up in the heart of its exhibit. In addition, Volkswagen is using the NILS, a single-seater city car, a research vehicle that is operated electrically.
Volkswagen introduced several varieties of the new Up! microcar including the latest version of the eUp!, a battery-electric microcar that will come to market in 2013.
The electric Up! is expected to hit a top speed of 140 kmh, or just under 90 mph. Range on a charge is about 90 miles.
VW is going for a handful of microcars. One new version is expected to get 60 mpg, which means CO2 emissions of just 79 grams per 100 kilometers.
At the Opel stand on Tuesday the excitement centered around the unveiling of the all-electric tandem two-seater One Euro Car, intended to be affordable and ideal for younger drivers.
In addition, the series production Ampera, the first electric vehicle from a European manufacturer to enable "go anywhere at any time" mobility is on view, powered with a 16 kWh lithium-ion battery pack that feeds its 111 kW/150 hp electric drive unit.
Depending on driving technique, terrain and temperature, the Ampera delivers between 40 and 80 km of pure electric operation with zero emissions, enough range for the majority of daily drives in Europe. The petrol-powered range extender enables journeys of more than 500 km (300 miles) without stopping at a filling station.
And in front of Hall 4 another dozen electric vehicles sit silently at the ready. With a total of 183 world premieres the question is – where to next?
Copyright Environment News Service (ENS) 2011. All rights reserved.