Police in Six Countries Nab 25 Suspected Tiger Traders
LYON, France, October 13, 2010 (ENS) – An international law enforcement operation coordinated by INTERPOL against the illegal trade in tigers has led to the arrest of 25 individuals suspected of taking part in the illicit trade of one of the world's most endangered species.
The two-month operation in August and September involved national enforcement agencies in six tiger-range countries – China, India, Nepal, Russia, Thailand and Vietnam.
The entire operation was co-ordinated by INTERPOL's Environmental Crime Programme at its General Secretariat headquarters in Lyon.
INTERPOL worked in close collaboration with the participating member countries to provide a single platform to National Central Bureaus for the exchange and coordination of intelligence via INTERPOL's I-24/7 secure police communications system.
In Russia, criminal intelligence obtained by national authorities revealed key smuggling routes.
Direct enforcement action during the operation included the arrest by Indian authorities of 10 suspected wildlife criminals.
In Thailand, the Royal Thai Police arrested a number of alleged tiger smugglers connected to cross-border trade, including at Suvarnabhumi International Airport in Bangkok.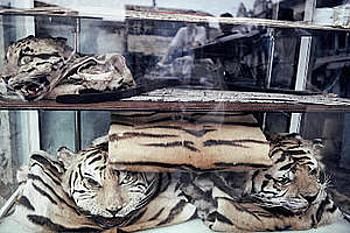 Skins of tigers and other rare cats are openly displayed for sale in Cholon District, Ho Chi Minh City, Vietnam. (Photo by Adam Oswell courtesy WWF/Canon)
In a single raid in Hanoi, Vietnamese police seized six whole tiger skeletons and six tiger skulls, while in a separate case two tiger carcasses were seized along with 50 kilograms of tiger bone. As few as 30 wild tigers are believed to survive in Vietnam.
In June, Vietnam's Environmental Police launched a 24-hour Wildlife Crime Hotline as a new enforcement measure in the battle against the illegal wildlife trade and other environmental crimes. More than 150 Environmental Police officers have been trained handle reports.
"The Government of Vietnam has strong laws in place to stop the illegal trade of protected plants and animals and the Environment Police is committed to enforcing these laws," said Capt. Luong Minh Thao, vice director of the Department of Environmental Police.
In addition to the 25 arrests during the two-month INTERPOL operation, more than 50 kg of tiger bone, including skeletons and skulls, were seized, and key smuggling routes broken up during raids across the six participating countries.
INTERPOL's Environmental Crime Manager David Higgins said, "The national agencies involved in this international operation supported by INTERPOL have shown unscrupulous criminals who target threatened species that action will be taken to combat their illegal activities."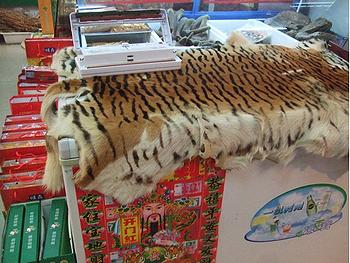 Tiger skin for sale in a herbalist shop in Yanji, China that was not part of the INTERPOL enforcement action. It may have come from Changbaishan, a Biosphere Reserve in northeast China at the North Korean border. (Photo by Michael Rank)
Fewer than 3,200 tigers remain in the wild as a result of loss of habitat and the involvement of organized criminal networks engaged in poaching and in the illegal trafficking of their skins and bones.
"It's great to see news of arrests of criminals rather than seizures alone," said Debbie Banks, who heads the Tiger Campaign for the UK-based nonprofit Environmental Investigation Agency, which investigates and campaigns against a wide range of environmental crimes, including illegal wildlife trade.
"Organized crime needs an organized response and Operation Tigre is a step in the right direction, but must be sustained," said Banks.
Conservationists hold out hope that concerted action and funding may be the outcome of a Heads of State Tiger Summit that will be held November 22-23 in St. Petersburg, Russia, hosted by Russian Prime Minister Vladimir Putin and World Bank President Robert Zoellick.
The summit aims to get unprecedented high-level commitment for tiger conservation from all of the 13 tiger range states.
Banks said, "Increased resources for slick, professional policing operations to bust the criminal networks controlling the tiger trade should be at the top of the agenda for the St. Petersburg tiger forum."
The global conservation organization WWF has been working with tiger range countries to strengthen protection for wild tigers. WWF hopes the St. Petersburg summit will deliver a high-level binding agreement committing countries to initiate actions, backed by sustainable financing mechanisms, to double the number of wild tigers by 2022.
Copyright Environment News Service (ENS) 2010. All rights reserved.