Solar Projects on Public Lands Highlighted at Solar Power International 2010
LOS ANGELES, California, October 13, 2010 (ENS) – Opening the Solar Power International 2010 Conference and Exhibition today in Los Angeles, Secretary of the Interior Ken Salazar signed off on the first large-scale solar project ever to be approved for construction on public lands in Nevada.
The Silver State Solar Project will supply more than 15,000 homes in Clark County, Nevada, with power generated by photovoltaic thin film solar panels manufactured by First Solar of Tempe, Arizona. First Solar acquired the project's original developer, NextLight Renewable Power, in July.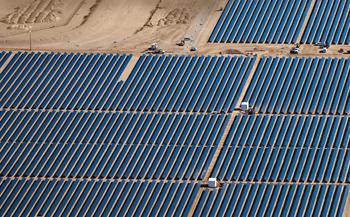 First Solar thin-film photovoltaic array at Boulder City, Nevada (Photo courtesy First Solar)
"Silver State is one of several renewable energy projects in the pipeline that will help Nevada and the nation create jobs as we build a clean energy economy," said Secretary Salazar, signing the Record of Decision. "This project will provide renewable energy that will help meet our nation's growing demand as we strive to become energy independent."
The 50-megawatt Silver State Solar Project will help Nevada meet its commitment to generate 25 percent of all power from renewable sources by 2025. It will be built on 618 acres of public lands in the Ivanpah Valley, 40 miles south of Las Vegas.
This flat, arid, sun-drenched valley lies between the Ivanpah Mountains in San Bernardino County and the New York Mountains on the California side, and in Clark County on the Nevada side.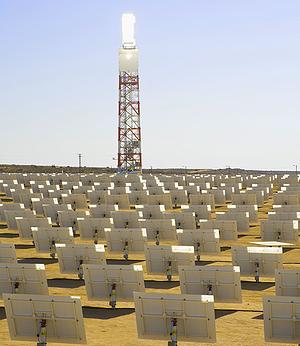 BrightSource power tower installation (Photo courtesy BrightSource)
The Ivanpah Valley is also the site of the 370-megawatt solar tower project by BrightSource Energy, which Secretary Salazar approved on Thursday.
For the first solar project on public lands to use power tower technology, BrightSource will place thousands of mirrors in the desert to track the Sun and reflect the sunlight to a boiler that sits atop a tower. When the concentrated sunlight strikes the boiler's pipes, it heats the water inside to more than 1000 degrees F. This high-temperature steam is then piped from the boiler to a standard turbine where electricity is generated.
Environmentalists object that the BrightSource project may displace or kill 30 rare desert tortoises, degrade a critical genetic linkage that helps to sustain a healthy desert tortoise population across the Mojave Desert, and destroy thousands of acres of ancient creosote scrub habitat with a high density of rare desert wildflowers.
BrightSource says the placement of its mirrors on posts will minimize the damage to tortoise habitat. California and federal officials are removing the desert tortoises before construction and resettling them elsewhere in the Mojave Desert.
BrightSource, which is backed by Google, Morgan Stanley, Chevron and BP, has signed contracts to supply 2,600 megawatts of electricity to California utilities, which must meet a state requirement to obtain 33 percent of their power from renewable sources by 2020.
Secretary Salazar told delegates to the Solar Power International event that the first four solar projects ever to be approved on U.S. public lands – totalling nearly 1,200 megawatts of power – have been greenlighted in the past 10 days.
"They are the firsts of their kind on public lands and some will be among the largest solar projects in the world," Salazar said.
"In San Bernardino County, we've approved Chevron Energy's 45-megawatt Lucerne Valley solar project," said Salazar. "It is the first large-scale solar project to use photovoltaic panels on public lands."
"In Imperial County, California, we've approved Tessera Solar's 709-megawatt Imperial Valley solar project," he said. "Imperial Valley will create more than 900 jobs, and it will be the first to make use of SunCatcher technology on public lands."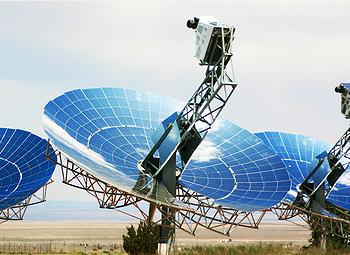 At sunrise, each SunCatcher dish automatically rotates to face the Sun. (Photo courtesy Tessara Solar)
The SunCatcher is a 25-kilowatt electrical solar dish Stirling system. It consists of a unique radial solar concentrator dish structure that supports an array of curved glass mirror facets, designed to automatically track the Sun, collect and concentrate solar energy onto a patented power conversion unit. This unit is coupled with, and powered by, an SES Stirling engine that generates power grid-quality electricity.
Tessera Solar worked in collaboration with environmental organizations, including the Natural Resources Defense Council, The Wilderness Society, and Defenders of Wildlife,to minimize the environmental effects of the project as originally proposed. The Imperial Valley Solar Project reached agreement last week with the environmental organizations on a suite of measures that are intended to ensure careful and considered phasing of this project.
During the federal and state reviews Tessera Solar moved the project out of sensitive desert washes, scaling it back to 709-megawatts, to reduce important impacts," said Natural Resources Defense Council's senior attorney Johanna Wald. "Tessera Solar then sat down with NRDC and our conservation partners and agreed to develop the project in two distinct stages and other measures, all of which went above and beyond the requirements imposed by state and federal regulators."
Salazar told conference delegates today, "These projects are milestones in our energy future. They show what great strides we are making through innovation and technology. And they reflect President Obama's focus and commitment to standing up America's renewable energy economy."
Salazar said the Obama administration is focused on clean, renewable energy generation to free the United States from dependence on foreign oil.
"We can't afford the risks that our energy dependence creates for national security, economic security, and environmental security," he said. "And we do so because we can't afford to fall behind China, Germany and India in the race for new energy technologies and renewable energy jobs. We will not accept second place."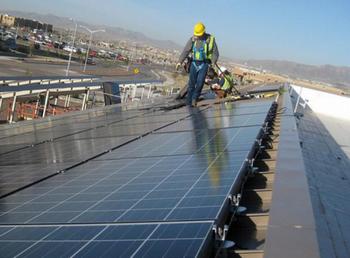 Workers install solar panels on the roof of a dining facility at Fort Bliss, Texas, August 25, 2010. (Photo courtesy U.S. Army)
In total, the four projects are expected to create approximately 2,000 jobs during the construction phase and about 200 permanent operations jobs.
At the conference, the Solar Energy Industries Association highlighted the strength of the U.S. solar job market in the face of high nationwide unemployment by launching the Solar Works for America (www.SolarWorksforAmerica.com) website. State-by-state solar employment data, solar companies and the personal stories and photos of local workers in all 50 states are featured on the site.
The Solar Foundation, a nonprofit research and policy organization, released a first-ever review of national solar employment.
The report, "National Solar Jobs Census 2010: A Review of the U.S. Solar Workforce," identified more than 16,700 solar employment sites and 93,000 solar jobs in all 50 states.
"Among other things, this study shows that investments made through Recovery Act — including the $2.3 billion in tax credits to U.S. based clean energy manufacturing — are already generating positive results," said Secretary of Labor Hilda Solis. "The solar energy sector is an increasingly important source of good jobs for Americans."
The report found that solar employers expect to increase the number of solar workers by 26 percent, representing nearly 24,000 net new jobs by August 2011.
"Over the past 10 years, a strong and vibrant solar industry has emerged through innovation, market forces and smart government policies to create thousands of jobs across the value chain from manufacturing and engineering, construction and sales, to installation and other supporting industries," said Rhone Resch, Solar Energy Industries Association president and CEO.
"This unprecedented census of jobs in the industry and the individual stories behind Solar Works for America illustrate that solar is indeed working for America in all 50 states and will only continue to grow stronger," said Resch.
"The Sun generates more energy in an hour than all the coal mines and oil wells in the world do in a year," said Margie Alt, executive director of Environment America. "This report shows we are on the way to tapping the Sun's potential, generating pollution free energy and a tremendous number of good, green jobs along the way. Strong leadership from Washington will be critical to turning this solar opportunity into a solar reality."
Copyright Environment News Service (ENS) 2010. All rights reserved.
Environment News Service (ENS) © 2010 – 2012 All Rights Reserved.