Polar Bears to Benefit from WWF-Coca-Cola Arctic Home Campaign
SEATTLE, Washington, December 6, 2011 (ENS) – The global conservation organization WWF and Coca-Cola, the world's largest beverage company, have partnered to conserve polar bear habitat in the High Arctic. Last night in Seattle the campaign was introduced at one of seven such events being held across the United States this holiday season.
By selling specially designed white cans of Coca-Cola imprinted with polar bears and white caps of bottles of its other beverage brands, the company intends to draw attention to the Arctic Home campaign and raise money to fund it.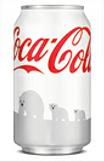 Coca-Cola's special edition white polar bear can (Photo courtesy Coca-Cola)
Coca-Cola is making an initial donation of $2 million to WWF and inviting its customers to donate. Customers are asked to text the package code to 357357 to donate $1 to WWF. They also can donate online at ArcticHome.com.
Coca-Cola will match all donations made with a package code by March 15, 2012, up to a total of $1 million.
"We're excited to partner with WWF on this important cause for the polar bear – a Coca-Cola icon since 1922," said Abby Rodgers, vice president of sustainability strategy and communications for the company. "We hope everyone will join us to help protect the bears' Arctic habitat by making a donation to WWF."
The proceeds from the Arctic Home campaign will fund a WWF project called the Last Ice Area. This area where summer Arctic sea ice is predicted to persist the longest in the face of climate change is in the northeast Canadian High Arctic and northern Greenland.
Polar bears need sea ice to survive because ice is the habitat of the ringed seals and bearded seals that are the bears' preferred prey, says WWF-Canada Arctic conservation biologist Pete Ewins, who attended the Seattle event.
"We're trying to stop the rate at which the sea ice disappears, a massive task," Dr. Ewins told ENS in an interview. "We need to curtail as quickly as possible our fossil fuel consumption and switch to renewable energy. It's our problem, human society created it and we have to fix it. We know what we have to do, we're just not doing it yet."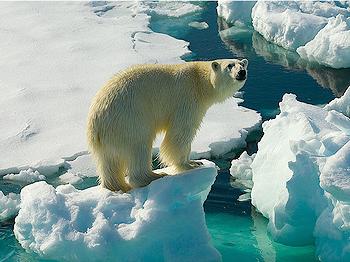 Polar bears are trying to survive on shrinking Arctic sea ice. (Photo by fieorenzo63)
Ewins says what is needed is to create an area covering some 500,000 square miles with different zones of protection rather than "the current paradigm in the U.S. and Canada," a rush to exploit natural resources.
Some of the core areas will be off-limits to oil and gas development, other areas would be off-limits to vessel traffic and other human activities, which are increasing as the Arctic warms.
"Numerous things are needed to get this done," said Ewins. "It involves all the stakeholders – the Inuit, communities, the oil and gas industry, the shipping industry, the governments."
WWF is already in discussions with the eight governments on the Arctic Council, where the conservation organization has been a permanent observer for 20 years, providing input to the council's relevant working groups.
"We've just started briefing," said Ewins. "The reaction has been largely favorable."
The lead Inuit organization, the Inuit Circumpolar Council, is facilitating discusssions on treating this area as special, given the predictions on climate change that foresee the melting of summer sea ice across much of the Arctic by 2050, said Ewins.
"We want to help the polar bear, a beloved Coca-Cola icon since 1922, by helping conserve its Arctic habitat," said Muhtar Kent, chairman and CEO of The Coca-Cola Company. "That's why we're using one of our greatest assets, our flagship brand, Coca-Cola, to raise awareness for this important cause. And by partnering with WWF, we can truly make a positive difference for these majestic animals."
"Polar bears inspire the imagination. They're massive, powerful, beautiful and they live nowhere else except the Arctic," said Carter Roberts, president and CEO of World Wildlife Fund. "Their lives are intimately bound up with sea ice, which is now melting at an alarming rate."
"By working with Coca-Cola, we can raise the profile of polar bears and what they're facing, and most importantly, engage people to work with us, to help protect their home."
To dramatize the plight of the polar bears, a new IMAX film is being created for the giant screen by MacGillivray Freeman Films, based in California.
Arctic Home TV commercials and website content feature sneak preview footage from the film, "To The Arctic 3D," which is scheduled for release in IMAX theaters in 2012. The film tells the story of a mother polar bear and her two cubs as they try to survive on the shrinking sea ice. View clips at www.arctichome.com.
"To The Arctic 3D," is the first film presentation of One World One Ocean, a multi-year, multi-platform nonprofit campaign established by company founder Greg MacGillivray to spark a global movement to protect the world's oceans.
"To the Arctic," the official companion book published by Braided River, offers 160 large-format color photographs of the Arctic in every season, taken by internationally renowned nature photographer Florian Schulz. See more at: www.WelcometotheArctic.org
"It's great to see Coca-Cola and WWF partnering to leverage their commitment to the polar bear in such a visible and meaningful way," said Steven Kazlowski, a wildlife and nature photographer based in Washington state, who shared his experiences over 14 years of photographing polar bears. His images were featured on the giant screen as part of the Arctic Home presentation. "We're proud to do our part here in the Pacific Northwest to inspire others to help protect the bear's Arctic home."
Copyright Environment News Service (ENS) 2011. All rights reserved.