Poachers Kill Hundreds of Elephants in Cameroon National Park
GENEVA, Switzerland, February 29, 2012 (ENS) – John Scanlon, secretary-general of the Convention on International Trade in Endangered Species, CITES, Tuesday expressed "grave concern" over the recent poaching of close to 450 elephants in Bouba Ndjida National Park in northern Cameroon.
He said the CITES program for monitoring the illegal killing of elephants shows increased levels of poaching in 2011.
"This spike in elephant poaching is of grave concern not only to Cameroon, a member state of CITES, but to all 38 range states of the African elephant, as well as the Secretariat," said Scanlon.
Elephant carcasses in Cameroon's Bouba Ndjida National Park (Photo courtesy IFAW)
"This most recent incident of poaching elephants is on a massive scale but it reflects a new trend we are detecting across many range states, where well-armed poachers with sophisticated weapons decimate elephant populations, often with impunity," warned Scanlon.
He said governments of the region are being offered support to find and bring to justice those responsible and to locate and seize the poached ivory. He is urging potential transit and final destination countries to "remain extremely vigilant and to cooperate."
Fourteen dead elephants were found in Bouba Ndjida National Park, Cameroon last week, slaughtered by poachers for their tusks, which were cut out of the carcasses. Shots were heard on February 20 in the Bouba Ndjida National Park in northern Cameroon, near the border with Chad. The 14 elephant carcasses were discovered two days later.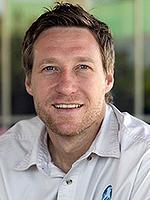 IFAW Elephant Program Director Jason Bell (Photo courtesy IFAW)
The latest dead elephants were found just a week after the discovery of at least 200 dead elephants in Cameroon, and more will be found in the coming weeks as gunshots continue to be heard, said Jason Bell, director of International Fund for Animal Welfare's Elephant Programme.
He warns that the area "is still too dangerous to allow a survey of the massacre or rescue of the roaming orphaned elephant calves and wounded adults."
Bell believes that Sudanese poachers who travel south through Chad on their way to Cameroon are likely responsible for the continuing slaughter of elephants. In the past few years, Chad's elephant population has plunged from several thousand to a few hundred, forcing the poachers further afield.
"They are targeting one of the most vulnerable elephant populations in Africa," said Bell. "The ivory from these slaughtered elephants is flowing out of Africa at an uncontrollable rate."
"Elephants killed by poachers experience tremendous fear and suffering before dying," Bell explained. "Often professional poachers – some of whom are former or current soldiers – are armed with military weapons such as AK47s. The AK-47 is designed to kill a person who weighs 70 to 80 kilograms. In order to kill an elephant weighing 5,000 kgs you have to use a lot of bullets and it can take a very long time for the animals to die."
From the environmental organization's office in Brussels IFAW European Union Director Lesley O'Donnell said this slaughter is "unprecedented" and called for "decisive EU action to confront both the humanitarian crisis and environmental crisis."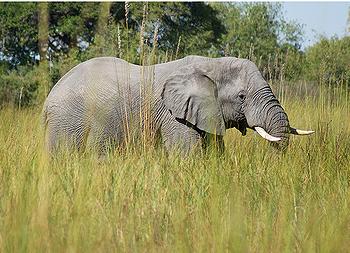 Elephant in Botswana's Okovango Delta (Photo by Dave Irving)
"These incursions by armed gangs of ivory poachers from Sudan are to raise money for arms purchases for use in regional conflicts – particularly ongoing unrest in Sudan and in the Central African Republic," O'Donnell said. "We need to recognize the link between elephant poaching and the harm inflicted on some of the world's most vulnerable people."
Elephants currently inhabit parts of 38 countries in sub-Saharan Africa. Although up to 70 percent of the African elephant's range is believed to lie in unprotected land, most large populations occur within protected areas such as Cameroon's Bouba Ndjida National Park.
Since 2004, the species, Loxodonta africana, has been classed as Vulnerable to extinction by the IUCN Red List of Threatened Species.
Their conservation status has improved since African elephants were listed as Endangered based on an assessment conducted in 1996 by the IUCN SSC African Elephant Specialist Group.
Conservation groups credit the upgraded listing to a CITES ban on international trade in African elephants and their parts that took effect in 1989.
IFAW and many other conservation groups blame the recent upsurge in elephant poaching on a legal "one-off" sale of ivory from African stockpiles to China and Japan allowed in 2008 by the Convention on International Trade in Endangered Species, CITES. A total of 108 tonnes of ivory from Botswana, South Africa, Namibia and Zimbabwe were sold.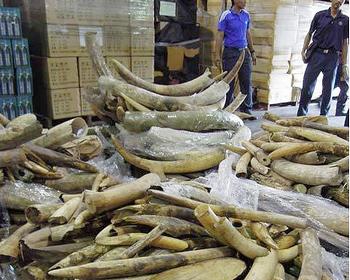 Part of the 1.4 tonnes of ivory seized in Malaysia in December 2011. (Photo © Elizabeth John courtesy TRAFFIC Southeast Asia)
Conservationists maintain that legal ivory sale increased demand and provided cover for illegal ivory trafficking. The result was a spike in ivory seizures in 2009.
Ivory seizures have increased since then with a total of 23 tonnes of ivory seized in 2011 – the highest amount since recordkeeping began. The seizures represent a small fraction of the total amount of ivory being trafficked around the world, IFAW points out.
O'Donnell said, "The only answer to ending the bloody onslaught against Cameroon's elephants and those under threat elsewhere in Africa is to kill the demand for ivory. The best way to do that is a clear and total international ban on ivory sales."
"Our first goal is to protect wild elephants so we have anti-poaching support for rangers and law enforcement – especially in West and Central African countries where elephants are most vulnerable," said Bell.
"We work with customs and enforcement officers to stop the traffickers as the ivory leaves Africa. We tackle the demand in China with public awareness campaigns to teach people that every piece of ivory comes from a dead elephant," Bell said. "We also work with CITES to try and stop any more of these one-off sales of ivory that serve only to spur demand and cause the deaths of elephants and the rangers who try to protect them."
Scanlon has designated Ben Janse Van Rensburg, CITES Chief Enforcement Support, as the point person for coordinating support for response to elephant poaching incidents.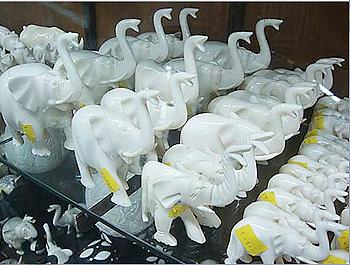 In March and April 2011, investigators found more than 8,300 ivory items illegally available for sale in Cairo, Egypt (Photo by Lucy Vigne courtesy TRAFFIC)
Van Rensburg is engaging with the countries concerned as well as with partners in the International Consortium on Combating Wildlife Crime – Interpol, the World Customs Organization, the United Nations Office on Drugs and Crime and the World Bank – to share intelligence that could be used to help bring the perpetrators to justice, to locate and confiscate the poached ivory, and to help prevent future incidents.
Tools such as wildlife forensics, DNA profiling and community-based anti-poaching are being explored as complementary tools to support the enforcement efforts from the governments.
The 2009-2012 spike in poaching that has been detected is affecting African elephants across much of their range. Illegal ivory seized overseas has been shipped from East, West, Central and southern Africa.
Scanlon says CITES authorities have not been able to identify the actual origin of the seized ivory, except for a few cases where it was possible to make DNA profiling analysis. Therefore, a national, regional and international approach to manage and conserve elephants is essential.
This most recent mass killing demonstrates the need for effectively implementing the Action Plan for the control of trade in elephant ivory that was created under the auspices of CITES, he said.
The African Elephant Fund launched last August at the 61st meeting of the CITES Standing Committee has collected US$250,000 in contributions from France, Germany, the Netherlands and the United Kingdom, and South Africa is expected to contribute shortly.
Anti-poaching enforcement efforts are expected to take a leap forward March 27-29, when the Interpol General Secretariat and the UN Environment Programme will welcome the international chiefs of environmental compliance and enforcement at Interpol Headquarters in Lyon, France.
Interpol said in a statement announcing the event, "Given the clear need to create a strong forum for chiefs of environmental enforcement, worldwide decision makers are coming for the first time together to design a global strategy to address environmental issues."
Copyright Environment News Service (ENS) 2012. All rights reserved.
© 2012, Jim Crabtree. All rights reserved.