Hawaii's Largest Wind Farm Breaks Ground on Oahu's North Shore
HONOLULU, Hawaii, February 28, 2012 (ENS) – On Oahu's North Shore Friday, Hawaii's venerable U.S. Senator Daniel Akaka, 87, joined officials of the First Wind company at the groundbreaking ceremony for construction of what will be the largest wind farm in Hawaii.
First Wind's 69-megawatt Kawailoa Wind project will have the capacity to generate enough clean energy to power the equivalent of 14,500 homes on the island – as much as five percent of Oahu's annual electrical demand.
"This groundbreaking for Kawailoa Wind is an historic occasion for Hawaii because, as the largest wind project ever in the state, it will harness enough clean, sustainable energy to provide power for thousands of families on Oahu," said Senator Akaka.
"Renewable electricity production makes our islands more energy self-sufficient, environmentally sustainable, and secure," he said, "which is critically important now and for future generations."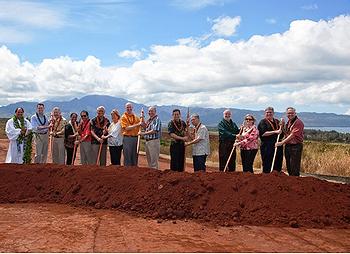 Politicians from all levels of government, community and company representatives at the groundbreaking ceremony for First Wind's Kawailoa wind project, February 24, 2012 (Photo courtesy Hawaii State Senator Mike Gabbard)
Hawaii, which imports 100 percent of its petroleum products, is engaged in a big push toward clean energy.
State law mandates 70 percent clean energy for electricity and surface transportation by 2030, with 40 percent coming from local renewable sources.
In December 2011, the Hawaii Public Utilities Commission approved a power purchase agreement between First Wind and the Hawaiian Electric Company, which serves more than 400,000 Hawaii customers.
"This project will be an important part of Hawaii's diverse portfolio of renewable energy resources. As the largest wind farm in Hawaii, Kawailoa represents a significant step toward reducing the impact of imported oil on our customers," said Dick Rosenblum, Hawaiian Electric Company president and CEO.
The 30 Siemens wind turbines, each generating 2.3 MW, will go up on Kamehameha Schools' Kawailoa Plantation lands on the North Shore.
Kamehameha Schools is the largest private landowner in the state of Hawaii. Founded in 1887 by the will of Bernice Pauahi Bishop, a descendant of Hawaiian royalty, and the great-granddaughter of Kamehameha the Great, Kamehameha Schools teaches Christian and Hawaiian cultural values and practices.
It is the policy of Kamehameha Schools to give preference to applicants of Hawaiian ancestry to the extent permitted by law. Income generated from its residential, commercial and resort leases, as well as diverse investments, fund the maintenance and operations of its several schools.
Kamehameha Schools began community consultation about the wind project in 2006, starting with the Hawaiian elders of the area to guide the process. First Wind also worked with federal, state, and county agencies to obtain the necessary permits and says the project reflects a "genuine collaboration" with the community.
Giorgio Caldarone, regional asset manager and renewable energy sector lead, Kamehameha Schools, said, "The Kawailoa Wind project is an integral part of our North Shore Plan and represents the continued commitment of Kamehameha Schools, through the support of the North Shore community, to positioning Kawailoa Plantation as an important provider of sustainable food and energy for the State of Hawaii."
"This project will not only help the State meet its renewable energy goals, but it will also help preserve and support continued agricultural production for future generations," said Caldarone. "Kamehameha Schools is committed to sustainability and to investing in projects today that will create positive outcomes for future generations."
Kawailoa Wind is the fourth project in Hawaii for First Wind, a company based in Boston, Massachusetts.
First Wind operates the 30 MW Kahuku Wind project, which is also located on Oahu's North Shore. The Kahuku project went online in March of 2011.
First Wind operates the 30 MW Kaheawa Wind project on Maui that began commercial operations in 2006. The company is currently building a second Maui wind farm. Combined, the two Kaheawa projects will have a capacity of 51 MW.
"Clean energy projects are a priority for the City and County of Honolulu because they are a priority for our future," said Honolulu Mayor Peter Carlisle at the groundbreaking ceremony. "Projects like this will benefit and position our city for the future."
Copyright Environment News Service (ENS) 2012. All rights reserved.