Petrol-Powered Cars Could Be Banned from European Cities by 2050
BRUSSELS, Belgium, March 29, 2011 (ENS) – Cars fueled by gasoline or diesel could be banned in European cities by the year 2050 under a new long-term transport strategy adopted by the European Commission on Monday. Automakers and environmentalists each expressed cautious support for the plan, leavened with many objections.
Called Transport 2050, the strategy would shift most passenger transport to high-speed rail, require the 40 percent use of sustainable low carbon fuels in aviation, and mandate a 40 percent cut in shipping emissions.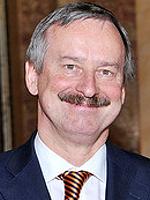 European Commission Vice President Siim Kallas (Photo courtesy ELDR Party)
EU Vice-President Siim Kallas, who is responsible for transport, said, "Transport 2050 is a roadmap for a competitive transport sector that increases mobility and cuts emissions. We can and we must do both. The widely held belief that you need to cut mobility to fight climate change is simply not true."
"We can break the transport system's dependence on oil without sacrificing its efficiency and compromising mobility," said Kallas. "It can be win–win."
The Transport 2050 roadmap to a Single European Transport Area aims to remove major barriers to transport infrastructure and investment, innovation and the internal market.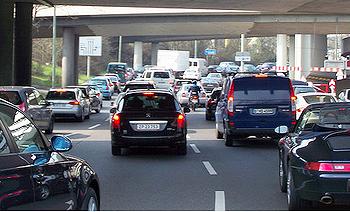 Caught in a Berlin traffic jam (Photo by Punkt)
In a White Paper issued Monday that outlines the new strategy for the European Union's 500 million citizens, the Commission says its goal is to create a Single European Transport Area with more competition and a fully integrated transport network which links the different modes and allows for a profound shift in transport patterns for passengers and freight.
For urban transport, that means a big shift to cleaner cars and cleaner fuels. The Commission plans a 50 percent shift away from conventionally fueled cars by 2030, and a phase-out in cities by 2050.
By 2030, less than 20 years from today, the strategy calls for movement of goods in major urban centers that would not emit any carbon dioxide, the greenhouse gas that is a major contributor to climate change.
Under the new strategy, by 2050 a European high-speed rail network would be complete and the majority of medium-distance passenger transport would be by rail.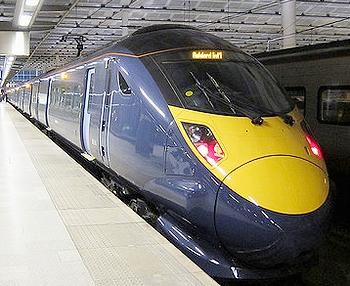 Britain's fastest domestic train service, the Javelin, at London's St. Pancras railway station (Photo by David Flett)
In the medium-term, by 2030, the strategy calls for tripling the length of the existing high-speed rail network and maintaining a "dense railway network" in all Member States.
Transport 2050 aims for 30 percent of road freight that travels over 300 kilometers (200 miles) to shift to rail or waterborne transport by 2030, and more than 50 percent by 2050. New efficient and green freight corridors would be developed to accomodate the shift.
All the measures outlined under the strategy would contribute to a 60 percent cut in transport emissions by the middle of the century, the Commission said.
The European Automobile Manufacturers Association, ACEA, said automakers support the "holistic" approach to transport but the White Paper "sends the wrong signal on the acknowledged principle of 'co-modality.'"
The automakers particularly object to the mandated shift of road freight transport to rail or water modes.
They say such a shift disregards the fact that the principle of "efficiency, rather than a prescription of transport means" to deliver the societal, economic and environmental results," was enshrined as "the main denominator of EU transport policy" in the 2006 White Paper Mid-term Review after broad consensus that the previous "modal shift" strategy failed the needs of society.
"The Commission, unfortunately, signals a policy u-turn," said ACEA Secretary General Ivan Hodac. "A similarly one-legged position is taken for, among others, medium-distance passenger transport and inner-city access."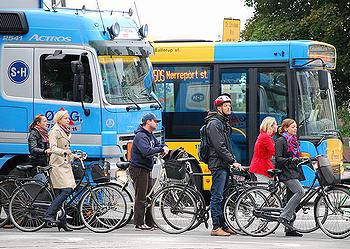 Bikes and buses in Copenhagen, Denmark (Photo by Kristina)
"A simple call for a decrease in the use of motor vehicles will not provide the easy solution it appears to be, because there will not be less demand for the flexible solutions that road transport provides in contrast to other modes," said Hodac.
Environmentalists in the United Kingdom said they support the general goals of Transport 2050, but disagree with some of the means for arriving at those goals.
Friends of the Earth UK's Transport Campaigner Richard Dyer said, "Weaning our transport system off its oil addiction is essential to protect people from soaring fuel prices and the planet from climate change. We're all paying the price for a transport policy that's been heading in the wrong direction for far too long."
"Phasing out cars that run on fossil fuels from cities is a good way to kick-start action, but despite these headline grabbing proposals the emission reduction targets in the plan lack ambition," said Dyer.
"Commercial biofuels are not the answer," he said. "There's growing concern that commercial fuel crops imported into Europe are destroying forests, driving people off their land and generating more emissions than they save."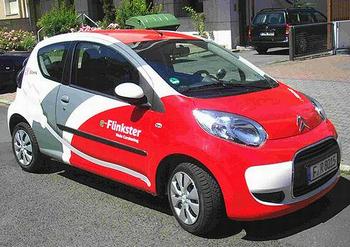 An electric car offered for car sharing in Frankfurt by the German company Flinkster (Photo credit unknown)
"Instead we need better public transport, smarter cars that use less fuel and more walking and cycling for shorter journeys," said Dyer. "And our planning systems must be overhauled to reduce the distances people need to travel for work or essential services."
The drivers behind this new transportation strategy are the increasing scarcity of oil, unstable sources of supply and the need to limit climate change.
In 2010, the European Union's oil import bill was around 210 billion euros. "If we do not address this oil dependence, people's ability to travel – and our economic security – could be severely impacted with dire consequences on inflation, trade balance and the overall competitiveness of the EU economy," the Commission said in its White Paper.
"At the same time, the EU has called for, and the international community agreed, on the need to drastically reduce world greenhouse gas emissions, with the goal of limiting climate change below 2 degrees C," the White Paper states.
Overall, the EU needs to reduce emissions by 80-95 percent below 1990 levels by 2050, in the context of the necessary reductions of the developed countries as a group, in order to reach this goal.
Commission analysis shows that while deeper cuts can be achieved in other sectors of the economy, a reduction of at least 60 percent of greenhouse gases by 2050 with respect to 1990 is required from the transport sector, which is a significant and still growing source of greenhouse gas emissions.
By 2030, the goal for transport will be to reduce greenhouse gas emissions to around 20 percent below their 2008 level. Still, the Commission admits, "Given the substantial increase in transport emissions over the past two decades, this would still put them eight percent above the 1990 level."
The ACEA says the European automotive industry is developing and investing in many different technologies and it is impossible to say today which technology will be best. "Most likely, the future will see a number of technological combinations entering the market, perhaps tailored for different usage, fuels, driving locations, circumstances and consumer preferences. The internal combustion engine will remain the dominant source of power in the coming decades, in part due to the high cost of alternatives," the industry association said.
Kallas said, "Competitive transport systems are vital for Europe's ability to compete in the world, for economic growth, job creation and for peoples' everyday quality of life. Curbing mobility is not an option; neither is business as usual."
Road safety has a central place in the Transport 2050 strategy, which set the goal to "move close to zero fatalities in road transport" by 2050. In line with this goal, the EU aims at halving road casualties by 2020.
A related goal of Transport 2050 is to ensure that the European Union is a world leader in safety and security of aviation, rail and maritime transportation.
Copyright Environment News Service (ENS) 2011. All rights reserved.