Majority of U.S. Oil and Gas Leases Lie Idle
WASHINGTON, DC, March 29, 2011 (ENS) – Roughly 70 percent of offshore oil and gas leases in the Gulf of Mexico and more than half of onshore leases on federal lands remain idle, neither producing nor under active exploration and development by companies who hold those leases, a new government report shows.
The report was requested by President Barack Obama on March 11 and released today by the Department of the Interior.
Interior Secretary Ken Salazar said, "We continue to support safe and responsible domestic energy production, and as this report shows millions of acres that have already been leased to industry for oil and gas productions sit idle."
"These are resources that belong to the American people, and they expect those supplies to be developed in a timely and responsible manner and with a fair return to taxpayers," Salazar said.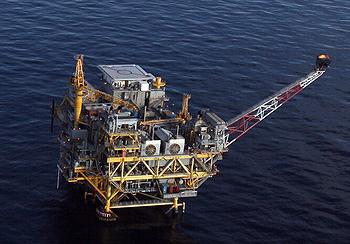 Oil platform in the Gulf of Mexico (Photo by Sean Gardner courtesy Greenpeace)
"As we continue to offer new areas onshore and offshore for leasing, as we have done over the last two years, we will also be exploring ways to provide incentives to companies to bring production online quickly and safely," the secretary said.
Information compiled by the Interior Department's Office of Policy Analysis from the U.S. Geological Survey, Bureau of Land Management, and Bureau of Ocean Energy Management, Regulation and Enforcement show that the department offered "substantial acreage for potential oil and gas development in 2009 and 2010 that was not subsequently leased by bidding parties."
In the Central and Western Gulf of Mexico, some 53 million acres were offered for lease in 2009, of which 2.7 million acres were bid on and sold.
In the Central Gulf, 37 million acres were offered in 2010, of which 2.4 million acres were bid on and sold, the report shows.
In addition, more than 70 percent of the tens of millions of offshore acres under lease are inactive, neither producing nor currently subject to approved or pending exploration or development plans, according to the report.
This includes almost 24 million inactive leased acres in the Gulf of Mexico, which potentially could hold more than 11 billion barrels of oil and 50 trillion cubic feet of natural gas.
For onshore leases, the review found that 45 percent of all leases and 57 percent of all leased acres are inactive. That means that out of a total of over 38 million leased onshore acres, almost 22 million are not being used.
But Erik Milito of the American Petroleum Institute refuted charges by administration officials and members of Congress that U.S. oil and natural gas companies are sitting on oil leases granted by the government.
In a statement to reporters March 24, Milito called the charges "political gamesmanship."
Milito said it costs millions and takes many years to develop an oil and gas lease with no guarantee that the leased area contains any oil or natural gas.
"It is ridiculous for anyone to imply that these companies would be willing to spend billions of dollars to acquire leases, and then simply sit on them while their competitors around the world are busy producing oil and natural gas," said Milito.
Salazar said the Interior Department is currently exploring policy options to provide companies with additional incentives for more rapid development of oil and gas resources from existing and future leases.
Copyright Environment News Service (ENS) 2011. All rights reserved.