Perry Asks Federal Aid for 'Mean' Texas Wildfires
AUSTIN, Texas, September 6, 2011 (ENS) – Months of extreme drought have sparked wildfires across the state of Texas that have taken four lives, engulfed 3.6 million acres and destroyed more than 1,000 homes.
Local and state firefighters have responded to more than 20,900 fires this season, one of the most devastating in Texas history, stretching their resources to the limit.
Spreading fast in hot, dry conditions, the worst fire is located in Bastrop County, about 30 miles southeast of Austin, the state capital.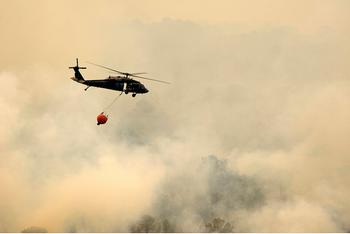 A Texas National Guard CH-46 Blackhawk flies right through the smoke to dump water over a wildfire near Bastrop, Texas, September 6, 2011. (Photo by Staff Sgt. Malcolm McClendon Texas Military Forces)
The Bastrop County Complex started on Sunday afternoon in the Lost Pines area just northeast of Bastrop. The blaze has now killed at least two people, bringing the death toll from the current crop of wildfires to at least four.
Uncontained, its cause under investigation, the Bastrop fire continues to rage rapidly south and east. Some 5,300 residents in numerous subdivisions and a local hospital have been evacuated. Nearly 600 homes have been destroyed.
Fire continues to threaten the powerplant located near HWY 21, with fire currently located adjacent to the plant. The fire is burning under a 4100 KW power line, and multiple power lines have been shut down. The fire's west flank is threatening Bastrop and is within two miles of the city limits.
On September 4, the Federal Emergency Management Agency regional administrator approved a Fire Management Assistance Grant request from the state of Texas for the Bastrop Fire. Heavy airtankers and single-engine airtankers are assisting efforts to control this fire.
Strong winds and low relative humidity from Tropical Storm Lee in the Gulf of Mexico caused numerous wildfires to spread rapidly on Sunday, according to the Texas Forest Service.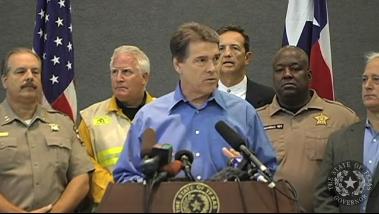 Texas Governor Rick Perry pledges the state's support to wildfire-stricken communities, September 6, 2011. (Image courtesy Office of the Governor)
Governor Rick Perry, a Republican, has reissued his disaster proclamation nine times this wildfire season; it was originally issued on December 21, 2010.
Perry, a Tea Party favorite who is campaigning for the Republican presidential nomination, cut short a campaign visit to South Carolina to return to Austin to deal with the fires.
Well known for criticizing federal government spending, Perry has since April been seeking federal assistance to pay for wildfire relief and preparedness.
In April, the governor sent a letter to President Barack Obama requesting a federal disaster declaration, which would have made the state eligible for direct federal assistance and emergency protective measures. The Obama administration denied this request on May 3. Governor Perry appealed the president's decision on May 26, and received partial approval of relief on July 1. Perry's request to expand the scope of federal relief is pending.
Today, Governor Perry took an aerial tour of wildfire damage in the Steiner Ranch community in Travis County west of Austin, and met with emergency management and local officials who have been battling fires there.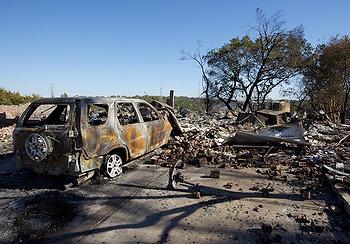 Home and cars ruined by wildfire Steiner Ranch area (Photo courtesy Office of the Governor)
On Monday, FEMA approved another Fire Management Assistance Grant request from the state for the Steiner Ranch Fire. At the time of the request, the fire had burned 300 acres, 40 homes had been destroyed, 500 homes and 1,000 people were threatened; 600 residents and 200 homes had been evacuated.
"These fires are serious and widespread, and as mean as I have ever seen, burning more than 1,000 homes since this wildfire season began," Perry said.
"Texas appreciates the resources and support we continue to receive from across the state and across the country to fight these fires, and the efforts of the brave men and women who put themselves in harm's way to protect Texans' lives and property," said the governor.
Texas Emergency Management Chief Nim Kidd said, "Our primary focus is on safety and protecting lives, and Texans need to heed all warnings, especially evacuation warnings from local officials. The Texas Division of Emergency Management is actively supporting local firefighting efforts across the state, and we will continue to provide all necessary assistance."
In the past seven days the Texas Forest Service has responded to 181 fires that have burned more than 118,400 acres, including new fires in Bastrop, Travis, Henderson, Limestone, Caldwell, Colorado, Montgomery and Grimes counties.
The Texas Forest Service also continues to battle existing wildfires, including major fires in Palo Pinto, Briscoe, Coryell and Montague counties.
State resources assisting with wildfire response include:
Texas Forest Service personnel and aviation assets, including 15 single-engine air tankers, 12 helicopters and 13 aerial supervision aircraft assets deployed to multiple fires;
Texas Military Forces, with 2 CH-47 Chinook Aircraft and 3 UH-60 Blackhawks assisting with fires in Bastrop County, 1 UH-60 Blackhawk staged in Austin to fight central Texas fires, 2 UH-60 Blackhawks assisting with the fires in Colorado County, and three ground wildfire support packages consisting of four dozers and 16 personnel each
Texas Department of Public Safety emergency management personnel, highway patrol troopers, air assets and a mobile communications center deployed to Bastrop County
Texas Department of Transportation is providing personnel, equipment and fuel to responders
Additionally, the Texas Intrastate Fire Mutual Aid System, a network of Texas fire departments willing to provide emergency resources to neighboring communities during the threat of disaster, is activated. TIFMAS resources deployed in Central Texas include 18 command vehicles, 72 fire engines and 121 personnel.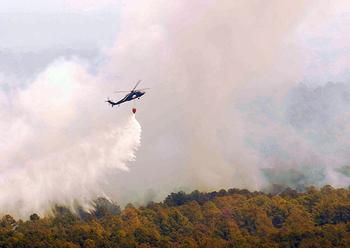 Texas National Guard CH-46 Blackhawk dumps its load of water on a wildfire near Bastrop, Texas, September 6, 2011. (Photo by Staff Sgt. Malcolm McClendon Texas Military Forces)
Additional National Guard Blackhawk helicopters as well as a heavy airtanker from South Dakota were mobilized Sunday.
Weather conditions reached critical levels again today. The Texas Commission on Environmental Quality is urging residents to "use their best judgment when near heavy smoke."
"If intense smoke can be seen and smelled, people should use common sense in evacuating areas where smoke levels are high," the agency advised.
Air monitors in South and Central Texas have shown elevated PM2.5 readings; however these readings are currently not at a level that is unhealthy for sensitive groups, the state environmental agency said.
Satellite imagery this morning shows a large smoke plume in Northeast Texas. It also shows patches of lingering smoke from previous fires this week, in parts of Southeast and South Texas.
Smoke contains small particles and gases that irritate the eyes and lungs, said the TCEQ. Exposures to high concentrations of these particles can cause persistent cough, phlegm, wheezing, and difficulty breathing. The agency warned that children, older adults, and people with pre-existing heart or lung disease are "more susceptible to lower levels of smoke than healthy adults."
Copyright Environment News Service (ENS) 2011. All rights reserved.