Dominion Virginia to Replace Old Coal Plants With Gas, Nuclear
RICHMOND, Virginia, September 7, 2011 (ENS) – Dominion Resources, Virginia's largest utility, says that within five years it will phase out two of its oldest coal-fired power plants – the Chesapeake and Yorktown plants located in coastal Virginia.
Dominion Virginia Power plans to use a mix of cost-effective generation, including biomass, new natural gas-fired units and coal-fired units converted to natural gas, coupled with additional conservation and load management programs to meet growing customer demand for electricity over the next 15 years, the company said in a statement.
In an update of its Integrated Resource Plan filed last week with the Virginia State Corporation Commission, Dominion said it expects total electricity demand to increase by nearly 30 percent by 2026, even after conservation measures are implemented.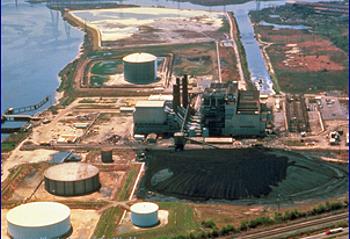 Dominion's Chesapeake coal-fired generating station. Four units were converted from oil to coal in the 1980s, the largest coal conversion program in the nation. (Photo courtesy Dominion Virginia Power)
The update also includes plans to erect new transmission lines and upgrade others.
Upcoming changes in federal environmental regulations, including those currently in draft form, are the reason Dominion plans to phase out the Chesapeake and Yorktown power plants, the company said in a statement
The coal-fired Chesapeake Energy Center would likely close by 2016, the company said. Two of the four units are expected to be shut down by 2015 and the remaining two units likely would be shut down a year later.
One coal-fired unit at the Yorktown Power Station, would likely close by 2015 and a second coal-fired unit would likely be converted to natural gas.
In addition, new air emissions controls may need to be installed on Yorktown Unit 3 and Possum Point Unit 5 in Northern Virginia, two large oil-burning units that provide power primarily during peak demand times.
"This is the most cost-effective course to meet expected environmental regulations and maintain reliability for our customers," said Dominion Chairman and CEO Thomas F. Farrell II.
"The spending is consistent with the company's previously discussed capital expenditure plans and is considerably less than what many other utilities are facing because of the efforts Dominion has undertaken in recent years to install necessary controls at its other stations," said Farrell.
The Sierra Club's Executive Director Michael Brune, who counts the closure of all coal-fired power plants as a victory for the organization's Beyond Coal Campaign, was pleased with Dominion's decision. "Today's announcement of the retirement of the Chesapeake and Yorktown plants in another critical win for the residents of Virginia," he said.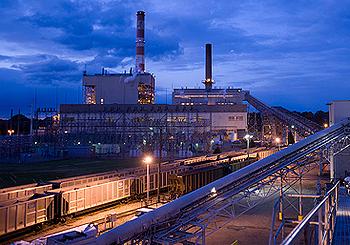 Dominion's Yorktown power plant has two coal-fired units and one that burns oil. (Photo courtesy Dominion)
"These two plants are a major source of pollution in coastal Virginia, and the decision by Dominion to responsibly phase them out means kids will have the opportunity to breathe cleaner air," said Brune. "Local activists and everyday Virginians have been working for years to ensure that plants like these get cleaned up or phased out; today they all celebrate this victory."
"We're extremely pleased with the announcement that Dominion will be retiring the 50-year-old Chesapeake and Yorktown plants," said Glen Besa, director of the Sierra Club's Virginia Chapter. "We are, however, disappointed that Dominion has not made a firm commitment to developing wind and solar power in Virginia."
"It is important that we use the retirement timeline of these plants to retrain their workforce and create new clean energy jobs," said Besa, "something which we could accomplish with offshore wind in the Chesapeake."
"Onshore wind in our neighboring states, like West Virginia, Pennsylvania and Indiana, is creating both clean energy and good jobs," said Besa. "We want Dominion to recognize that it's Virginia's turn."
Among the projects included in Dominion's environmentally-related expenditure plans would be a new 1,300-megawatt, natural gas-fired, combined cycle power station to be built at a location to be selected. If approved by regulators, the new station would be in service by 2016, Farrell said.
Improvements in the transmission grid are planned to maintain reliability in the Hampton Roads area following expected actions at Chesapeake and Yorktown stations.
Several of Dominion's generation projects now under construction or development will move forward, including:
the 585-megawatt Virginia City Hybrid Energy Center in Wise County
the repowering of the two coal-fired units at Bremo Power Station in Fluvanna County to natural gas
the 1,300-megawatt natural gas-fired Warren County Power Station near Front Royal, the application for which is pending before the State Corporation Commission
Planned generation facilities include another 1,300-megawatt, natural gas-fired power station to be in service by 2019 and 12 smaller natural gas-fired combustion turbine units coming into service between 2020 and 2026.
In addition, the company plans a third nuclear unit at the North Anna Power Station in Mineral, Virginia, to be in service in 2022.
"Regarding North Anna 3, we believe nuclear energy must play an important part in providing for our nation's energy security, reliability and affordability," Farrell said.
"We have not committed to move forward with the North Anna project, but are continuing the preliminary development work to enable us to make the right decision," Farrell said. "We expect to receive approval of our combined construction and operating license from the Nuclear Regulatory Commission in 2013, and plan to reassess the project schedule around that time."
The two-reactor North Anna plant shut down during the August 23 earthquake near the plant, with both units operating as designed. Ongoing analysis by both the Nuclear Regulatory Commission and Dominion indicates the earthquake may have subjected the plant to more ground movement than specified in its design.
An NRC Augmented Inspection Team has been at North Anna for the past week and plans to continue its work through next week. When the team completes its inspection, the NRC will hold a meeting in the North Anna area to discuss preliminary results, and a final report is expected by the middle of October.
Copyright Environment News Service (ENS) 2011. All rights reserved.