Penn State Clears Climate Scientist Mann of Climategate Wrongdoing
UNIVERSITY PARK, Pennsylvania, July 1, 2010 (ENS) – A Pennsylvania State University investigative committee today cleared a well-known Penn State climate scientist of research misconduct, in connection with pilfered e-mails about global warming called Climategate.
Penn State meteorology professor Michael Mann has been cleared of any wrongdoing, according to the report resulting from the four-month long internal investigation that was released today.
Mann was under investigation for allegations of research impropriety that surfaced last year after thousands of stolen e-mails were published online.
The e-mails were obtained from computer servers at the Climatic Research Unit, CRU, of the University of East Anglia in England, one of the main repositories of information about climate change.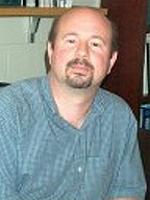 Dr. Michael Mann in his lab at Penn State (Photo courtesy Penn State)
The five-member panel of tenured professors at Penn State unanimously determined that Dr. Mann "did not engage in, nor did he participate in, directly or indirectly, any actions that seriously deviated from accepted practices within the academic community for proposing, conducting, or reporting research, or other scholarly activities."
While determining that there is no substance to the allegations against Dr. Mann, the panel did find some fault with his behavior.
"On the issue of whether Dr. Mann distributed privileged information to others to gain some advantage for his interpretation of climate change the committee considered 'Dr. Mann's actions in sharing unpublished manuscripts with third parties, without first having received express consent from the authors of such manuscripts, to be careless and inappropriate.'"
In an interview today with the nonprofit Climate Science Watch, Mann said, "I was pleased that the committee, which was made up of a blue ribbon panel of leading Penn State scientists, found that I had not engaged in anything that could in any way be described or assessed as misconduct. They were unanimous on that point, that there was in fact no evidence of scientific misconduct."
He said that in addition to his own exoneration, the claims made by climate change skeptics and deniers based on the documents hacked from the CRU servers have all been shown to be "incorrect, do not stand up to scrutiny."
"There is no evidence of any impropriety on the part of the scientists," he said. "There's no indication of the fudging of data. There's no indication of any of the things they claim that these emails showed. And every investigation that's been done thus far has concluded that."
Mann said today that he and other climate scientists have been the targets of "smear campaigns" and "character assassination" by "those who continue to deny that climate change is a problem."
"I think there's a concerted, well-organized, and very well-funded campaign to attack climate scientists – not just the science but the scientists themselves. This campaign has been funded by industry special interests who don't want to see action taken to combat the problem of climate change," said Mann.
Mann is famous for his 1999 "hockey-stick" graph of Earth's temperatures over the past 1,000 years. It illustrates the rapid, recent rise in the Earth's temperature. The graph has long been under attack by climate change skeptics and deniers, who Mann says are behind the stolen emails, although the perpetrators have not yet been found.
"There was the criminal hack into the Climate Research Unit's (CRU) server, where they obtained thousands of emails. But apparently they're not happy with that, so the climate change denial movement has now sought to obtain even more personal emails of climate scientists by using legal attacks against their institutions," Mann told Climate Science Watch director Rick Piltz.
"I know of at least a half dozen cases where conservative groups, including the Landmark Legal Foundation, another is the Southeastern Legal Foundation, another of the groups is the Competitive Enterprise Institute. Now these are all fossil fuel industry-funded front groups or groups funded by people like, for example, Richard Mellon Scaife. They're using legal maneuvers now to try to obtain personal emails from scientists, from their institutions, so they can go through this whole process again," he said.
Dr. Mann's personal emails along with other documents related to his climate change research from 1999-2005 are being sought in a legal action brought by Virginia Attorney General Ken Cuccinelli that is being resisted by the University of Virginia, where Mann worked during those years.
Calling the attorney general's Civil Investigative Demands "unprecedented," the University of Virginia says their "sweeping scope is certain to send a chill through the Commonwealth's colleges and universities."
Cuccinelli's legal action is brought under the Virginia Fraud Against Taxpayers Act, which does not apply to the grants Dr. Mann received during this period, which came from the federal government or the university, not from the Commonwealth, the university argues.
Mann said today, "I guess they want to go back and mine even more emails in the hope that they can further distort the work of climate scientists, in the hope that they can find words or phrases to try to embarrass scientists. But they have fundamentally failed in their effort to prove that climate change is a grand hoax, a grand conspiracy. It appears, however, that they haven't give up on their efforts to intimidate climate scientists and to try to dig for more dirt."
Dr. Joseph Romm, the editor of Climate Progress and a senior fellow at th Center for American Progress, commented, "Mann isn't merely a competent researcher. He is one of the leading climate scientists in this country, which of course is precisely why the anti-science crowd has gone after him, much as they have with other leading climate scientists, including [Dr. James] Hansen and [Dr. Ben] Santer."
"And that's one more reason why the major media outlets who smeared and defamed him owe him an apology and a retraction," said Romm.
Dr. Mann received his undergraduate degrees in physics and applied math from the University of California at Berkeley, a masters degree in physics from Yale University, and a PhD in geology and geophysics from Yale.
He was a lead author of the Intergovernmental Panel on Climate Change Third Scientific Assessment Report, and has served as chair for the National Academy of Sciences 'Frontiers of Science.'
He has received the outstanding publication award from the National Oceanic and Atmospheric Administration, and in 2002 was selected as one of the 50 leading visionaries in science and technology by "Scientific American." He is author of more than 120 peer-reviewed and edited publications, and recently co-authored the book "Dire Predictions: Understanding Global Warming" with colleague Lee Kump. He is also a co-founder and contributor to the award-winning science website "RealClimate.org."
Copyright Environment News Service (ENS) 2010. All rights reserved.