Hurricane Alex Spares Texas, Kills Eight in Mexico
BROWNSVILLE, Texas, July 1, 2010 (ENS) – Hurricane Alex made landfall Wednesday night in northeastern Mexico as a Category Two storm, hammering residents of the Mexican Gulf coast and south Texas with heavy rain and winds.
About 2 am local time, the first Atlantic hurricane of the 2010 season blasted ashore in central Tamaulipas state, near the fishing town of La Pesca and about 20 miles north of the inland city of Ciudad Victoria.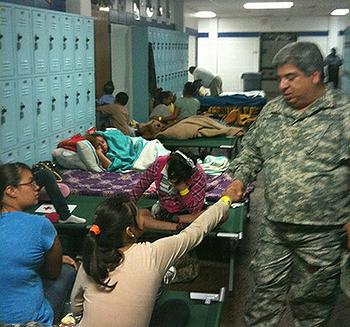 Texas State Representative Aaron Pena talks with evacuees in Brownsville. June 30, 2010 (Photo by Ryan Guillen)
Landfall missed Brownsville, which lies about 110 miles to the north, but flooding rains and gusty winds put sections of the city underwater. Highways and bridges were closed but have since reopened as crews work to pump water from flooded neighborhoods.
State Representative Aaron Pena, a member of the Texas State Guard was activated and deployed to serve during the emergency. "During the build up to Alex, the state deployed a multitude of resources, pre-staging them in critical locations across the Rio Grande Valley," he said. "Shelters, meals, fuel, rescue teams and Texas Military Forces were in place and prepared before landfall Wednesday night."
Rio Grande Valley residents of at-risk neighborhoods took shelter at 17 shelters across the valley.
"The Rio Grande Valley is now in re-entry and recovery mode," said Pena. "Standing water will be drained, power is being restored and emergency resources will slowly and methodically begin to demobilize. Flash flood conditions remain and a tornado watch is still in effect until tonight."
Yesterday, President Barack Obama issued an emergency disaster declaration for Texas that enables the Federal Emergency Management Agency to identify, mobilize and provide the needed equipment and resources to deal with the emergency.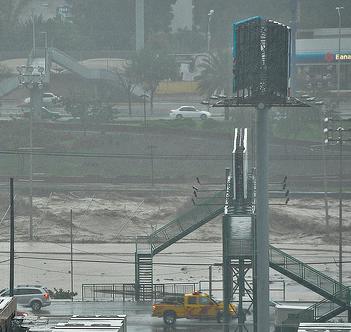 Hurricane Alex pummels Monterrey, Mexico, stirring up the Santa Catarina River, which is dry most of the year. July 1, 2010 (Photo by Fred Turner)
Texas Governor Rick Perry issued a state disaster proclamation for 19 counties.
Much of the neighboring coastal city of Matamoros was flooded this morning, said the city's director of the Civil Protection Saul Hernandez Bautista. Some 2,500 people were evacuated to shelters and Bautista said there were no fatalities due to the storm.
Farther west, eight people died in two separate incidents in Monterrey, the capital city of the northern Mexican state of Nuevo Leon, authorities said today, although the state civil protection department evacuated 5,000 residents to emergency shelters.
Jorge Camacho Rincon, head of Nuevo Leon's civil protection department warned at a news conference that residents "should consider the hurricane as a danger across the whole of the state's territory." He urged vigilance on the part of those living near rivers, streams and canals.
Some 17,000 people were evacuated from coastal fishing towns in the Mexican state of Tamaulipas and the state's largest city Reynosa, with some 500,000 residents, is at risk of serious damage from high winds and flooding, Tamaulipas officials said.
The government of Mexico has sent some 2,500 troops to the area to provide relief and rescue.
Alex continues to weaken as it moves further inland across northeastern Mexico. The National Hurricane Center in Miami says outer rain bands associated with the storm continue to develop across portions of deep south Texas and move westward and the threat of heavy rainfall is forecast to persist through tonight.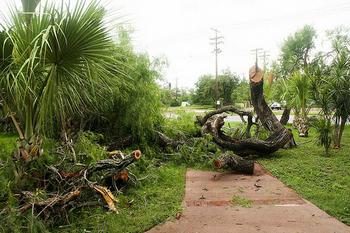 Hurricane Alex broke trees on the University of Texas campus at Brownsville. (Photo by UTB)
Although all watches and warnings now have been discontinued, the National Hurricane Center said Alex is expected to produce total rainfall accumulations of six to 12 inches over parts of northeastern Mexico today with isolated amounts of up to 20 inches.
Southern Texas will get rainfall accumulations of four to eight inches, with possible isolated amounts around 10 inches. The storm tide and waves will gradually diminish today. Isolated tornadoes are reported in parts of southern Texas.
As it moved up the Atlantic coast of Central America, the storm killed five people in Nicaragua, three in El Salvador and two in Guatemala.
Seven hundred miles away, across the Gulf of Mexico, the waves created by Hurricane Alex kept the BP oil spill cleanup boats in port.
U.S. Coast Guard Commander Charles Diorio based in Mobile, Alabama told reporters that no oil skimming operations could be conducted because of high seas and air surveillance of the massive oil spill was also curtailed.
"There were only 20 overflights yesterday, said Diorio. "Normally there are over 30 overflights, but the weather impacted flying conditions."
Diorio said a meteorologist assigned to the oil spill task force expects the seas to be calm enough by Friday to resume oil skimming operations.
The Atlantic hurricane season started on June 1 and will end on November 30. The National Hurricane Center forecast indicates 14 to 23 named storms, including eight to 14 hurricanes and three to seven major hurricanes.
Copyright Environment News Service (ENS) 2010. All rights reserved.