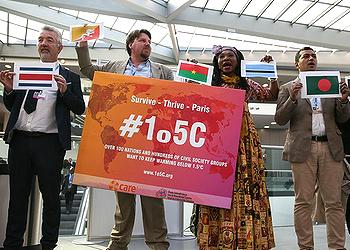 PARIS, France, November 19, 2015 (ENS) – The French government has forbidden the planned climate march and civil demonstrations in Paris that were to have involved hundreds of thousands of people trying to motivate climate negotiators to write a strong agreement to halt global warming.
The negotiators will be at the Conference of Parties to the UN Framework Convention on Climate Change, known as COP21, which convenes in Paris, November 30 – December 11. Citizen marches and demonstrations are a feature of all these annual UN climate meetings, held in a different city every year.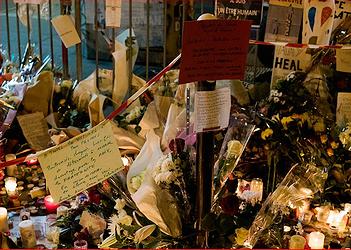 The Prefecture of Police of Paris informed the Coalition Climat 21 Wednesday that due to the heightened security situation after the November 13 terrorist attacks that killed 129 people and wounded hundreds of others in the city, the government will not allow the Global Climate March planned for November 29 and the mobilizations planned for December 12 to take place.
This was the decision of a French government that wants to keep everyone safe, particularly the scores of heads of state and government who will be attending COP21 for the last three days – the high-level segment.
Now the civil societies are faced with a dilemma: comply or disobey.
"Given the current context we do understand," Marco Lambertini, director general of the nonprofit WWF International, told ENS.
WWF is working with the coalition on planning marches on the 28th and 29th all around the world. "We will engage citizens all around the world," Lambertini said.
More than 2,173 events, including over 50 major marches, are planned worldwide as part of the Global Climate March on November 28 and 29.
The civil society groups intend to use the demonstrations to build momentum towards a legally-binding, universal agreement among all nations to limit the emission of greenhouse gases blamed for climate change. All year negotiators have been working on a text to be signed by world leaders in Paris in December.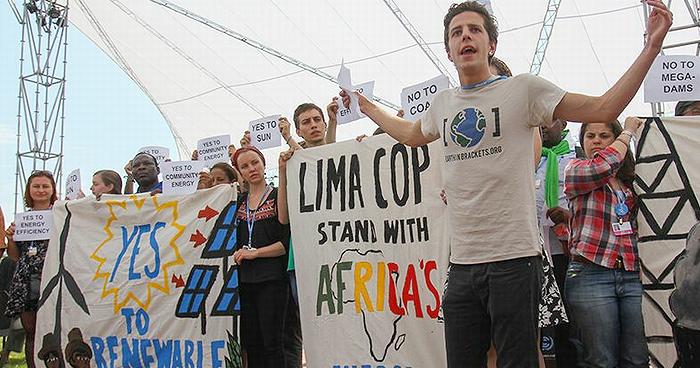 Organizers say they are encouraging activists to still plan on coming to Paris for the final three days of the conference "to make sure people, not the polluters or politicians, have the final word."
Many of the events already planned in Paris for the two weeks of COP21 will go forward, including the Pathway to Paris concert at Le Trianon with Thom Yorke, Patti Smith, Flea, Jesse Paris Smith, Rebecca Foon, author and 350.org founder Bill McKibben, and others on December 4. In fact, a second show has been added for December 5.
350.org French Campaigner Nicolas Haeringer said, "The government can prohibit these demonstrations, but our voices will not be silenced. While this makes it difficult to go forward with our original plans, we will still find a way for people in Paris to make the call for climate justice heard, and we encourage everyone around the world to join a Global Climate March and raise their voices louder than ever. There's never been a greater need."
"While our plans in Paris must change, the movement for climate justice will not slow down," declared Haeringer. "Around the world, marches, demonstrations, and civil disobedience are all planned for the weeks and months ahead. Together, we will continue to stand against violence and hatred with our peace and resolve."
The Coalition Climat 21, and the 130+ organizations that are part of it, say that to express solidarity with the victims of the November 12 in Beirut and those of November 13 in Paris, their families and loved ones, "the march must go on."

"Our struggle for climate justice will not stop. We have a duty to stand up and continue to fight for a just and livable planet for all," said Coalition Climat 21 in a statement.
"We will continue to mobilize to build a world free of wars, and atrocities, and the ravages of the climate crisis. We will continue to bring solutions and alternatives to fight against climate change," the coalition vowed.
"While taking into account the exceptional circumstances, we believe that COP21 can not take place without the participation or without the mobilizations of civil society in France. Thus, we will implement all our efforts to hold all the mobilizations currently planned," the coalition said.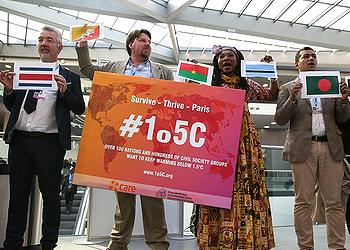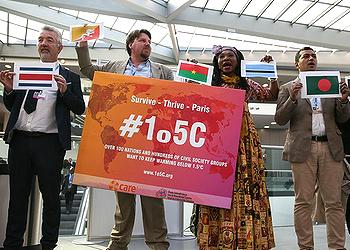 "In consultation with the authorities, we will continue to ensure the security of all participants is guaranteed," they said. "The whole world is concerned and we will not ignore these issues."
Down Under they intend to march. Next weekend, thousands of people in Australian cities will walk alongside millions of people across the world to demand strong action on climate change.
The Nature Conservation Council of New South Wales said, "Australia has a lot to answer for in these negotiations. Our coal and coal seam gas industries are digging up and exporting our pollution around the world, while our water catchments, farmland and forests are destroyed as collateral damage. Together, we need to demonstrate to our leaders that we want an end to dirty fossil fuels and a better future powered by 100 percent clean, renewable energy."
The first major mobilization in the United States addressing the COP21 climate conference is set for Saturday, November 21, at Oakland, California's Frank Ogawa Plaza/Civic Center.
Sponsored by the Northern California Climate Mobilization this march is endorsed by 200 environment, faith-based, labor and social justice organizations.
Nurses and environmental activists are planning the Climate Action Convergence in Los Angeles December 3 to call for a strong global agreement in Paris.
"Nurses in the U.S. and around the world recognize that bold action is needed to challenge the political and economic power of the fossil fuel industry to win health and environmental justice in our communities, to mitigate global warming, and avert a full-scale climate crisis," said National Nurses United Co-President Deborah Burger, RN.
"The climate crisis is a public health crisis – it is already causing immeasurable human suffering and social devastation," said Burger. "Whatever the outcome in Paris, nurses will continue to work in our communities, nationally and internationally, to build the movement for environmental and climate justice; the health of our communities and our planet depend on it."
Back in Paris, a group calling itself BAC wants to use the tense situation as an organizing tool.
"Here's a wild idea," the group said in an emailed statement, "on November 29 and December 12, let's gather around bonfires in the parks of Paris and hammer out the platform of a World Party that can win elections in multiple countries and unify the globe."
BAC wrote, "This kind of social movement is our only chance to defeat the disaster capitalists, short-sighted politicians and nihilist terrorists who stand in the way of a sane and sustainable future."
Copyright Environment News Service (ENS) 2015. All rights reserved.