Palm Oil Biodiesel Goes on Sale in Malaysia
PUTRAJAYA, Malaysia, June 2, 2011 (ENS) – Fuel containing five percent biodiesel made from palm oil is now available at petrol pumps in one Malaysian city, and the government plans to expand distribution across the country.
The fuel was officially launched June 1 by Plantation Industries and Commodities Minister Tan Sri Bernard Dompok at a Petronas station in Putrajaya, a planned city south of Kuala Lumpur that serves as the country's federal administrative center.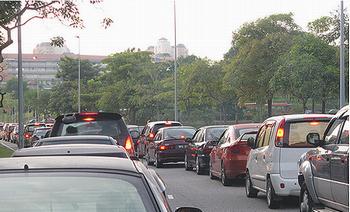 Traffic jam in Putrajaya (Photo credit unknown)
B5 biodiesel will be sold at six petrol stations in Putrajaya, the first location in the Central Region to deploy the fuel. It is priced at the equivalent of petroleum diesel.
"The rolling out of the B5 program will not cause any price changes as the government will continue providing subsidies to ensure that the B5 will be at the same cost as regular diesel," Dompok told reporters at the launch.
"The production of the B5 is more expensive but the cost is absorbed by the government," he said.
B5 is a blend of 95 percent diesel derived from petroleum and five percent biodiesel. It can be used in normal diesel engine vehicles without any modifications.
Since February 2009, at least 3,900 vehicles from various government agencies, including the Armed Forces, have been testing the fuel, with no adverse effects reported.
The next city to begin sales of B5 will be Malacca on July 1, followed by Negeri Sembilan on August 1. Stations in Kuala Lumpur will start selling B5 on September 1, and Selangor will begin B5 sales on October 1.
At this early stage, B5 will be sold to fuel private cars, government cars and commercial vehicles. From November 1, B5 will be distributed to the industrial and fisheries sectors as well.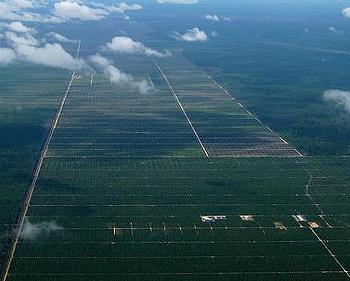 Oil palm plantations where rainforests once grew in Sarawak, Malaysia on the island of Borneo (Photo by Sophie Atkinson)
Malaysian Palm Oil Board Director General Datuk Dr. Choo Yuen May said the fuel is "more environmentally friendly" than petroleum diesel.
Environmental groups take issue with that assertion. Friends of the Earth International says most palm oil is produced in a way that is not socially or environmentally sustainable.
Greenpeace issued a 2007 report, "How the Palm Oil Industry is Cooking the Climate," alleging that the growing demand for palm oil for biofuels and other products is driving the destruction of forests, peatlands and wildlife habitat in Southeast Asia.
"Greenpeace is not against palm oil or the palm oil industry," the group said. "We are against the destruction of rainforests and the massive climate pollution that has resulted from the reckless expansion of palm plantations."
But then Plantations Minister Peter Chin said in July 2007 that Malaysian rainforests had not been cleared to plant oil palms in the previous 10 years.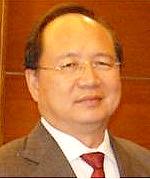 Plantation Industries and Commodities Minister Tan Sri Bernard Dompok (Photo courtesy JCI Malaysia Senate)
During a visit to the United States last week, Minister Dompok and Indonesian Commodities and Agriculture Minister Dr. Suswono Asyraf defended the sustainability of palm oil production in both their countries, which account for over 90 percent of the world's palm oil production.
The three-day mission, beginning May 24, was aimed at addressing the concerns of both countries over the negative image palm oil has in the United States.
They said both countries have encouraged the industry to participate in the business-to-business initiative on certification of sustainable production of palm oil under the Roundtable on Sustainable Palm Oil.
But Greenpeace says, "The existing standards developed by the RSPO are not enough to prevent forest and peatland destruction."
As a founding member of the RSPO, the global conservation group WWF is asking all companies buying palm oil to make public commitments that they will use 100 percent certified sustainable palm oil by 2015; to make public their plans with deadlines to achieve this goal; and to begin purchasing certified sustainable palm oil immediately.
Palm oil biofuel is coming soon to the European Union. European Heads of State agreed in March 2007 that by 2020, ten percent of transport fuels in Europe should consist of plant-based agrofuels like palm oil.
In May, ministers from Malaysia and Indonesia agreed to establish a European Palm Oil Council by the end of this year, to defend the palm oil industry to the European Union and counter the "anti-palm oil campaign."
Europe is the world's biggest palm oil importer, with the oil used increasingly as a biofuel.
Copyright Environment News Service (ENS) 2011. All rights reserved.