Kakadu Climate Risk Flashpoint for Australia's Carbon Pricing
CANBERRA, Australia, June 3, 2011 (ENS) – Freshwater ecosystems in Australia's beloved Kakadu National Park are vulnerable to climate change, finds a new report issued by the Australian government as support for its plan to put a price on carbon emissions later this year.
A UNESCO World Heritage site located in the Alligator Rivers Region on Australian's northern coast, Kakadu has been continuously inhabited by the Bininj aboriginal people for at least 60,000 years.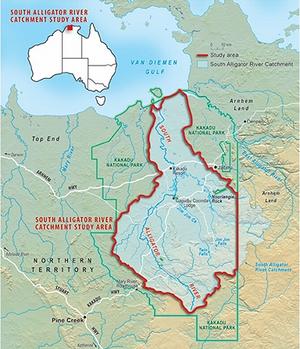 Map of the South Alligator River study area (Map courtesy BMT WBM Pty Ltd)
The report modeled the impacts of sea level rise on Kakadu's South Alligator River system for 2030 and 2070. This river system is recognized as a Wetland of International Importance under the Ramsar Convention.
The researchers found that as sea levels rise, salt water will increasingly intrude into freshwater habitats, threatening the abundance of freshwater species and producing "a significant alteration in the frequency, duration, and extent of large floods."
Saltwater intrusion would reduce the extent of freshwater vegetation, monsoon rainforest and woodlands, cause a decline in the abundance of crocodiles, geese and turtles in freshwater habitats and cause a decline in the abundance of crabs and fish in estuarine habitats, the research shows.
"This report talks about the results that climate change can have on Kakadu, the real risks for Kakadu from climate change," Prime Minister Julia Gillard said Thursday at a news conference held to launch the report.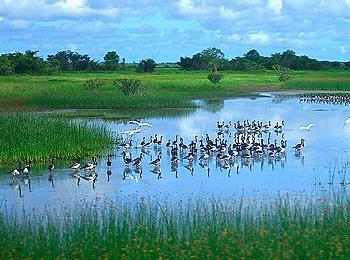 Wetlands along the South Alligator River in Kakadu National Park (Photo by Kumukulani)
"It talks particularly about the risks that flow from rising sea levels, more salt water getting into the fresh water systems in Kakadu, changing the nature of the ecology, being a real risk for the native animals that live there, being a real risk for indigenous communities that still rely on this ecosystem for their bush tucker, and being a real risk for the tourism industry as parts of Kakadu would become inaccessible for parts of the year due to higher water levels," she said.
Gillard said the report supports her government's disputed move to put a price on carbon emissions this year to curb the planet's rising temperature.
She invited former Prime Minister Bob Hawke to join her to release the report, "Kakadu – Vulnerability to Climate Change Impacts."
Gillard invited Hawke to speak because he faced similar objections from industry and opposition political parties in 1991 when the Hawke Labor Government protected a large area of Kakadu by ending mining at Coronation Hill.
"I don't think you'd find one Australian in Parliament House behind me who would say that the wrong decision was taken 20 years ago," said Gillard. "I don't think you'd find one Australian in any corner of our nation that would say that was the wrong decision."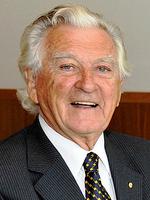 Former Prime Minister Bob Hawke (Photo courtesy Australian Labor Party)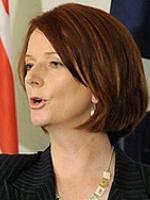 Prime Minister Julia Gillard (Photo courtesy Australian Labor Party)
"And here we stand 20 years later, and we're in the midst of another fear campaign by the Liberal Party and the National Party. And they're trying to tell Australians that if we put a price on carbon that'll be the end of our economy, it'll be the end of mining, it'll be the end of life as we know it. And of course this fear campaign is as silly as the fear campaign that Prime Minister Bob Hawke stared down 20 years ago," said Gillard.
"It is clear, 20 years later, that the Hawke Labor Government acted in the best interests of the nation – protecting the environment without the impacts claimed by opponents at the time," said Gillard. "Now, in 2011, it is again a Labor Government that is making the right decision to reduce Australia's carbon pollution through the introduction of a carbon price."
Hawke told reporters, "Julia and her Cabinet are absolutely right in terms of the decision they're taking in being prepared to tackle the issue of climate change now and not obfuscate and give into fear campaigns."
"The decisions that are going to be taken," said Hawke, "will involve appropriate compensation which will protect households and industry and at the same time make sure that Australia plays its part in meeting what is undoubtedly the great challenge of our time."
Tony Abbott, leader of the opposition in the Australian House of Representatives and federal leader of the center-right Liberal Party, opposes a price on carbon, calling it a "toxic tax."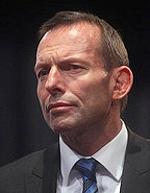 Opposition Leader Tony Abbott (Photo courtesy Australian Liberal Party)
Although the government is considering a low starting price, Abbott told reporters in a doorstop interview Thursday, "The one thing you can count on is that this tax will just go up and up and up once it comes in."
"I don't think people should assume the carbon tax is going to become law. I know the Greens are pushing the Government desperately to bring the carbon tax in, but there are lots of Labor members of parliament with manufacturing industry in their seats, with coal mining in their seats who are very concerned," said Abbott.
Australia's economy is based in part on coal mining, and Abbott said, "The mining industry is very, very concerned about this carbon tax. The coal industry in particular understands that over time the carbon tax is supposed to destroy the coal industry."
Hawke called Abbott's position on a carbon price "totally irresponsible."
"This is a real issue about the sort of country this is going to be for his kids, his grandchildren and so on," said Hawke. "This is what's the issue here and it's cheap opportunism, this fear that if this decision is taken it's going to be the end of the mining industry, it's going to be the end of everything else."
The Greens, which have formed a coalition government with Gillard's Labor Party, issued a statement today saying, "Pollution from burning coal, oil and gas is driving a climate crisis, making our world more dangerous, increasing prices of food and water and jeopardizing our way of life. But if we cut pollution and invest properly in the clean alternatives, we can build a healthier, cleaner, more secure economy and community for all of us."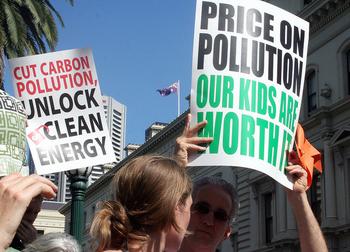 Demonstrators in favor of a price on carbon outside the Prime Ministerial offices in Treasury Place, Melbourne. March 12, 2011 (Photo by Takver)
"The best way to do that is to put a price on carbon pollution and use the revenue to help householders and invest in renewable energy, energy efficiency, public transport and forest protection. That is what the Greens are doing, working with the government and the independent MPs through the Multi-Party Climate Change Committee we established after the 2010 election."
Environmental groups are organizing a nationwide demonstration on Saturday in support of putting a price on carbon emissions.
The Australian Conservation Foundation said in a statement, "The next three weeks are crucial. The Government, Greens and Independents are finalising the details of their response to climate change in a series of intensive negotiations. Over the next few weeks they'll decide whether to be ambitious when setting their carbon price and investments in renewable energy or whether to give in to big polluters."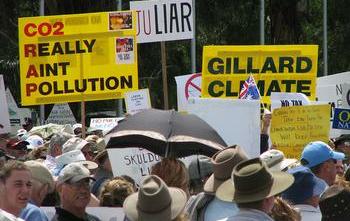 Demonstrators against a price on carbon, Canberra, March 23, 2011 (Photo by Canberra)
"There has never been a more important moment than now to come together. On June 5, if enough of us act, we'll change the debate over a carbon price from fear mongering over the cost of action, to awareness raising about the possibility of a clean energy future," the ACF said.
Demonstrators will gather in every major city from Sydney to Canberra to Perth and also plan to attend a virtual demonstration on Facebook.
This is just the latest in a series of demonstrations on both sides of the carbon price issue. Opponents say when campaigning for election in 2010, Gillard promised there would be no carbon tax but now has reversed her position and plans a price on carbon, which they call a tax.
Opponents say a price on carbon will do nothing to avert climate change and will damage Australia's standard of living and economy.
In February, Opposition Leader Tony Abbott called Gillard's announcement of a carbon price a "betrayal of the Australian people" and predicted a "people's revolt" in response.
The report, "Kakadu – Vulnerability to Climate Change Impacts," was prepared by the engineering and environmental consulting firm BMT WBM Pty Ltd with input from Melaleuca Enterprises, Coastal Zone Management Pty Ltd and Jacqueline Robinson under contract to the Australian Government Department of Climate Change and Energy Efficiency.
Copyright Environment News Service (ENS) 2011. All rights reserved.