Operation Cyberwild: 12 Charged with Online Sales of Animals, Parts
LOS ANGELES, California, January 6, 2012 (ENS) – Law enforcement authorities have filed criminal charges against 12 people who allegedly went online to illegally sell endangered species and other wildlife protected by federal and state law, including fish, birds and exotic animal pelts.
The charges are the result of Operation Cyberwild, a task force investigation from July 2011 conducted by the U.S. Fish and Wildlife Service and the California Department of Fish and Game.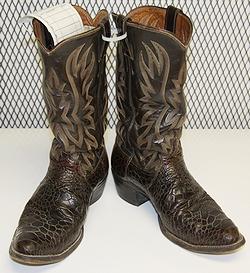 The loggerhead turtle skin boots allegedly sold by George Lovell (Photos courtesy U.S. Attorney's Office Central District of California)
The investigation was assisted by five volunteers from the Humane Society of United States, who searched the Internet for suspicious items and referred the listings to investigators.
Operation Cyberwild was announced this morning following the arrest of a Las Vegas man who is charged with selling boots made out of threatened sea turtles.
During Operation Cyberwild, federal agents and state game wardens recovered live endangered fish, protected migratory birds, an elephant foot, and pelts from a tiger, a polar bear, a leopard and a bear.
During the investigation, special agents with the Fish and Wildlife Service and game wardens with the California Department of Fish and Game focused on Internet advertisements placed by sellers in southern California and southern Nevada.
"We made our first undercover purchase within 24 hours of beginning the operation," said Erin Dean, resident agent in charge of the U.S. Fish and Wildlife Service in Torrance, California. "We hope that this operation will send a message to individuals selling, or even considering selling, protected wildlife that we are watching and that we take these offenses seriously."
As a result of Operation Cyberwild, the United States Attorney's Office in Los Angeles filed charges against nine defendants, and the Los Angeles District Attorney's Office charged three defendants.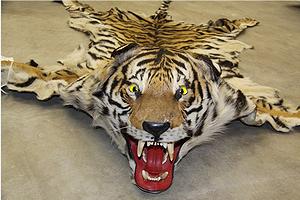 Where have all the tigers gone? Tiger skin rug allegedly sold by Victor Northrup
The 12 defendants charged in federal and state court each allegedly offered for sale animals or animal parts. The defendants are variously charged with violating the federal Endangered Species Act, the Migratory Bird Treaty Act, the Lacey Act and various state wildlife laws.
"Our ecosystem is complex and precious. Unfortunately, this delicate system continues to face serious threats, including poaching, the introduction of non-native species and the illegal sale of endangered species," said United States Attorney Andre Birotte Jr.
"The sale of endangered animals on the Internet has reached an alarming level, with as much as two-thirds of such sales taking place in the United States," said Birotte. "These Internet sales of wildlife fuel poaching and make the killing of protected animals more profitable. Today's prosecutions are a response to this alarming trend."
The United States Attorney's Office yesterday filed nine cases in United States District Court in Los Angeles. The defendants charged in federal court are:
George Lovell, 49, of Las Vegas, who allegedly sold a pair of loggerhead sea turtle leather boots for $1,000 after offering them for sale on Craigslist. Lovell was arrested this morning and made his initial court appearance this afternoon in federal court in Las Vegas.
Lisa Naumu, 49, of San Diego, who allegedly sold an $8,000 leopard skin coat after placing an ad on Craigslist that offered three such coats for sale.
Victor Northrop, 48, of Henderson, Nevada, who allegedly accepted $10,000 for a rug made out of an endangered tiger after offering the item for sale on Craigslist for $12,500.
Karla Trejo, 42, of Sherman Oaks, who is charged with selling a live western scrub jay for $185 after posting an ad on Craigslist.
Dan Tram "Majkah" Huynh, 30, of San Diego, who allegedly sold an Asian arowana to an undercover agent for $2,500 after offering the fish for sale on Craigslist.

Leopard skin coat allegedly sold by Lisa Naumu

Henry Dao, 41, of Garden Grove, who allegedly sold two live Red-whiskered Bulbul birds for $1,750 after offering the injurious species for sale on a website used to trade and sell "softbills."
Alex Madar, 27, of San Diego, who allegedly sold sea turtle leather shoes for $250 after posting the items for sale on Craigslist.
Kamipeli Piuleini, 35, of Torrance, who allegedly sold a hawksbill sea turtle shell that had been listed on eBay.
Tyler Homesley, 24, of Ramona, who allegedly offered to sell three birds – including two protected migratory birds, a Eurasian kestrel and a black-shouldered kite – for $150 after placing an online advertisement (plus a $25 delivery fee for total price of $175).
All of the federal cases allege misdemeanor violations that carry maximum statutory penalties of either one year or six months in federal prison.
The Los Angeles County District Attorney's Office last month filed three cases. The defendants charged in California state court each face two misdemeanor charges. They are:
Alfredo Vazquez, 50, of Montebello, who allegedly sold to undercover operatives an elephant's foot, a mounted hawk and a mounted owl
James I. Colburn, 66, of Leona Valley, who allegedly sold a bear skin rug.
Blake William Diekman, 27, of South Pasadena, who allegedly sold a live piranha.
Criminal charges contain allegations that a defendant has committed a crime. Each defendant is presumed innocent unless proven guilty.
Copyright Environment News Service (ENS) 2011. All rights reserved.