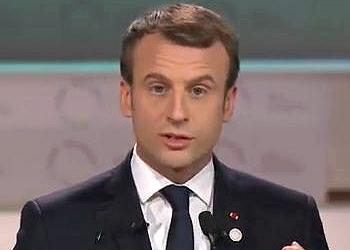 PARIS, France, December 12, 2017 (ENS) – Two years after the historic Paris Agreement on climate, more than 50 heads of state, as well as environment ministers and regional leaders, bank and finance executives and celebrities are meeting today in Paris to take action that will finance global efforts to meet the goals of the agreement.
The Paris Agreement's main goal is to keep a global temperature rise this century to less than 2 degrees Celsius above pre-industrial levels and to limit the temperature increase to 1.5 degrees Celsius, if possible. The accord also aims to strengthen the ability of vulnerable countries to deal with the impacts of climate change.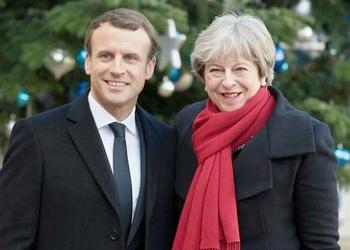 Today's invitation-only One Planet Summit, convened by President of France Emmanuel Macron, was attended by British Prime Minister Theresa May, Spain's Mariano Rajoy, European Commission President Jean-Claude Juncker, and Mexican President Enrique Peña Nieto, among many world leaders.
President Juncker said, "The time has now come to raise our game and set all the wheels in motion – regulatory, financial and other – to enable us to meet the ambitious targets we have set ourselves. This is a necessity dictated by our current living conditions as well as those of future generations. This is the time that we must act together for the planet. Tomorrow will be too late."
The European Commission released its 10 item Action Plan for the Planet: putting the financial sector at the service of the climate, investment in Africa and the EU Neighbourhood region, urban investment, clean energy for islands, support for the transition of coal and carbon intensive regions, youth, smart buildings, clean industrial technology and clean, connected and competitive mobility.
Prime Minister May announced a big increase in UK aid for Caribbean countries devastated by hurricanes as part of a £140 million climate change grant for the world's least developed countries.
"Tackling climate change and mitigating its effects for the world's poorest are among the most critical challenges that we face," said May.
"And by redoubling our efforts to phase out coal, as well as build on our world leading electric car production, we are showing we can cut emissions in a way that supports economic growth," she said.
U.S. President Donald Trump was not invited to the summit, as he is streamlining fossil fuel exploration and development, even removing U.S. public lands from federal protection so industry can have at them.
Trump has vowed to withdraw the United States from the Paris Agreement, a lengthy process that cannot begin until 2020, after that year's presidential election. Countries cannot withdraw until three years after the Paris Agreement took effect on November 4, 2016. After that, the rules mandate a one-year notice period. Still, because the accord is non-binding, Trump could choose to just ignore the accord's terms.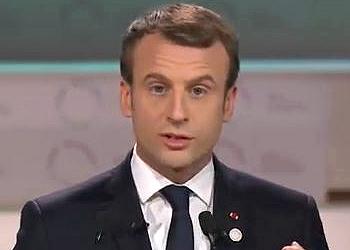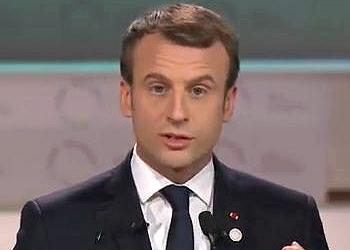 President Macron believes Trump's attitude is temporary. As he told NBC News, "I'm pretty sure that my friend President Trump will change his mind in the coming months or years, I do hope. It's extremely aggressive to decide on its own just to leave, and no way to push the others to renegotiate because one decided to leave the floor."
"The fact that President Trump has a different view has been a rallying cry for the pro-environmentalists groups. And that has been very helpful," said former New York Mayor Michael Bloomberg said at a press conference in Paris today.
While President Macron opened the summit warning that, "We are losing the battle," against climate change, at the close of the summit delegates said the success of the summit shows that the world has moved past Trump and is focusing on delivering the Paris Agreement.
Syria last month ratified the Paris Agreement, leaving the United States as the only country to reject the accord.
President Macron unveiled the winners of the first "Make Our Planet Great Again" climate research grants established after Trump announced his intention to pull out of the Paris accord. The French president said that Trump's decision was a "deep wake-up call for the private sector" to take action.
Thirteen of the 18 multi-year award winners are American scientists; all winners will conduct climate research in France. The three-year to five-year grants are worth up to €1.5 million each. Overall, the program totals about €60 million in direct funding and in-kind support.
The awardees include professors and scientists at Cornell University, Columbia University, Stanford University, the University of Texas at Austin and others.
Macron told the winners Monday night, "What you are showing here this evening, with your commitment, with the projects that have been chosen … is that we do not want climate change, and we can produce, create jobs, do things differently if we decide to."
The One Planet Summit featured dire warnings, rich pledges and actions that two years ago were not even on the horizon.
"Those who fail to bet on a green economy will be living in a grey future," UN Secretary-General António Guterres warned today, calling for greater ambition by governments, civil society, the private sector and finance partners to help tackle the global climate challenge.
"Green business is good business," the UN chief said, in opening the One Planet Summit. "Renewables are now cheaper than coal-powered energy in dozens of developed and developing countries."
Guterres emphasized that what is holding the world back is not funding but trust. To fix it, he said, rich countries must honor their commitment to provide US$100 billion a year through 2020 for developing countries to mitigate and adapt to the fast-changing climate.
It also means that the Green Climate Fund must become an effective and flexible instrument, especially for the most vulnerable countries, such as small island states.
"Everyone is looking for paths to economic growth that are low carbon," said World Bank President Jim Yong Kim, as he announced that the World Bank will no longer finance upstream oil and gas, after 2019. The term "upstream" refers to exploration and production.
In exceptional circumstances, said Kim, consideration will be given to financing upstream gas in the poorest countries where there is a clear benefit in terms of energy access for the poor and the project fits within a country's Paris Agreement commitments.
Alex Doukas, director of the Stop Funding Fossils Program at the U.S. nonprofit Oil Change International, said, "The World Bank's monumental announcement that they are moving out of upstream oil and gas finance after 2019 stole the show in Paris."
"This move from the World Bank demonstrates real climate leadership, and could help signal a broader shift away from the tens of billions of dollars in public finance that G20 governments and multilateral development banks dump into fossil fuels each year," said Doukas.
"These institutions still provide $72 billion in public finance to fossil fuels annually," he said, "which is why a shift away from fossil fuel finance is crucial if we hope to meet the aims of the Paris Agreement."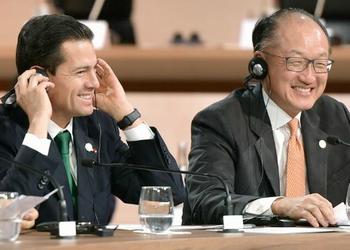 Kim said that the World Bank Group is on track to meet its target of 28 percent of its lending going to climate action by 2020 and to meeting the goals of its Climate Change Action Plan, developed following the Paris Agreement.
For instance, last week, the World Bank and the Government of Egypt signed a US$1.15 billion development policy loan aimed at reducing fossil fuel subsidies and creating the environment for low-carbon energy development.
The World Bank Group will accelerate energy efficiency in India; scale up solar energy in Ethiopia, Pakistan and Senegal; establish a West Africa Coastal Areas investment platform to build resilience for coastlines there; and introduce the City Resilience Platform with the Global Covenant of Mayors so that up to 500 cities will have access to finance for climate change resilience.
The International Finance Corporation, a subsidiary of the World Bank Group has pledged invest up to US$325 million in the Green Cornerstone Bond Fund, a partnership with the European asset management company, Amundi, to create the largest-ever green bond fund exclusively dedicated to emerging markets.
"This is a $2 billion initiative aiming to deepen local capital markets, and expand and unlock private funding for climate-related projects," the IFC said. The fund is already subscribed at over $1 billion.
European Bank for Reconstruction and Development President Sir Suma Chakrabarti said his bank intends to invest up to US$100 million in "Amundi Planet – Emerging Green One."
The EBRD joined other global development organizations in stepping up the momentum for global climate action.
In Paris, Chakrabarti unveiled plans to step up EBRD support for the promotion of green cities, launching the Green Cities Climate Finance Accelerator with the Global Covenant of Mayors for Climate and Energy (GCoM), an international alliance of 7,498 cities and local governments moving towards a low-emission and climate-resilient society.
The EBRD and GCoM aim to drive climate action in up to 60 cities, including many that to date have not been a focus for climate support.
The World Bank, too, is partnering with the Global Covenant of Mayors and will lend US$4.5 billion to ensure 150 cities have the funds to implement initiatives to increase sustainability and resilience and fight climate change.
Marking the two-year anniversary of COP21 where the Paris Agreement was signed, the Global Covenant of Mayors joined with C40 Cities Climate Leadership Group, ICLEI, and regional covenant partners, to announce the One Planet Charter – a new commitment campaign that will help cities implement actions to ensure Paris Agreement goals are met.
Through the One Planet Charter, cities will commit to specific climate action that drives investments, green public procurement, and policy decisions in renewable energy, energy efficiency, electric vehicles, and efforts for zero emission buildings and zero waste.
Cities will bring detailed descriptions of their commitments to the 2018 Global Action Summit in California.
Paris Mayor Anne Hidalgo, board member of the Global Covenant of Mayors for Climate and Energy, who also chairs C40 Cities, said, "The decisions being made by mayors right now on investments for sustainable and resilient infrastructure will determine the future of generations to come. The One Planet Charter will make it easier to build the argument for bold climate action and investment in these crucial months and years ahead."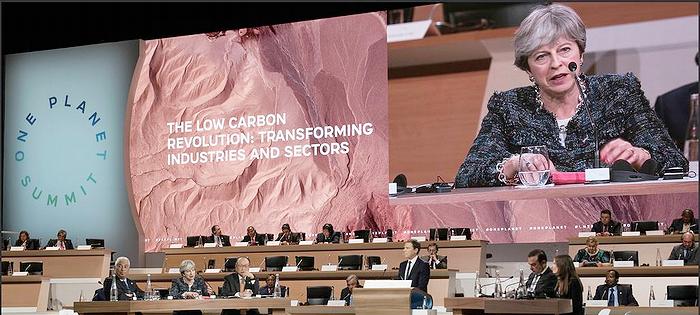 Among the pledges made at the One Planet Summit, the French multinational insurance firm AXA said it will reach €12 billion in green investments by 2020, tripling its 2015 commitment.
Also in 2015, AXA announced its €500 million divestment from the coal industry. This year, AXA is multiplying this divestment five-fold, to reach €2.4 billion.
AXA has also decided to completely divest from the oil sands industry and associated pipelines. This corresponds to a total of €700 million.
Finally, AXA has decided to no longer insure any project to build a coal-fired power plant or any operation for oil sands mining or associated pipelines.
AXA gave its reason for these moves in a statement today, saying, "If our world gets 4°C hotter, it will no longer be insurable."
In a separate initiative, nine of Europe's largest industrial issuers of green bonds – EDF, Enel, ENGIE, Iberdrola, Icade, Paprec, SNCF Réseau, SSE and TenneT – announced their joint pledge to further develop "one of the most dynamic segments of sustainable finance today, the green bond market."
Their pledge came on Monday, Paris 2017 Climate Finance Day, the day before the One Planet Summit.
Ten years after the first green bond was issued, this market has turned into "an exciting place," said the nine companies in a joint statement. These companies say they are committed to tackling climate change, to a growing awareness of environmental protection, low carbon transport and buildings, as well as energy efficiency.
Said José Sainz Armada, chief financial officer of the Spanish public multinational electric utility Iberdrola, "Ever since incorporating Sustainable Development Goals to the company's strategy, Iberdrola has become the largest European issuer of green bonds, the perfect source of long-term finance for projects making an environmental difference.
"Through independent certification, private investors guided by ethical principles ensure their funds are managed with a sustainable perspective and the strictest social criteria," he said.
To date, all nine companies have issued a total of €26 billion in green bonds, which accounts for over 10 percent of all the world's outstanding green bonds.
The nine signatories of Monday's pledge commit to a long-term presence in the market. They say that green bonds will be at the heart of their project financing and business lines, and that they will implement stringent reporting procedures. The pledge also calls upon other industrial corporations to consider issuing green bonds.
Also announced at the One Planet Summit is Climate Action 100+, a new initiative backed by 225 investors, including nearly 70 North American investors, with $26.3 trillion in assets under management.
Climate Action 100+ is a five-year global effort led by investors to scale up engagement with the world's largest corporate greenhouse gas emitters to improve governance on climate change, curb emissions and strengthen climate-related financial disclosures.
"Moving 100 of the world's largest corporate greenhouse gas emitters to align their business plans with the goals of the Paris Agreement will have considerable ripple effects," said Anne Simpson, member of the Climate Action 100+ Steering Committee and investment director of sustainability at the California Public Employees' Retirement System, the largest U.S. public pension fund.
"Our collaborative engagements with the largest emitters will spur actions across all sectors as companies work to avoid being vulnerable to climate risk and left behind," said Simpson.
As part of today's launch, investors released the list of the first 100 companies that they plan to engage as part of the initiative. The list includes companies in the oil and gas, electric power and transportation sectors that have been identified as the world's largest greenhouse gas emitters.
OECD Secretary-General Angel Gurría announced today at the One Planet Summit the launch of the "Paris Collaborative on Green Budgeting," a strategic initiative to assess and drive the alignment of national budgetary processes with the Paris Agreement. The announcement was endorsed by Environment Ministers Nicolas Hulot of France and Rafael Pacchiano of Mexico, during a panel discussion on the role of public policies in accelerating the ecological and inclusive transition.
The Paris Collaborative is the first cross-country and cross-sectoral initiative designed to support governments to green their fiscal policy and embed climate and other environmental commitments within national budgeting and policy frameworks.
But all these actions and promises did not go far enough for the conservationists in the Climate Action Network, a global group of over 1,200 NGOs working to promote government and individual action to limit human-induced climate change to ecologically sustainable levels.
Pointing out that 2017 is likely to be among the five-warmest years since the Industrial Revolution, and that the planet has suffered massive hurricanes in the Atlantic and the Caribbean, devastating floods in south Asia, and out of control wildfires in California, the Climate Action Network is pressing for even more urgent action.
Christoph Bals, policy director, Germanwatch, said, "The One Planet Summit showed we are in a new phase of international climate action focusing on achieving the objectives agreed by all governments of the world two years ago."
"The summit showed that there is enormous momentum to step up global climate action, particularly in three areas: formulating a clear objective for national long term targets of net-zero emissions by 2050; setting an investment relevant minimum price on carbon emissions; and requiring companies to disclose their climate risks and strategies in a forward looking and comparable way," said Bals.
"France is asking for a joint leadership role to set a carbon-neutrality objective by 2050, to introduce a investment relevant minimum carbon price for all sectors and make forward looking climate disclosure mandatory for companies and investors," Bals explained.
Brett Fleishman, 350.org senior finance campaigner, said, "President Macron and other world leaders, are meeting right now to supposedly discuss shifting capital to climate solutions. But we are here to ring the alarm by bringing attention to the unabated support of the fossil fuel industry. We have research that clearly demonstrates that the French government, through its many agencies, is still invested in the energies sources of the past. This acts as a drag on the climate finance summit. This charade of caring about the planet can't go on. Every euro and dollar spent on adaptation and mitigation is undercut by even more money spent on the fossil fuel industry."
"Whatever the outcomes from this summit," said Fleishman, "the global climate movement will keep on pushing through 2018 to accelerate the transition away from fossil fuels to 100 percent renewable energy for all."
More than 1,000 delegates participated the One Planet Summit, which will continue Wednesday with a range of side events.
The summit was organized jointly by France, the United Nations and the World Bank, in partnership with the UN Framework Convention on Climate Change, the We Mean Business Coalition, the Global Covenant of Mayors for Climate and Energy, the European Commission, the C40 Cities Network, the OECD and Bloomberg Philanthropies.
Copyright Environment News Service (ENS) 2017. All rights reserved.