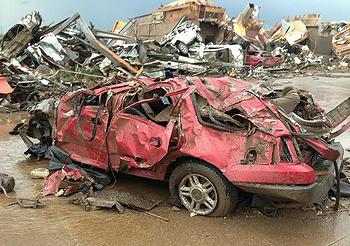 OKLAHOMA CITY, Oklahoma, May 20, 2013 (ENS) – A powerful tornado tore through Moore and south Oklahoma City Monday, killing at least 51 people, including 20 children.
The National Weather Service said the tornado extended as much as a mile across and generated winds of up to 200 mph.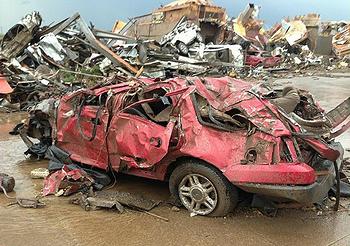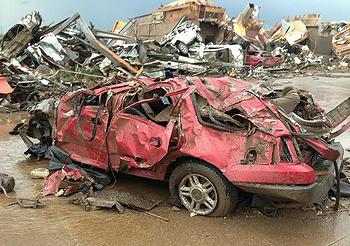 Hardest hit was Moore, a suburb of about 55,000 people south of Oklahoma City, where winds flattened whole neighborhoods and disabled communications and electricity services. Houses burst into flames as gas lines ignited.
The tornado destroyed Plaza Towers Elementary School in the Moore School District, leaving search and rescue workers scrambling to locate survivors before night fell. Several children were pulled alive from the remains of their school.
About 120 people are being treated in hospitals, and officials warn that the death toll could still rise.
President Barack Obama has declared a major disaster in Oklahoma.  The Federal Emergency Management Agency, FEMA, has deployed an Incident Management Assistance Team to the state emergency operations center in Oklahoma City to support state and local officials on the ground and additional personnel and resources stand ready to be dispatched as necessary.
Oklahoma Governor Mary Fallin declared a State of Emergency for 16 Oklahoma counties due to tornadoes, severe storms, straight-line winds and flooding that began Saturday. The declaration can be amended to add additional counties if conditions warrant.
"Our hearts and prayers are with those Oklahomans who have been affected by today's severe weather," Fallin said. "The state of emergency declaration will allow state agencies to help expedite the delivery of resources to local jurisdictions to aid with the clean up and recovery from today's storm."
Under the Executive Order, state agencies can make emergency purchases and acquisitions needed to expedite the delivery of resources to local jurisdictions. The declaration also marks a first step toward seeking federal assistance should it be necessary.
The Oklahoma Senate will consider legislation this week allowing the rainy day fund to be tapped to address recovery, said the governor.
Meanwhile, big trees and power lines are being blown down from the Upper Mississippi Valley and Upper Great Lakes Region south to central Texas.
"The area of greatest risk appears to extend from far north Texas into central and eastern Oklahoma," warned the National Weather Service. "A very moist apmosphere will become quite unstable … this combined with strong favorable winds aloft will result in a risk of a few strong tornadoes… very large hail… and damaging winds in the most intense storms."
FEMA announced that federal disaster aid has been made available to the State of Oklahoma to supplement state, tribal, and local recovery efforts in the affected area.
Today, President Obama, as well as Homeland Security Secretary Janet Napolitano, spoke with Oklahoma Governor Fallin to express concern for citizens impacted by the severe weather and tornadoes, to offer support and make clear the administration stands ready to provide additional resources as necessary.
The administration, through FEMA, is closely monitoring the impacts of the storm and remains in close contact with emergency officials to ensure there are not any unmet needs.
FEMA and its partners have teams on the ground in hard hit areas, and is prepared to deploy additional teams and resources, if needed by the states.
Copyright Environment News Service (ENS) 2013. All rights reserved.