Oil and Gas Industry Drops Lawsuit Over Colorado Environmental Protections
DENVER, Colorado, February 9, 2011 (ENS) – The Colorado Oil & Gas Association has withdrawn its lawsuit against the Colorado Oil and Gas Conservation Commission over rules to protect drinking water, wildlife, and residents living near oil and gas operations.
Colorado legislators in 2007 overhauled the state's regulatory scheme to bring balance to oil and gas regulation. The commission adopted the new regulations in December 2008, and they took effect in April 2009.
COGA filed suit against the regulations in Colorado's 2nd District Court in Denver in 2009. On Tuesday, the court granted the industry's motion and dismissed the case.
The dismissal was agreed to as a result of discussions between COGA Board members and Colorado Department of Natural Resources Executive Director Mike King, who was central to drafting the new state oil and gas regulations in 2007 and 2008.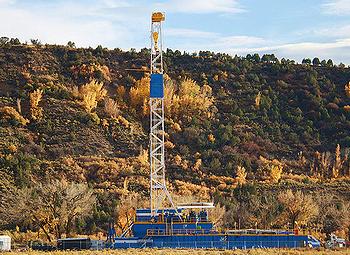 Oil rig on the Western Slope in Parachute, Colorado (Photo by Eric Prichard)
Colorado Governor John Hickenlooper applauded the decision. "This heralds what we hope will be a new era of collaboration and predictability in the development of our energy resources," Hickenlooper said. "It's important to get beyond old fights and move ahead to develop Colorado's abundant natural gas and protect our environment at the same time."
COGA's Chairman of the Board Scott Moore of Anadarko, echoed the optimism expressed, "Abundant, affordable, clean burning natural gas is a cornerstone of Colorado's energy, economic, and environmental solutions moving forward."
"The Hickenlooper administration clearly recognizes this and is committed to a balanced and engaged dialogue moving forward," Moore said.
Tisha Conoly Schuller, COGA president and chief executive, also was pleased with the decision. "The new administration clearly recognizes the valuable contribution Colorado's oil and gas industry makes to the economy and the importance of Colorado natural gas in reducing air pollution," Schuller said.
"We are confident that going forward we will have a place at the table and our concerns will be fairly considered," she said.
King said no promises or commitments were made in exchange for COGA withdrawing the lawsuit. "The administration promised only to listen to all sides in making decisions. Colorado cannot effectively address the challenges of the future unless everyone is working collaboratively, and litigation is not the best way to achieve that goal. We are happy this litigation is over."
When the oil and gas industry association filed suit seeking to invalidate Colorado's new rules, a coalition of sportsmen and conservation groups, represented by Earthjustice, intervened to oppose the challenge.
"The end of the oil and gas industry's legal challenge is a huge victory for Colorado," said Earthjustice attorney Mike Freeman. "The oil and gas industry's decision here ultimately shows that the rules are working well enough for industry. The dismissal will help cement a major step for environmental protection in Colorado."
The 2009 rules have not harmed oil and gas investment or cost jobs, said Freeman, citing recent state reports showing that drill rig and well counts have risen in Colorado and that processing times for drilling permits are shorter than they were under the pre-2009 rules. and gas activity.
"We applaud the oil and gas industry's decision to drop the legal challenge to Colorado's oil and gas rules," said Charlie Montgomery, Energy Program organizer for the Colorado Environmental Coalition. "The rules are good for everyone who works in, or is concerned about, oil and gas development – citizens and industry alike."
Copyright Environment News Service (ENS) 2011. All rights reserved.