European Parliament Hosts Low Carbon Prosperity Summit
BRUSSELS, Belgium, February 9, 2011 (ENS) – The need to shift economies onto a lower carbon route and to acknowledge the direct links between the resilience of ecosystems and that of national economies were highlighted by the Prince of Wales at today's opening of Parliament's Low Carbon Prosperity Summit.
European Parliament President Jerzy Buzek, Commission President Jose Manuel Barroso and European Council President Herman Van Rompuy all advocated using low-carbon technologies to build prosperity.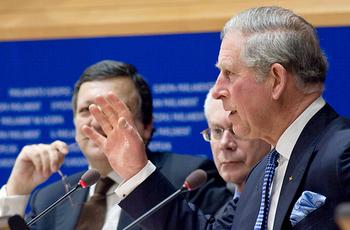 The Prince of Wales, right, addresses the Low Carbon Prosperity Summit. (Photo courtesy European Parliament)
The Prince of Wales stressed the need "to move away from the conventional economic model of growth which is based on the production of high carbon intensity products."
"Success will be in building low-carbon industries that provide not only substantial economic opportunity, but also a means to ensure Europe's competitiveness," said the Prince.
Prince Charles proposed tackling climate change while maintaining economic viability by valuing and supporting local communities, adopting policies that focus funding on strengthening diversity, and promoting effective public-private partnerships.
He stressed the need to achieve a "green economy" which would "rely on sustainable asset management, more productive processing of waste, the construction of new, zero-carbon buildings and the retro-fitting of existing stock."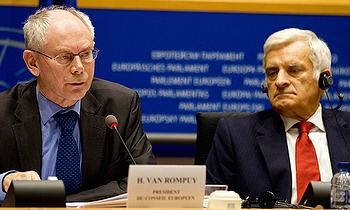 European Council President Herman Van Rompuy, left, and European Parliament President Jerzy Buzek (Photo courtesy President European Council)
The Prince advocated "achieving stringent energy efficiency targets for our buildings, cars and household goods" and said that economic growth should be decoupled from ever greater environmental destruction.
European Parliament President Buzek said that the EU 2020 Strategy "will help us create a green, low-carbon economy by investing in innovation and new technologies."
He welcomed the Prince's presence at the summit, highlighting his active engagement in environmental issues, and stressed the importance of holding conferences where "ideas are generated that help make laws better."
Buzek said, "The European Energy Community, which was proposed in the European Parliament on the 5th May last year, will not only reduce the cost but also the use of electricity and gas."
European Commission President Barroso said, "The only adequate answer to ensure the preservation of the planet, security of supply and economic growth is to turn to a more efficient use of resources."
"Since 1990, we have reduced greenhouse gas emissions in the EU by more than 10 percent, while our economies have grown by about 40 percent," Barroso said.
"We are reducing our reliance on fossil fuels by increasing efficiency and developing alternatives," he said. "Think of the rapid growth in renewable energy. Of the current 25 largest photovoltaic power stations in the world, 23 out of 25 are in the European Union! This growth must be encouraged, indeed accelerated and extended to other areas, to reap the full benefits."
Barroso underlined the need to get framework conditions right for investment and highlighted the benefits of low-carbon technologies. He also noted that despite progress already made, "it is not time to take our foot off the accelerator," adding that a new set of targets will be endorsed for 2050.
President of the European Council Herman Van Rompuy, called for a "revolution in energy systems," noting that a large part of the latest European Council, on February 4, had been devoted to energy.
He emphasized the need to invest in energy savings, smart grids and smart meters, adding that "we must use less energy." Van Rompuy stressed the need to combine national and EU action in order "to achieve synergies and economies of scale."
President Barroso said, "What we are all involved in here is a race to the top. Building a low-carbon future for Europe is not a step backwards as some suggest, it is and can be a business friendly and competitiveness agenda as well. On the contrary, I am convinced that our efforts will lead to greater prosperity, with businesses reaping the benefits of greater resource efficiency and first-to-market advantages in cutting-edge innovation."
Copyright Environment News Service (ENS) 2011. All rights reserved.