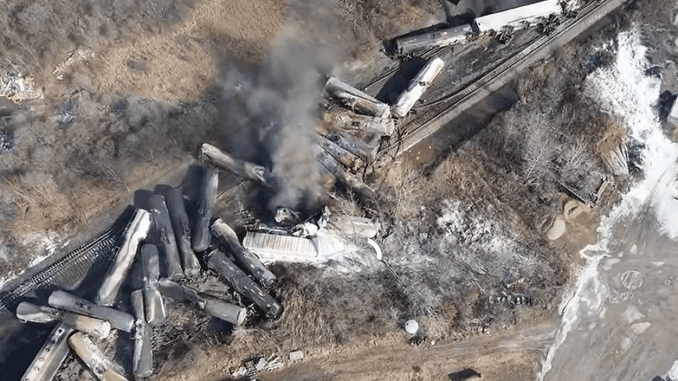 EAST PALESTINE, Ohio, February 6, 2023 (ENS) – A 50-car freight train came off the rails in Ohio near the Pennsylvania border setting rail cars loaded with hazardous materials aflame on Friday night as the train was carrying chemicals through the village of East Palestine from Madison, Illinois, to Conway, Pennsylvania, the rail company Norfolk Southern said.
No injuries or damage to infrastructure have been reported, but authorities in Ohio warn that the situation at the derailment site is becoming dangerously unstable due to a cold weather snap on Sunday night and that an explosion in at least one of the cars carrying the hazardous chemical vinyl chloride is likely.
"We are at a risk now of a catastrophic failure of that container," East Palestine Fire Chief Keith Drabick said. "Measures are being taken to try and control that and prevent that from happening."
Drabick said there are also other chemicals in the cars and local officials are seeking a list from Norfolk Southern and federal authorities.
A mandatory evacuation order is in effect for people within one mile of site, which includes part of Darlington Township in Beaver County.
Sunday evening, Ohio Governor Mike DeWine ordered anyone living within one mile of the train derailment to leave at once. "Residents living within a mile of the train derailment site who have not yet left their homes are asked to immediately evacuate due to the potential of a major explosion," DeWine tweeted.
"Within the last two hours, a drastic temperature change has taken place in a rail car, and there is now the potential of a catastrophic tanker failure which could cause an explosion with the potential of deadly shrapnel traveling up to a mile," DeWine warned.
Officials say they have contacted everyone within that radius urging them to evacuate immediately.
DeWine activated the Ohio National Guard at about 8 pm local time on Sunday. The Ohio State Patrol, the Ohio Emergency Management Agency, and the Ohio Environmental Protection Agency are also assisting.
The evacuation area covers 1,500 to 2,000 of the town's 4,800 to 4,900 residents. While most people have now left the evacuation area, local officials say more than 500 people have declined to leave.
According to the Columbiana County Sheriff, those who have children in their homes and decline to leave may be arrested.
Those who need help to evacuate are asked to call: 330-426-4341. A high school and community center have been opened to shelter the evacuees.
Train operator Norfolk Southern has opened an assistance center in the village to take information from affected residents. The company said it is "supporting the efforts of the American Red Cross and their temporary community shelters through a $25,000 donation.
Norfolk Southern said Friday night that its team members were at the scene, assisted by first responders, derailment and environmental contractors.
Norfolk Southern is coordinating with federal, state and local agencies, including the National Transportation Safety Board, NTSB.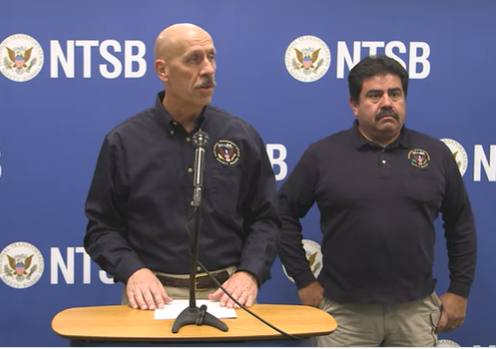 "The post-derailment fire spanned about the length of the derailed train cars," National Transportation Safety Board member Michael Graham, told reporters Saturday. "The fire has since reduced in intensity, but remains active and the two main tracks are still blocked."
Norfolk Southern said 20 of the more than 100 cars were classified as carrying hazardous materials defined as cargo that could pose any kind of danger "including flammables, combustibles, or environmental risks."
Graham said 14 cars carrying vinyl chloride were involved in the derailment "and have been exposed to fire," and at least one "is intermittently releasing the contents of the car through a pressure release device as designed."
Vinyl chloride, a colorless gas, burns easily, and it is not stable at high temperatures. It's used to make the polyvinyl chloride, PVC, for plastic products such as pipes, wire coatings, vehicle upholstery, and plastic kitchenware. Human exposure to vinyl chloride is associated with higher risk of liver cancer, according to the federal government's Agency for Toxic Substances.
"At this time we are working to verify which hazardous materials cars, if any, have been breached," he said. The Environmental Protection Agency and Norfolk Southern were continuing to monitor air quality, and investigators would begin their on-scene work "once the scene is safe and secure," Graham said.
Graham said the safety board's team would concentrate on gathering "perishable" information about the derailment of the train, which had 141 load cars, nine empty cars and three locomotives.
State police have aerial footage and the locomotives had forward-facing image recorders as well as data recorders that could provide information on train speed, throttle position and brake applications, he said. Train crew and other witnesses would be interviewed, Graham said.
East Palestine Mayor Trent Conaway, who earlier declared a state of emergency citing a "train derailment with hazardous materials," said air quality monitors throughout the one-mile evacuation zone had shown no dangerous readings. Freezing temperatures in the single digits complicated the response as trucks pumping water froze, he said.
Village officials said the drinking water is safe although the water is discolored due to the volume being pumped the fight the fire at the derailment site. Some runoff has been detected in nearby streams but rail officials are working to stop the runoff and keep it from moving downstream.
Officials said the evacuation order and shelter-in-place warnings would remain in effect until further notice.
Featured image: An aerial view of the derailed Norfolk Southern train at East Palestine, Ohio shows what Mayor Trent Conaway called "an entanglement of cars." (Photo by Kelly Matter / Photography Matters LLC)

© 2023, News Editor. All rights reserved.