Obama's New Forest Planning Rule Fails to Satisfy Conservationists
WASHINGTON, DC, January 26, 2012 (ENS) – The Obama administration today proposed a new forest planning rule that will guide the management of 155 forests, 20 grasslands and one prairie in the National Forest System.
The rule provides the framework for U.S. Forest Service land management plans. Once approved, the final rule will update planning procedures that have been in place since 1982, creating a planning process that the the Forest Service says reflects the latest science and knowledge of how to create and implement effective land management plans.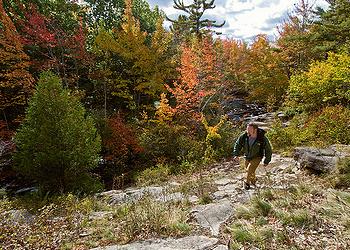 Hiker explores White Mountain National Forest in Maine. (Photo by Bob Nichols courtesy USDA)
But, although plans would be required to provide habitat for plant and animal diversity and species conservation, several conservation groups say the new rule weakens protections for wildlife on national forests.
The U.S. Department of Agriculture and the Forest Service under its jurisdiction considered nearly 300,000 public comments on the proposed rule and draft environmental impact statement issued last February, to develop the agency's preferred course of action for finalizing the planning rule.
"The most collaborative rulemaking effort in agency history has resulted in a strong framework to restore and manage our forests and watersheds and help deliver countless benefits to the American people," Agriculture Secretary Tom Vilsack said today. "Our preferred alternative will safeguard our natural resources and provide a roadmap for getting work done on the ground that will restore our forests while providing job opportunities for local communities."
"This approach requires plans to conserve and restore watersheds and habitats while strengthening community collaboration during the development and implementation of individual plans," said U.S. Forest Service Chief Tom Tidwell.
"Under our preferred alternative, plan revisions would take less time, cost less money, and provide stronger protections for our lands and water," said Tidwell. "Finalizing a new rule will move us forward in managing our forests and grasslands, and will create or sustain jobs and income for local communities around the country."
In the Final Programmatic Environmental Impact Statement, PEIS, for the National Forest System Land Management Planning Rule released today, the Forest Service requires that:
Plans must include components that seek to restore and maintain forests and grasslands.
Plans would include requirements to maintain or restore watersheds, water resources, water quality, including clean drinking water, and the ecological integrity of riparian areas.
Plans would be required to provide habitat for plant and animal diversity and species conservation. These requirements are intended to keep common native species common, contribute to the recovery of threatened and endangered species, conserve proposed and candidate species, and protect species of conservation concern.
Plans would provide for multiple uses, including outdoor recreation, range, timber, watershed, wildlife and fish.
Plans would be required to provide opportunities for sustainable recreation, and to take into account opportunities to connect people with nature.
Opportunities for public involvement and collaboration would be required throughout all stages of the planning process. The preferred alternative would provide opportunities for tribal consultation and coordination with state and local governments and other federal agencies, and includes requirements for outreach to traditionally under-represented communities.
Plans require the use of the best available scientific information to inform the planning process and documentation of how science was used in the plan.
The planning framework provides a more efficient and adaptive process for land management planning, allowing the Forest Service to respond to changing conditions.
The new PEIS is the Forest Service's fourth attempt since 2000 to revise nationwide regulations governing national forests. All three previous attempts were challenged in court by the nonprofit Center for Biological Diversity and allies, and all three prior attempts were found to be unlawful.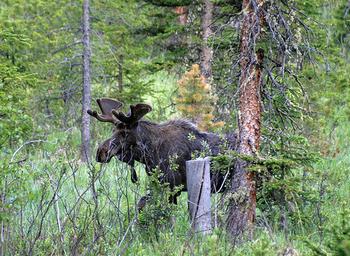 Moose on the Rocky Mountain National Forest, June 2007 (Photo by Chuck Starr)
Like the 2000, 2005 and 2008 rules, the Obama administration's planning rule would decrease longstanding protections for wildlife on national forests.
"Today's rule is a step up from the Bush administration's rule, but its protections are still a far cry from Reagan-era regulations that the Forest Service has been trying to weaken for 12 years," said Taylor McKinnon, public lands campaigns director at the Center.
"Our publicly owned national forests should be a safe haven for wildlife," said McKinnon. "In the face of unprecedented global climate change and other threats to species, the Forest Service should be trying to strengthen, not weaken, protections for wildlife on our public lands."
Jamie Rappaport Clark, president and CEO of Defenders of Wildlife, served as head of the U.S. Fish and Wildlife Service during the Clinton administration. She is not satisfied with the PEIS released today, saying, "The administration deserves credit for the genuine effort that it made to respond to public comments. Although we strongly support this historic shift in direction, we remain concerned about the adequacy of its wildlife conservation provisions and worry that the forest-planning rule makes promises that it can't fully deliver."
A notice of availability for the PEIS will be published in the Federal Register on February 3 with a Record of Decision on the final rule to follow within 30 days.
Clark said Defenders of Wildlife will be reviewing the rule more closely with an eye on improvements that can be made to ensure stronger protections for wildlife before the rule is finalized.
Copyright Environment News Service (ENS) 2012. All rights reserved.