Obama Unveils First Fuel Efficiency Rule for Heavy Duty Trucks
WASHINGTON, DC, August 9, 2011 (ENS) – President Barack Obama today announced the first national fuel efficiency and greenhouse gas emissions standards for medium and heavy duty trucks and buses.
The rule covers vehicles made between 2014 and 2018, from larger pickups, vans, delivery and utility trucks to big-rig combination tractors.
"While we were working to improve the efficiency of cars and light-duty trucks, something interesting happened," said President Obama. "We started getting letters asking that we do the same for medium and heavy-duty trucks. They were from the people who build, buy, and drive these trucks."
"And today, I'm proud to have the support of these companies as we announce the first-ever national policy to increase fuel efficiency and decrease greenhouse gas pollution from medium-and heavy-duty trucks," Obama said.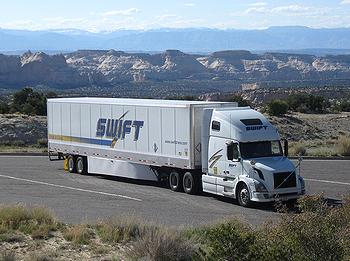 Semi-trucks like this one in Utah will be governed by the new fuel efficiency rule. (Photo by Bill Kast)
Announcing the new standards at the White House, the President and trucking industry officials said the businesses that operate and own these commercial vehicles are expected to save some $50 billion in fuel costs and more than 500 million barrels of oil over the life of the program.
Bill Graves, head of the American Trucking Association and a former Kansas governor, said, "Today's announcement by President Obama is welcome news to us in the trucking industry. Our members have been pushing for the setting of fuel efficiency standards for some time and today marks the culmination of those efforts."
In 2007, ATA endorsed a sustainability program that included a proposal to set technologically feasible efficiency standards.
"While it is too early to know all the potential effects of this rule," said Graves, "we do know it sets us on the path to a future where we depend less on foreign oil, spend less on fuel and contribute less to climate change."
Jed Mandel, president of the Engine Manufacturers Association and the Truck Manufacturers Association, was also at the White House, representing the primary U.S. manufacturers of medium and heavy-duty engines and trucks.
"EMA and TMA members strongly support a uniform, national program to address greenhouse gas emissions and fuel efficiency that aligns with the needs of their customers and the nation," said Mandel.
"We applaud EPA and NHTSA for their willingness to listen to manufacturers' concerns related to the unique and complex aspects of the commercial engine and vehicle market and their efforts to finalize a manageable and implementable program that incorporates the principles outlined by the President and industry in May of last year."
"The final rule provides a novel program that expands the use of existing fuel efficiency improvement technologies, incentivizes the introduction of advanced technologies, accelerates improvements in medium and heavy-duty truck fuel efficiency and reduces greenhouse gas emissions." said Mandel.
Also present at the White House was Rich Freeland, vice president and president Engine Business with Cummins, an engine designer, manufacturer and distributor based in Indiana.
"Environmental regulations can often be difficult for industry, adding cost and complexity. So early on, Cummins set out with the goal of helping the government establish a clear, consistent, challenging and enforceable regulation that recognizes the needs of business and provides incentives to companies that create innovative technologies as well as jobs in this country," said Freeland. "This regulation will add real value for our customers as better fuel economy lowers their operating costs while significantly benefitting the environment."
A semi-truck operator could pay for the technology upgrades in under a year and realize net savings of $73,000 through reduced fuel costs over the truck's useful life, the White House said today.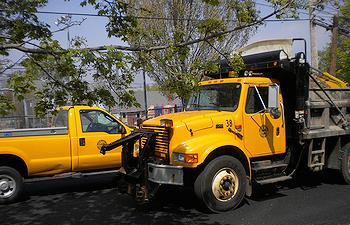 Public Works trucks in Waltham, Massachusetts (Photo by matredsoxfan)
The U.S. Environmental Protection Agency and the U.S. Department of Transportation proposed this regulation in October 2010 after President Obama directed the agencies to coordinate efforts and propose a single national greenhouse gas reduction and fuel-efficiency program.
"The agencies led an open process, and Cummins collaborated with other engine and vehicle manufacturers, technology suppliers, fleets and environmental organizations to provide input," said Freeland. "The result is a workable regulatory structure that accommodates the diverse needs of the commercial vehicle sector."
Transportation Secretary Ray LaHood called the anticipated $50 billion in total fuel savings "a significant win for a hard-working industry."
"Beyond the direct benefits to businesses that own and operate these vehicles, the program will also benefit consumers and businesses by reducing costs for transporting goods," LaHood said today. "And it will spur growth in the clean energy and manufacturing sectors by fostering innovative technologies and providing regulatory certainty."
"The new standards mean huge environmental benefits," LaHood said. "The Environmental Protection Agency estimates that these new standards will cut greenhouse gas emissions by 270 million metric tons. This will yield an incredible $49 billion in dividends to our society. The standards will also reduce emissions of harmful air pollutants, which can lead to asthma, heart attacks and premature death."
Environmentalists praised the new standards, saying they will benefit America's economy, environment and national security.
"It's great to see Washington get something so right," said Environmental Defense Fund President Fred Krupp. "Thanks to these new standards, everybody wins: truck drivers save money at the pump, America imports less foreign oil, and we all get to breathe cleaner air."
Sierra Club Executive Director Michael Brune said, "By setting fuel efficiency and carbon pollution standards for medium and heavy duty trucks, we will, for the first time, be able to clean up and improve the performance of the delivery trucks, city buses and freight trucks that Americans rely on each day, clearing our air, saving truckers and businesses money at the pump, creating jobs and bringing the nation a step closer to moving beyond oil.
"Despite representing only four percent of all the vehicles on the road, the trucks covered by today's announcement consume 20 percent of all on-road transportation fuel used each year, but have never been subject to federal fuel efficiency or carbon pollution standards," said Brune.
Heavy-duty trucks are the fastest-growing contributors to greenhouse gas emissions within the transportation sector, the National Highway Traffic Safety Administration in a statement today.
Transportation accounts for about 72 percent of U.S. total domestic oil consumption, the agency said. Heavy-duty vehicles account for 17 percent of transportation oil use and 12 percent of all U.S. oil consumption. Nearly six percent of all U.S. greenhouse gas emissions and 20 percent of greenhouse gas emissions from the transportation sector in 2007 were produced by heavy-duty vehicles.
"This landmark new rule envisions diesel power as the continued workhorse of freight transportation in the clean energy economy of tomorrow," said Allen Schaeffer, executive director of the Diesel Technology Forum. "The goals set out in these new regulations build on past progress in making diesel clean, and demand further gains in diesel engine efficiency."
More than 95 percent of heavy duty trucks and a majority of medium duty trucks are diesel-powered, he said. These are work trucks – ranging from the largest pickup trucks and commercial delivery box vans to 18-wheelers, fire and rescue trucks, logging trucks, dump trucks, flat-bed trucks, trucks equipped with cranes and lifts, cement mixers, refrigerated trucks, stake body trucks, roll-back trucks, cargo and step vans are all examples of the kinds of trucks covered by this rule.
The new regulation sets fuel efficiency and greenhouse gas emission standards for three categories of medium-duty and heavy-duty trucks beginning in model year 2014:
Certain combination tractors, commonly known as big rigs or semi-trucks, will be required to achieve up to 20 percent reduction in fuel consumption and greenhouse gas emissions by model year 2018, saving up to four gallons of fuel for every 100 miles traveled.
For heavy-duty pickup trucks and vans, separate standards are required for gasoline-powered and diesel trucks. These vehicles will be required to achieve up to about 15 percent reduction in fuel consumption and greenhouse gas emissions by model year 2018. Under the finalized standards a typical gasoline or diesel powered heavy-duty pickup truck or van could save one gallon of fuel for every 100 miles traveled.
Vocational vehicles, including delivery trucks, buses, and garbage trucks, will be required to reduce fuel consumption and greenhouse gas emissions by 10 percent by model year 2018. These trucks could save an average of one gallon of fuel for every 100 miles traveled.
Heavy-duty pickup trucks and vans must meet targets for gallons of fuel consumed per mile as well as grams of carbon dioxide (CO2) emissions per mile.
The other two categories of trucks, combination tractors or semi-trucks and vocational vehicles, must meet targets for gallons of fuel consumed and greenhouse gas emissions per ton-mile. This figure is calculated by dividing gallons of fuel consumed and grams of CO2 emissions per mile by tons of freight hauled.
"Because of the sheer magnitude of commercial vehicles operating in the United States, this regulation has the potential to result in significant environmental and energy efficiency gains," Schaeffer said. "More than 95 percent of all heavy duty trucks are diesel-powered, as are a majority of medium duty trucks and buses."
"The U.S. fleet of trucks consumes about 22 billion gallons of diesel fuel every year," said Schaeffer. "Over the lifetime of the vehicles affected by the new rule, the program is expected to reduce oil consumption by more than 500 million barrels, result in more than $50 billion in net benefits, and reduce carbon dioxide emissions by 250 million metric tons."
Copyright Environment News Service (ENS) 2011. All rights reserved.