London Retools Transport for Olympics 2012
LONDON, UK, August 9, 2011 (ENS) – Riots over the police killing of a young black man are disrupting some parts of London this week, but UK Transport Minister Norman Baker is thinking ahead to next year at this time when the 2012 Olympic Games take over the city.
When London hosts the Games from July 27 through August 12, up to 800,000 spectators and 55,000 athletes, officials, organizers and members of the media will be traveling to and from the Olympic venues every day.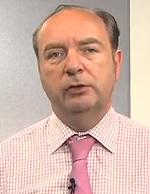 UK Transport Minister Norm Baker (Photo courtesy DfT)
This week – August 8-12, 2011 – is a trial week for the Department for Transport, which is testing out different ways of working and traveling to prepare for the Games.
A typical day in August 2012 will see an extra three million trips made on top of the 12 million trips on public transport made during an average London workday, computer modeling by Games organizers predicts.
To ensure everyone arrives at their destinations on time, the government's goal is to reduce non-Olympics transport demand during the Games by 30 percent.
The Department for Transport has committed to reduce the travel footprint of the department itself by 50 percent at Games time.
Department staff will reduce their commuting, keep business travel to a minimum, and rearrange deliveries and collections where possible.
"The Games will be a once-in-a-generation test for both our transport system and our adaptability," said Baker. "I am the first ever transport minister to have official responsibility for alternatives to travel and the Olympics will be a key time to really embrace these ideas. It's time to oil the creaking bike, dig out the walking boots, work out how to use the video conferencing equipment, and fire up the laptop gathering dust at the back of the cupboard."
Baker says the Department is working with business representatives to develop a strategy on alternatives that will reduce the need for commuting and business trips – not just now, and not just for the Games, but looking forward to the next 20 years.
Commuters who live near work, or travel short distances within central London, are being urged to cycle or walk to work. Those who live further away are being encouraged to try different routes; stagger their journey times to avoid the busiest periods; work remotely; or use video conferencing for meetings.
"Government has to play its part," said Baker. "At DfT we'll be cutting our travel footprint by half during the Games, with similar initiatives across Whitehall. But all businesses need to play their part too – there's plenty of help and advice out there, so no excuse why we can't reduce the amount we travel during the 17 days of the Games."
Baker was speaking at BT, where he was shown new ways for businesses and individuals to work remotely from both home and the office.
Baker examined a global voice service that provides a variety of access types, on-net and off-net call handling, integration with mobility and unified communications solutions.
He also saw ways to streamline business communications by combining enterprise voice, presence, instant messaging and conferencing in a single, unified platform.
Stuart Hill, BT's vice-president for central government and 2012, said, "BT is working to make London 2012 the most connected Games ever – not just for people at home, but for organizations too. BT is working with businesses and public sector bodies of all sizes to help minimize the impact of travel disruption during the Games."
In the run-up to the Olympics around £6.5 billion has been invested in upgrading and extending transport links, including the first-ever domestic high speed train in Britain, new stations, more tube trains and line extensions.
Investment also has been put into everyday improvements such as innovative customer travel information systems and more user-friendly walking, cycling and river routes.
Minister for Sport and the Olympics Hugh Robertson said, "The transport network has received significant investment to ensure it is able to cope with the demands of Games time, but we also need the assistance of London businesses to help everybody travel around the capital smoothly.
By thinking creatively and adjusting travel patterns next summer, we can ensure that everybody gets to their destination and London keeps moving."
Businesses of all sizes who wish to sign up for the free travel advice can email keeponrunning@?london2012?.?com or click here to visit London 2012: Travel advice for business for more information and advice. PHOTO: Traffic jam in Regent Street, London
Copyright Environment News Service (ENS) 2011. All rights reserved.