Obama: U.S. West Coast Need Not Fear Japanese Radiation
WASHINGTON, DC, March 17, 2011 (ENS) – President Barack Obama assured the American people today that radiation from the damaged nuclear power plant on Japan's Pacific coast poses no danger to residents of the United States of its territories.
"I want to be very clear," said the President. "We do not expect harmful levels of radiation to reach the West Coast, Hawaii, Alaska, or U.S. territories in the Pacific. That is the judgment of our Nuclear Regulatory Commission and many other experts."
Obama promised to "continue to keep the American people fully updated, because," he said, "I believe that you must know what I know as President."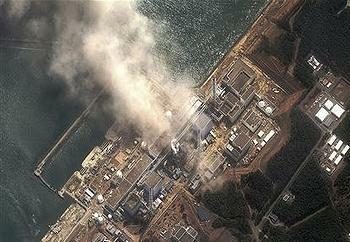 Satellite photo of the Fukushima Daiichi nuclear power plant emitting radioactive steam and smoke (Photo courtesy TEPCO)
Four of the six reactors at Tokyo Electric Power Company's Fukushima Daiichi power plant were damaged by the March 11 magnitude 9.0 earthquake and resulting tsunami. Outside power to the plant was interrupted, disabling the pumps that circulate cooling water to the nuclear fuel rods, exposing them to the air and emitting radiation.
More radiation was emitted during three explosions at the power plant and also during deliberate venting of steam to reduce pressure inside several of the plant's containment vessels.
The Japanese government has evacuated hundreds of thousands of people from a 20 kilometer (12 mile) radius around the stricken power plant and ordered residents in the 20-30 km zone around the plant to stay indoors.
"Even as Japanese responders continue to do heroic work, we know that the damage to the nuclear reactors in Fukushima Daiichi plant poses a substantial risk to people who are nearby," said President Obama. "That is why yesterday, we called for an evacuation of American citizens who are within 50 miles of the plant. This decision was based upon a careful scientific evaluation and the guidelines that we would use to keep our citizens safe here in the United States, or anywhere in the world."
However, the evacuation zone around U.S. nuclear power plants is currently set at a 10 mile radius.
"Whether this distance should be increased will need to be reevaluated, as will the workability of emergency plans in the context of natural disasters or terrorist attacks," Dr. Edwin Lyman, senior scientist with the Union of Concerned Scientists told a U.S. Senate committee on Wednesday.
"The Union of Concerned Scientists is neither pro nor anti-nuclear power, but has served as a nuclear power safety and security watchdog for over 40 years," Lyman told the Senate Environment and Public Works Committee.
Lyman and many others are calling for a thorough re-evaluation of U.S. nuclear power plants. The United States has 23 nuclear power plants of the same design as the Fukushima Daiichi plant – General Electric Mark 1 boiling water reactors.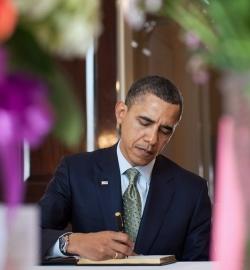 President Barack Obama signs the condolence book at the Japanese Embassy in Washington, DC, March 17, 2011. More than 6,400 people are confirmed dead following the March 11 earthquake and tsunami. (Photo courtesy The White House)
"Although the Japanese are engaged in truly heroic efforts to mitigate the worst effects of this accident and reduce radioactive releases that could harm the public, these efforts have only been partially effective, are already resulting in life-threatening conditions for the workers on site, and are likely to ultimately fail," said Dr. Lyman.
"We have plants that are just as old. We have had station blackouts," he said.
"U.S. nuclear plants have severe accident management plans, but these plans are not required by regulations and do not have to be evaluated by the Nuclear Regulatory Commission and tested for their effectiveness," Lyman warned.
Obama supports nuclear power development in the United States and said today he believes America's 104 operating nuclear reactors are safe.
"Here at home, nuclear power is also an important part of our own energy future, along with renewable sources like wind, solar, natural gas and clean coal," the President said.
"Our nuclear power plants have undergone exhaustive study, and have been declared safe for any number of extreme contingencies," he said. "But when we see a crisis like the one in Japan, we have a responsibility to learn from this event, and to draw from those lessons to ensure the safety and security of our people."
Obama said he has asked the Nuclear Regulatory Commission to do a comprehensive review of the safety of U.S. nuclear plants "in light of the natural disaster that unfolded in Japan."
In Japan, the Self-Defense Forces have started the second day of their operation to cool down one of the spent-fuel storage pools at the Fukushima Daiichi nuclear power plant.
High-capacity fire engines were dispatched to the plant on Friday local time, to inject a total of 50 tons of water into the storage pool of the Unit 3 reactor.
On Thursday, the Self-Defense Forces sprayed water into the pool from the air and ground, using helicopters and fire engines, but the pool's water level is still low, posing the risk that the fuel might melt down, releasing massive amounts of radiation.
Elevated radiation levels were measured as far as 20 km from the damaged power plant on Thursday, the Japanese science ministry said.
The National Police Agency said Friday that the quake and tsunami had claimed 6,405 lives and that 10,259 other people are still missing.
More than 280,000 displaced people are crowded into shelters, many without adequate food and water.
Copyright Environment News Service (ENS) 2011. All rights reserved.