Congolese Government Suspends Oil Exploration in Mountain Gorilla Park
KINSHASA, Democratic Republic of Congo, March 17, 2011 (ENS) – The DR Congo government has put the brakes on oil exploration activities in Virunga National Park, a designated UNESCO World Heritage Site inhabited by some the last endangered mountain gorillas in the world.
Minister for the Environment, Nature Conservation and Tourism Jose E.B. Endundo, issued a letter to the worldwide conservation community clarifying the government's position on the published intentions of a publicly-traded British oil company, Soco International, to undertake oil exploration in Virunga National Park.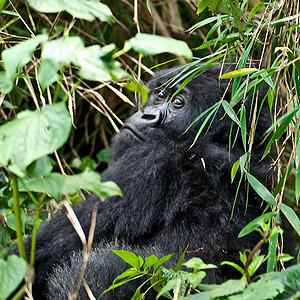 Mountain gorilla in the DRC's Virunga National Park (Photo by Magic Pea)
Africa's oldest national park, Virunga is inhabited by approximately 200 of the world's last 780 mountain gorillas as well as a small population of eastern lowland gorillas.
Endundo initiated what he called "a comprehensive, transparent and inclusive" Strategic Environmental Assessment to analyze the best options available to the Congolese people.
The assessment will provide recommendations to the ministry, which will decide "which of the social and economic benefits will ensure true development for the region and its people," said Endundo, adding, "The SEA will be conducted with support from a number of donors of public aid."
In his letter, Endundo states that his ministry has taken "specific steps, which have led to the suspension of the given oil exploration activities. We have rejected the recommendations of an environmental impact assessment conducted by the oil company, Soco, which we consider premature, superficial and which does not conform to the standards which we would expect."
Endundo confirmed that the senior management of Soco Oil had assured him that they "will not attempt any prospection work in the park unless a positive consensus is achieved in their favor."
Bloc V is an oil exploration concession assigned by contract to a consortium of three companies, Soco E&P, the implementing partner; Dominion Petroleum and Cohydro. Over 50 percent of the concession is contained within Virunga National Park.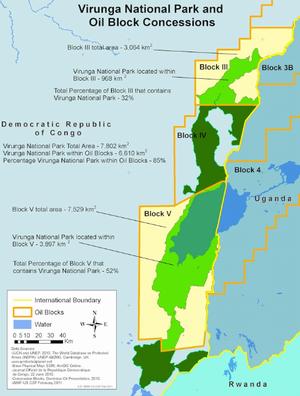 Map shows Virunga National Park located within theBlock V oil concession. (Map courtesy DR Congo government)
Congolese law (Ordonnance Loi 069-041) prohibits oil exploration activities within the national park. Yet company maps indicate Soco intends drilling works throughout the park.
Endundo said his letter two of his main concerns, "the rule of law and abiding by international commitments."
Virunga National Park lies in eastern DR Congo and covers 7,800 square kilometers. The park is managed by the Congolese Institute for the Conservation of Nature-ICCN the Institut Congolais pour la Conservation de la Nature.
It contains more species of mammals, reptiles and birds than any other protected area in Africa and has an exceptional diversity of landscapes stretching from the glaciers of the Ruwenzori Mountains, at over 17,000 feet, to impenetrable forests, savannas, rivers, and lake ecosystems.
"The Environment Ministry did the right thing, and what we hope to see next is a firm declaration guaranteeing there would be no exploration in this iconic and fragile park now or in the future," said Natalia Reiter, a spokesperson for the global conservation organization WWF International.
"It is outrageous to see the narrow interests of oil companies taking priority over the need to maintain one of the most precious places on this planet," Reiter said. "Allowing oil exploration in this iconic park would set an extremely dangerous precedent that even the most precious places on Earth are open for oil and gas development."
WWF calls on the Congolese government to guarantee there will be no oil exploration in the park and asks the company to respect the law and abandon the harmful exploration plans.
In addition to the new threat of oil development in the park, the Virunga subpopulation of mountain gorillas has already suffered numerous impacts from more than a decade of war and instability in the region, according to the International Union for the Conservation of Nature in its Red List of Threatened Species, which classes mountain gorillas as Endangered.
Existing threats include incursions by militia, habitat destruction for firewood and farmland, illegal cattle grazing, illegal timber extraction, and illegal hunting, including snares set for other mammals such as antelope that can injure or kill gorillas.
In 2004, 15 square kilometers of the park was deforested for conversion to farmland, and recently there has been a sharp increase in timber extraction for the illegal production of charcoal.
There has also been a resurgence of poaching for the illegal pet trade and bushmeat.
The Virunga Volcanoes region is surrounded by some of the highest human densities in Africa. While a key conservation strategy for mountain gorillas is tourism, there is concern about the risk of disease transmission and disturbance to the gorillas, which could jeopardize these conservation programs.
Copyright Environment News Service (ENS) 2011. All rights reserved.
© 2011 – 2012, . Environment News Service (ENS) © 2021 All Rights Reserved.