McLEAN, Virginia, July 15, 2014 (ENS) – Speaking to a crowd of nearly 200 employees at the Turner-Fairbank Highway Research Center in McLean, Virgiinia today, President Barack Obama urged Congress to pass a bill that would restore money to the federal Highway Trust Fund to make highways safer and boost the U.S. economy.
"I just got a tour of a lab where automakers and government researchers team up to create new technologies that help cars communicate with the world around them and with each other," said President Obama. "They can tell you if an oncoming vehicle is about to run a red light, or if a car is coming around a blind corner, or if a detour would help you save time and gas."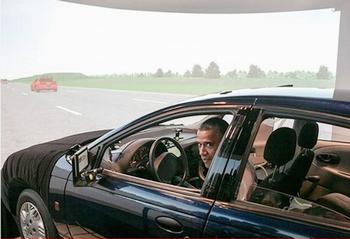 At the second stop of the tour, Obama got into a self-driving car, which he enjoyed. "Yeah, I'm a little tall, but that's OK," he said, buckling up. "Safety first."
"Man, this is so exciting. I haven't been on the road in a long time," said the President, who is chauffered everywhere.
As the car lifted up and tilted back, Obama yelled, "Whoa!" The car was positioned in front of a screen where cars and trucks whizzed by. "I'm going a little fast here," Obama exclaimed.
Later he told the crowd, "It was a little disorienting – I haven't driven in about six years. And I'm going down the highway and I think I had a little bit of a lead foot – I was starting to hit 90. (Laughter.) And then like right next to me, the press pool is standing there, and they're kind of traveling with me at 90 miles an hour, and it got me a little queasy," joked Obama. "But I've recovered."
The President was led on the tour by Director of the Turner-Fairbank Highway Research Center Michael Trentacoste and Connected Vehicle Program Manager Carl Anderson.
At the Saxton Transportation Operations area he viewed screens showing vehicle-to-infrastructure (V2I) traffic patterns, traffic lights, and a demonstration of how V2I cruise control works.
The President visited a test garage with three vehicles equipped with the latest V2I technology. Dr. Joe Peters, Director of the Office of Operations Research and Development, explained the V2I technology.
As part of the tour Obama viewed a video of self-driving trucks on a Nevada highway.
Putting a personal spin on funding for highway safety by envisioning his 16-year-old daughter Malia behind the wheel, the President said, "Now, as the father of a daughter who just turned 16, any new technology that makes driving safer is important to me. And new technology that makes driving smarter is good for the economy."
Obama pointed to a study showing that Americans spend 5.5 billion hours stuck in traffic each year. All that time tied up in traffic jams costs Americans $120 billion in wasted time and gas – about 800 dollars per commuter, he said.
"Then you've got outdated roads and bridges that mean businesses pay an extra $27 billion in freight costs, which are then passed on to consumers. So, all told," said the President, "transportation eats up more of the typical family's household budget than anything except the rent or a mortgage – which means that the cutting-edge research that all of you are doing here helps save lives and save money, and leads to new jobs and new technologies and new industries."
"And that's why America has to invest more in the kind of job-creating research and development that you're doing right here at the Highway Research Center," Obama said to applause.
While the White House has endorsed a bill in the Republican-led House of Representatives that would provide enough money to keep the federal Highway Trust Fund afloat until May 2015, Obama criticized it during the speech as being insufficient.
"Congress shouldn't pat itself on the back for averting disaster for a few months," he said, "kicking the can down the road for a few months, careening from crisis to crisis when it comes to something as basic as our infrastructure."
Making the case for new investment in highway infrastructure, the President said, "First-class infrastructure attracts first-class jobs. And right now our investments in infrastructure are lagging [behind] the rest of the world."
The Highway Trust Fund helps states support transportation projects. If Congress fails to fund it, it runs out of money. Obama said that could put nearly 700,000 jobs at risk, including more than 17,000 in Virginia.
"More than 100,000 active projects across the country – projects where workers as we speak are paving roads and rebuilding bridges and modernizing our transit systems – those projects would be slowed or stopped," Obama warned.
Earlier this year Obama put forward a plan to rebuild the U.S. transportation infrastructure, and today he spoke in support of this plan. "It would support millions of jobs. It would give cities and states, and private investors the certainty they need to plan ahead and hire more workers. It would help small businesses ship their goods faster. It would help parents get home to their kids faster. It would mean less wear and tear on your car. It would mean less money on gas. It would save people money."
"The average American household is forced to spend more on transportation each year than food. And in some cases, our crumbling infrastructure costs American lives. It should not take another collapsing bridge or failing levee to shock us into action," he said.
Obama said his plan would not add to the "rapidly shrinking deficit," which has been cut by more than half since he took office in 2009, because it would be paid for  in part by closing tax loopholes for companies that ship jobs overseas to avoid paying their taxes.
Finally, Obama said his plan would support cutting-edge research like the work taking place at the Turner-Fairbank Highway Research Center, which, he said, "could end up cutting back on the number of traffic fatalities."
Copyright Environment News Service (ENS) 2014. All rights reserved.
PHOTO: President Barack Obama in a self-driving car in front of the simulator screen at the Turner-Fairbank Highway Research Center, July 15, 2014 (Photo courtesy The White House)