Obama Signs Bipartisan 'Get the Lead Out' Bill Into Law
WASHINGTON, DC, January 4, 2010 (ENS) – Today, President Obama signed into law S. 3874, a bipartisan bill that will help eliminate toxic lead from drinking water by reducing the amount of lead permitted in new plumbing materials.
Lead is a contaminant that can harm the nervous system and brain development. It is especially dangerous for pregnant women, infants and children.
The legislation, sponsored in the Senate by Barbara Boxer, a California Democrat who chairs the Environment and Public Works Committee, and co-sponsored by the committee's Ranking Member James Inhofe, an Oklahoma Republican, reduces the allowable lead content in drinking water pipes, pipe fittings and plumbing fixtures.
Senator Boxer said, "Today is a great day. This is a major step forward in our fight to protect children and families from dangerous lead in drinking water. Toxic lead does not belong in our nation's water supply, and this law will help ensure that communities in California – and nationwide – have cleaner and safer drinking water."
The Senate unanimously passed the The Reduction of Lead in Drinking Water Act on December 16, 2010, and the House approved it the following day.
Senator Inhofe said December 16, "It isn't often that Senator Boxer and I agree on legislation. Yet in this case, we did. Here is an opportunity to pass a bill that will help further decrease the amount of lead in water without imposing a burden on America's manufacturers."
The Safe Drinking Water Act currently allows up to eight percent lead content for faucets and other plumbing fixtures, and limits the amount of lead that can leach from plumbing into drinking water.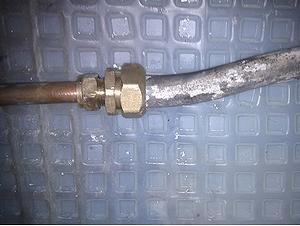 The pipe to the left of the joint is copper, the pipe to the right is lead. (Photo by Richard King)
But health studies have concluded that much smaller amounts of lead exposure can have serious impacts on children and adults, including kidney disease, reduced intelligence, hypertension, hearing loss, and brain damage. The health impact of lead exposure also costs an estimated $43 billion annually in lost time, health costs, and related matters.
Under the new law, "lead free" means having not more than 0.2 percent lead in solder and flux and not more than a weighted average of 0.25 for wetted surfaces of pipes, fittings, fixtures. There is a formula described in the bill text for these calculations.
The law provides for a 36-month implementation period; after that manufacturers and importers will be required to comply with the new, standards.
The industry association Plumbing Manufacturers Institute lobbied for the new standards and sees the new law as a victory. "It is an exciting victory, primarily for consumers, and also for the plumbing manufacturing industry, as well as for wholesalers, retailers, contractors and others involved with the production, distribution, sales and installation of these products," said PMI Executive Director Barbara Higgens.
Aging infrastructures, including pipe and plumbing system components, are the main contributors of trace amounts of lead in the water supply today, PMI warns. "Nearly all homes built prior to the 1980s still have lead solder connecting copper pipes," PMI says on its website, adding, "Some major U.S. cities still have 100 percent lead piping bringing water from the utilities to homes and businesses."
The new standards are similar to those enacted by California in 2006.
"California recognized the hazard lead poses and in 2006 enacted the toughest lead content standard for drinking water faucets, fittings, and plumbing systems anywhere in the world," said Congresswoman Anna Eshoo, a California Democrat who sponsored similar legislation in the House. "This bill is the next step. It represents a progressive and major effort that will eliminate the threat of lead in faucets and fixtures across the country."
Eshoo introduced "Get the Lead Out" legislation last summer. Eshoo's bill was incorporated as part of H.R. 5320, the Assistance, Quality, and Affordability Act of 2010, which passed the House on July 30, 2010.
Major plumbing fixture manufacturers produced lead-free faucets and fixtures at competitive prices ahead of California's statutory compliance deadlines.
Since the California law was enacted, Vermont and Maryland have also adopted Get the Lead Out laws and the District of Columbia and Virginia have introduced similar legislation.
Tom Curtis, American Water Works Association deputy executive director for government affairs, said his organization supports the new law.
"Lead from plumbing fixtures can leach into water and present health concerns at the tap," Curtis said today. "Minimizing potential sources of lead helps assure that high-quality water delivered from treatment plants remains safe after it reaches our homes, schools and businesses."
Industry, government and environmental organizations that support the new legislation include: Association of California Water Agencies, Association of Metropolitan Water Agencies, WateReuse Association, East Bay Municipal Utility District, San Francisco Public Utilities Commission and the Inland Empire Waters Agencies as well as the Natural Resources Defense Council.
Copyright Environment News Service (ENS) 2011. All rights reserved.
Environment News Service (ENS) © 2011 – 2012 All Rights Reserved.