Obama's Advisor for Energy and Climate Change to Leave White House
WASHINGTON, DC, January 24, 2011 (ENS) – Carol Browner, director of the White House Office of Energy and Climate Change Policy, intends to leave the White House shortly, administration officials said tonight.
Browner, who is Assistant to the President for Energy and Climate Change, was tasked with steering the administration's attempt to enact legislation to reduce emissions of greenhouse gases and move the country away from dependence on fossil fuels.
While the House of Representatives passed a comprehensive climate change and clean energy bill in June 2009, it died in the Senate in July 2010. With the new Republican strength in Congress after last November's election, President Barack Obama has acknowledged that major climate change legislation is not likely during the next two years.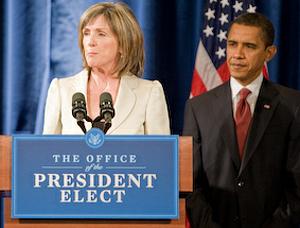 Carol Browner at a press conference with U.S. President-elect Barack Obama, December 15, 2008 (Photo courtesy Obama-Biden Transition Team)
The White House Office of Energy and Climate Change Policy is a new government entity created by President Obama. A decision on whether Browner will be replaced or whether the position will be eliminated will be announced soon, a White House official told Politico.com, which was first to report Browner's intended resignation.
Browner is proud of the Obama Administration's accomplishments in building a clean energy economy. On October 29, 2010, at the close of National Energy Awareness Month, she said in a statement, "We're installing solar panels on the White House, building the largest solar energy power plant in the world on our public lands, and proposing the first-ever greenhouse gas and fuel efficiency standards for heavy-duty cars and trucks. All told, the Administration held and made over 140 energy-related events and announcements this month."
"Since taking office, President Obama and his Administration have invested over $90 billion in clean energy technology through the Recovery Act, advanced new fuel-economy and greenhouse gas emissions standards for cars, light trucks and heavy duty trucks, and led by example by cutting the federal government's own carbon footprint," she said.
"But there is still much work to be done," Browner said. "We will continue to invest in clean energy technologies and energy efficiency to create jobs and compete in the global marketplace."
During the BP/Deepwater Horizon oil crisis last spring and summer, when millions of gallons of crude oil were gushing into the Gulf of Mexico from the broken Macondo well, Browner was instrumental in negotiating on behalf of the administration, persuading BP to establish an independent claims facility and an escrow account of $20 billion to back it up.
Annoucing the agreement on June 16, Browner explained, "For several hours our group was in discussing the details of the framework agreement, and the President spent 25 minutes with the chair alone in the Oval Office. He talked about the fact that every time he goes down to the Gulf he visits with individuals, he visits with small businesses who are feeling the impacts, the need to get that addressed. And the best way to move forward would be through a independent process, not run by the government, not run by BP, and an escrow account to ensure adequate funds to meet the needs."
That meeting also yielded BP's agreement to a $100 million fund for unemployed rig workers that Browner said was suggested by the White House.
Browner is a founder and principal of The Albright Group LLC, a global strategy firm and of Albright Capital Management, an investment advisory firm that focuses on emerging markets.
From 1993 to 2001 she served as administrator of the Environmental Protection Agency under President Bill Clinton, becoming the longest-serving EPA administrator in U.S. history.
From 1991 to 1993, Browner headed the Florida Department of Environmental Regulation and also served as legislative director for former U.S. Senator Al Gore and former U.S. Senator Lawton Chiles.
Browner has served as the chair of the National Audubon Society Board of Directors, and has sat on the Board of Directors of APX, the Alliance for Climate Protection, the Center for American Progress, and the League of Conservation Voters.
Copyright Environment News Service (ENS) 2011. All rights reserved.
Environment News Service (ENS) © 2011 – 2012 All Rights Reserved.