Obama Pushes for Senate Climate Bill With Price on Carbon; GOP Resists
WASHINGTON, DC, June 29, 2010 (ENS) – A bipartisan group of about 20 senators met with President Barack Obama at the White House today in an attempt by the President to gather support for passage of energy and climate legislation this year. The urgency of getting climate legislation enacted was heightened by the ongoing oil spill in the Gulf of Mexico, participants said.
Last June, the House of Representatives passed its version of a climate and energy bill, which places a price on carbon through a cap and trade market mechanism, but the Senate has not passed any climate bill.
It would take 60 votes in the Senate to pass controversial cap and trade legislation. In this election year, politicians of both parties may be reluctant to vote for a bill that would raise the cost of burning fossil fuels to level the playing field for cleaner fuels.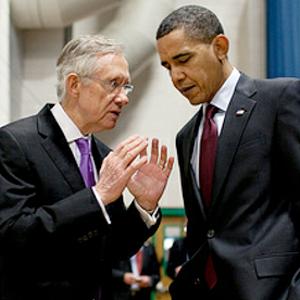 Senate Majority Leader Harry Reid, left, consults with President Barack Obama. (Photo by Pete Souza courtesy The White House)
Characterizing the 90 minute meeting as "a constructive exchange" the White House said in a statement, "There was agreement on the sense of urgency required to move forward with legislation and the President is confident that we will be able to get something done this year."
President Obama told the senators that "a full transition to clean energy will require more than just the government action we've taken so far. It will require a national effort from all of us to change the way we produce and use energy."
"The disaster in the Gulf is a wake-up call that we need a new strategy for a clean energy future, including passing comprehensive energy and climate legislation," the President said.
Obama said he still believes the best way for the United States to transition to a clean energy economy is with a bill that makes clean energy the profitable kind of energy for America's businesses by putting a price on pollution, "because when companies pollute, they should be responsible for the costs to the environment and their contribution to climate change."
Not all of the Senators agreed with this approach, and Obama welcomed other approaches and ideas that would take real steps to reduce America's dependence on oil, create jobs, strengthen national security and reduce pollution in the atmosphere.
The President said that there was "a strong foundation and consensus on some key policies" and he urged the senators to come together based on that foundation.
Senate Majority Leader Harry Reid, a Nevada Democrat, said after the meeting, "The President led a spirited, productive discussion this morning about how to move forward on clean energy legislation. Our caucus is energized on this issue and our resolve to act on energy legislation this summer remains strong."
"We understand that the cost of inaction is high," said Reid. "The continuing disaster on the Gulf Coast is the latest glaring evidence that our current energy strategy is unsustainable."
"Democrats want to develop a comprehensive, national energy plan that creates millions of jobs that can never be outsourced, reduces pollution, strengthens our national security, and ends our dependence on oil," he said.
"Our caucus remains ready to get to work, but this effort can go nowhere without bipartisan support," said Reid. "We need brave Republicans to step up and demonstrate the same commitment and leadership on this issue that Democrats have."
Four energy and climate bills and one discussion draft have been introduced in the Senate. In chronological order:
S. 1462, the American Clean Energy Leadership Act of 2009, was introduced by Senator Jeff Bingaman, a New Mexico Democrat, and reported by the Senate Committee on Energy and Natural Resources in July 2009. This bill promotes the development of clean energy technologies, energy efficiency, and domestic energy resources. It does not set mandatory greenhouse gas emission reduction targets or include a mandatory greenhouse gas emission reduction scheme.
S. 2877, the Carbon Limits and Energy for America's Renewal Act, was introduced by Senators Maria Cantwell, a Washington Democrat, and Susan Collins, a Maine Republican, in December 2009. It would control only CO2 emissions – 80 percent of U.S. greenhouse gas emissions – but would omit the other six greenhouse gases, all more potent than CO2. Fossil fuel producers and importers would have to submit "carbon shares" for CO2 emissions. The President would cap the quantity of carbon shares available for submission each year, and the Treasury Department would hold monthly auctions of the carbon shares. Referred to the Senate Finance Committee.
S. 1733, the Clean Energy Jobs and American Power Act, sponsored by Democratic Senators John Kerry of Massachusetts and Barbara Boxer of California, provides for a greenhouse gas cap-and-trade system. This bill was reported by the Senate Committee on Environment and Public Works in February 2010.
A draft discussion version of the American Power Act, sponsored by Senators Kerry and Joe Lieberman, a Connecticut Independent, was introduced in May.
The American Power Act draft creates a cap-and-trade allowance system similar to that passed by the House of Representatives in June 2009, H.R. 2454. It covers about 85 percent of all emissions of seven greenhouse gases, including carbon dioxide.
Emissions caps for the covered gases are specified relative to 2005 levels. Emissions would drop 4.75 below 2005 levels in 2013; and go 17 percent lower than 2005 levels in 2020. Emissions would have to be 42 percent lower in 2030; and by 2050 emissions would have to be 83 percent below 2005 levels.
S. 3464, the Practical Energy and Climate Plan Act of 2010 was introduced on June 9 by Senate Republicans Richard Lugar of Indiana, Lindsey Graham of South Carolina and Lisa Murkowski of Alaska. It contains no mandatory limits on greenhouse gas emissions but encourages clean energy technologies, energy efficiency, and domestic energy resources. Referred to the Senate Finance Committee.
Click here for a detailed comparison of these climate and energy bills.
"To achieve success in the Senate, clean energy legislation must be bipartisan," said Senator Susan Collins, a Maine Republican who is a co-sponsor of the Carbon Limits and Energy for America's Renewal Act with Senator Maria Cantwell, a Washington Democrat. "Our bill positions the U.S. to be a leader in renewable energy and energy conservation technologies by placing predictable, straight-forward prices on carbon."
"It also helps protect consumers by returning 75 percent of revenues directly to American families and preventing speculation in the carbon market," Collins said.
Fred Krupp, president of the nonprofit Environmental Defense Fund, said today's White House meeting is the start of the final push toward passage of strong clean energy and climate legislation.
"Passing a bill that finally deals with our oil addiction will require strong presidential leadership, and that's just what we saw today," Krupp said. Every president since Richard Nixon has called for energy independence; now it looks like we have one who is willing to roll up his sleeves to get it done. The President's call today for clean energy legislation with limits on carbon pollution was a clear sign that he wants a strong bill."
Krupp said, "Big Oil and their allies have a lot of money and a lot of power, but we believe the situation is now urgent enough that Washington has no choice but to act."
"With millions of gallons of crude spilled in the gulf, and a billion dollars a day going overseas for imported oil, the moment for real action has arrived," he said. "We believe that with continued active involvement by the President himself, and senators from both parties engaged in serious talks about what's best for the country, we can pass a strong clean energy and climate bill in the weeks ahead."
Sierra Club Executive Director Michael Brune said, "We are pleased President Obama brought this bipartisan group of senators together to develop a plan for a climate and energy bill. We look to the Senate to craft a bill that reduces oil dependence, creates clean energy jobs and reduces global warming pollution."
The Sierra Club believes a package must take greater strides to reduce oil consumption and address the root causes of the BP oil disaster," said Brune. A comprehensive package must not result in give-aways to dirty energy companies."
"We are especially concerned about any efforts to weaken the Clean Air Act or EPA's ability to reduce air pollution and protect public health," Brune said.
Also today, 20 mayors with the National Conference of Black Mayors met with senators, cabinet leaders, industry experts and environmental advocacy groups to call for comprehensive climate and energy legislation that will provide for the sustainability of our nation's most vulnerable communities.
Congressional Black Caucus Chair Congresswoman Barbara Lee, a California Democrat, joined 20 African-American mayors along with the Hip Hop Caucus in their call for Senate action.
National Conference of Black Mayors Executive Director Vanessa Williams said, "Our federal lawmakers must have the courage to step away from status quo provisions that have marginalized vulnerable communities and debilitated generations of American citizens with health and economic consequences."
The call for action is a part of the NCBM Green The City Initiative, which has partnered with the Hip Hop Caucus to strengthen its outreach to youth.
"Regular Americans in cities represented by these mayors want to see action," said Hip Hop Caucus President Reverend Lennox Yearwood. "They are ready to help make their cities thrive again, working with their mayors and city governments. They realize that while the Senate is being indecisive, their cities and communities are suffering, and a clean energy future sits in the balance. This generation is fighting for its very existence."
Copyright Environment News Service (ENS) 2010. All rights reserved.