Hurricane Alex Hampers Gulf of Mexico Oil Spill Cleanup
MIAMI, Florida, June 29, 2010 (ENS) – Roaring across the Caribbean, Alex has become the first hurricane of the 2010 season and the first June Atlantic hurricane since 1995, according to the National Hurricane Center in Miami.
Located in the southwestern Gulf of Mexico, about 255 miles southeast of Brownsville, Texas, Hurricane Alex is packing maximum sustained winds of 75 miles per hour and is moving mostly westward at a speed of nine miles per hour.
A hurricane warning is in effect for the coast of Texas south of Baffin Bay to the mouth of the Rio Grande and the coast of Mexico from the mouth of the Rio Grane to La Cruz.
The center of Alex will approach the coast of northeastern Mexico or southern Texas on Wednesday and make landfall in the hurricane warning area by Wednesday night, the Hurricane Center says.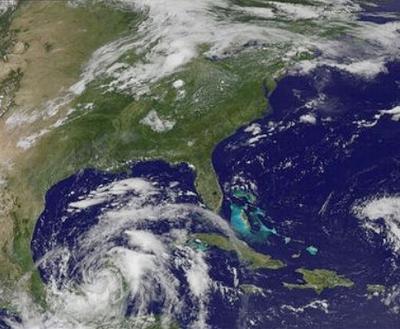 Hurricane Alex spins across the Gulf of Mexico (Photo courtesy NOAA)
While the Coast Guard and BP are not yet evacuating equipment, oil spill cleanup operations are being affected by Hurricane Alex. With inclement weather from the storm threatening to make conditions unsafe for water operations over the next few days, contractors and Coast Guard personnel based at Branch Terrebonne Parish, Louisiana, closed off passes with floating barriers to prevent any oil that may enter the lake from the BP Deepwater Horizon spill from penetrating deep into the marshes.
Hurricane Alex is expected to produce rainfall of six to 12 inches over parts of northeastern Mexico and southern Texas, with isolated maximum amounts of 20 inches.
The Hurricane Center says these rains could cause life-threatening flash floods and mudslides. "A dangerous storm surge will raise water levels by as much as three to five feet above ground level along the immediate coast to the north of where the center makes landfall," forecasters said. The surge could penetrate inland as far as several miles from the shore with depth generally decreasing as the water moves inland.
Near the coast, the surge is forecast to be accompanied by large and destructive waves.
Oil spill National Incident Commander U.S. Coast Guard Admiral Thad Allen told reporters on Monday, "Any kind of a surge from a storm would, obviously, exacerbate the oil, move it further into marshes, and would cause problems for us. So we're going to face that potential throughout the hurricane season should we have any kind of heavy weather."
"The current speed and direction and wind strength of Alex does not indicate that we should do anything regarding evacuation," said Admiral Allen. "The only impact we're seeing right now is an increase in sea state that's going to inhibit potentially the preparations we need to bring the third production vessel online."
"We have a set of criteria by which if we thought we're going to get gale force winds in 120 hours, we would start to redeploy that equipment, but those criteria are not met in this current storm," he said.
"The actual impact of Alex passing by could produce seas of 10 to 12 feet sometime in the next 36 hours or so," Admiral Allen said. "The only impact that will have on the operations will be a potential delay of the any preparations through the Helix Producer which will be the third production vessel that would take us to a capacity of 53,000 barrels by the end of the month of June."
BP is drilling two relief wells in its attempt to intercept the oil spewing into gulf waters, but in case of a strong hurricane that endeavor would have to stop.
Admiral Allen told reporters, "Regarding the relief wells, if we have to evacuate the site because of a hurricane, we estimate that there could be a break of about 14 days to take down the equipment, move it off to a safe place, and then bring it back and reestablish the drilling."
On land, preparations for an emergency are underway. The National Response Coordination Center was put on higher alert today and most federal emergency support functions were activated. The Federal Emergency Management Agency is prepositioning assets at Randolph Air Force Base in San Antonio, Texas.
Texas Governor Rick Perry today sent a letter to President Barack Obama requesting a pre-landfall emergency declaration for 19 South Texas counties that allows the state to pursue federal assistance for debris removal and actions taken to prepare for Alex.
The governor has already issued a state disaster proclamation for these counties, which allows the state to initiate necessary preparedness efforts, such as pre-deploying resources to ensure local communities are ready to respond to disasters.
"As Texas continues to monitor this storm and prepare for its impact on our coast, I urge residents living in areas in Tropical Storm Alex's projected path to take the necessary measures to protect life and property," Governor Perry said. "We will continue to work with local officials as this storm makes its way toward our communities."
Copyright Environment News Service (ENS) 2010. All rights reserved.