WASHINGTON, DC, January 21, 2013 (ENS) – In an inaugural address founded on the U.S. Constitution, President Barack Obama today indicated that in his second term he will act to forestall climate change by developing sustainable energy sources.
"We, the people, still believe that our obligations as Americans are not just to ourselves, but to all posterity. We will respond to the threat of climate change, knowing that the failure to do so would betray our children and future generations," the President said to the applause of the 800,000 people who witnessed the inauguration ceremony at the National Mall.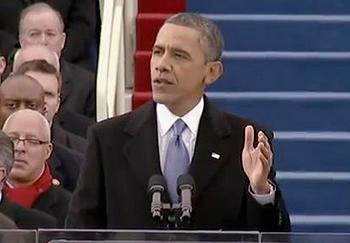 "Some may still deny the overwhelming judgment of science, but none can avoid the devastating impact of raging fires and crippling drought and more powerful storms," Obama said, recalling 2012's wildfires across the West, record-setting drought across two-thirds of the continental United States, and superstorm Sandy that in October devastated areas of 24 states.
Accepting the fact, established by numerous studies by U.S. and international scientists, that the emission of greenhouse gases from the combustion of coal, oil and gas is blanketing the Earth, raising the planetary temperature, Obama placed the feet of his administration squarely on the clean energy path.
"The path towards sustainable energy sources will be long and sometimes difficult. But America cannot resist this transition, we must lead it," the President said.
"We cannot cede to other nations the technology that will power new jobs and new industries, we must claim its promise," he said.
"That's how we will maintain our economic vitality and our national treasure – our forests and waterways, our crop lands and snow-capped peaks," he proclaimed. "That is how we will preserve our planet, commanded to our care by God. That's what will lend meaning to the creed our fathers once declared."
The environmental community was quick to respond with approval and promises to hold President Obama to his pledge, both nationally and in international negotiations.
Andrew Steer, president and CEO of the World Resources Institute said, "Today, in his second inaugural address, President Obama set a clear priority for America: address climate change and become a global leader on renewable energy development. Actions toward this end could play a transformative role in promoting America's future prosperity, and could also help bring about a truly global response to the challenge of climate change."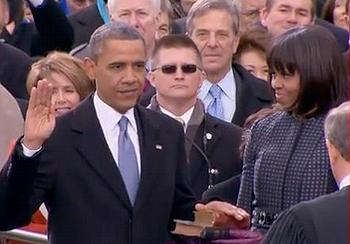 "In the coming months, we look forward to the Administration following through on the president's ringing call to action. It will be particularly important to move forward with emissions limits on existing power plants and to use other existing federal authorities to reduce greenhouse gases and drive clean energy technologies," said Steer.
"The president has already committed to launch a 'national conversation' on climate change," said Steer. "This discussion will be critical for communicating global warming's risks and building momentum, both locally and nationally. In addition to national action, we look forward to a strong foreign policy agenda with climate playing a key role – including bringing a serious, ambitious plan to the UNFCCC international climate negotiations.
"Meeting these goals – in line with the Administration's existing target of reducing greenhouse gas emissions 17 percent below 2005 levels by 2020-will be key if America is to become a global leader on renewable energy and climate action."
Fred Krupp, president of the Environmental Defense Fund said, "We at EDF share the sense of urgency President Obama described. We are fully focused on working with him and many others to achieve climate security and American clean energy innovation."
Michael Brune, Sierra Club executive director, said, "The Sierra Club is heartened by President Obama's remarks today in his second inauguration and his renewed vow to respond to the threat of climate disruption.
"Indeed, in America, our possibilities are limitless, and the Sierra Club's 2.1 million members and supporters urge the president to cement our nation's position as the global clean energy leader by going all in on sustainable energy, holding polluters accountable, and rejecting the dangerous tar sands pipeline," said Brune.
Larry Schweiger, president and CEO of the National Wildlife Federation, said, "Today, President Obama affirmed what we know in our hearts as well as our minds: we can no longer turn our head away while future generations are put in peril by climate change. His vision is clear, his resolve will be tested, and the work to protect our children's future begins anew."
"National Wildlife Federation's four million supporters are ready to help achieve politics and policies that are sufficient to meet the challenge, cutting carbon pollution in half by 2030. My hope is renewed, because confronting climate change is not a cause of a president or a party but an imperative for the American people."
According to the results of a post-election poll from Zogby Analytics published November 14, Superstorm Sandy is raising concerns about climate change and the costs and risks of extreme weather.
Two-thirds of voters polled (65 percent) say elected officials should take steps now to reduce the impact of climate change on future generations, while only 27 percent say we should wait for more evidence.
A strong majority (57 percent) of respondents say climate change is increasing the severity of extreme weather such as Superstorm Sandy and 2012 summer droughts.
Copyright Environment News Service (ENS) 2013. All rights reserved.