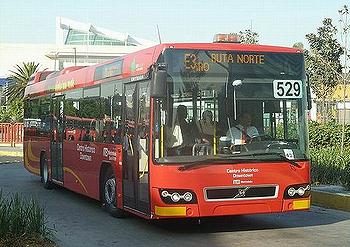 NEW YORK, New York, January 22, 2013 (ENS) – Expansion of its Bus Rapid Transit system, cycling and walking infrastructure and parking program has earned Mexico City the 2013 Sustainable Transport Award from the Institute for Transportation and Development Policy, ITDP.
The annual Sustainable Transport Award was established in eight years ago by the New York-based ITDP to recognize "leadership and visionary achievements" in clean, efficient transportation and urban livability. It is presented to a city each January for achievements in the previous year.
The 2013 award was presented to Mexico City on January 15 at a ceremony during the annual meeting of the Transportation Research Board, one of six major divisions of the U.S. National Research Council.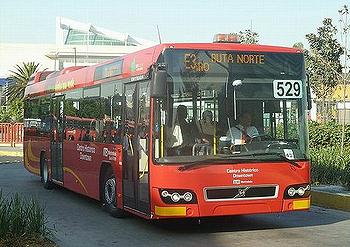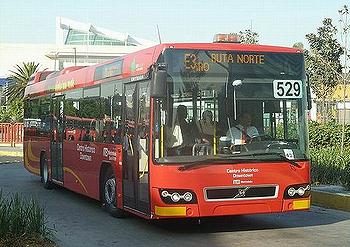 "Mexico City's urban core has been transformed from a forgotten, crime ridden neighborhood into a vital part of Mexico City's future," said Walter Hook, the ITDP's chief executive officer.
Mexico City has come a long way from the day in 1992 when the United Nations named it "the most polluted city on the planet." At the time air pollution was thought to cause 1,000 deaths and 35,000 hospitalizations every year. Today, ozone and other air pollutants stand at about the same level as those in Los Angeles.
"Mexico City was like a patient sick with heart disease, its streets were some of the most congested in the world," said Hook.
"In the last year, Mexico City extended its great Metrobus BRT system straight through the narrow congested streets of its spectacular historical core, rebuilt public parks and plazas, expanded bike sharing and bike lanes, and pedestrianized streets," he said.
Metrobus added Line 4, a corridor that extends from the historic center of the city to the airport.
Mexico City also piloted a comprehensive on-street parking reform program called ecoParq and expanded its successful public bike system, Ecobici.
"Sustainable transport systems go hand in hand with low emissions development and livable cities. Mexico City's success has proven that developing cities can achieve this, and we expect many Asian cities to follow suit," said Sophie Punte, executive director of Clear Air Asia, a member of the award selection committee.
Holger Dalkmann, president of EMBARQ, the World Resources Institute's center for sustainable transport, said many other cities will find inspiration in Mexico City's achievements. "Celebrating success is a way to highlight best practices."
Past winners of the Sustainable Transport Award include: Medellín, Colombia and San Francisco, United States (2012); Guangzhou, China (2011); Ahmedabad, India (2010); New York City, USA (2009); London, UK (2008); Paris, France (2008); Guayaquil, Ecuador (2007); Seoul, South Korea (2006), and Bogotá, Colombia (2005).
Sergio Sanchez, executive director of another committee member, the Clean Air Institute, said, "A skilled and visionary team, led and largely comprised of women, has been behind these significant planning and implementation efforts. This team has been an extraordinary partner to disseminate lessons learned and best practices from all over the region and elsewhere."
Four other cities earned Sustainable Transport Honorable Mentions: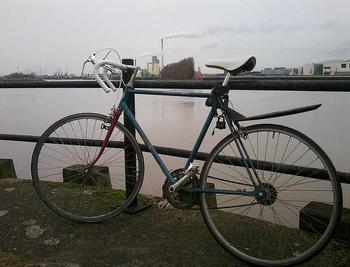 Bremen, Germany won for its sophisticated car sharing and non-motorized transport programs – 60 percent of trips in Bremen are made by cycling or walking.
"Bremen has shown the world, through its car sharing concept, that cars are just another mode of travel. While, public transport, walking and cycling are the crux for creating a livable city and cars are only a small part of the big picture," said Santhosh Kodukula, Global EcoMobility Coordinator with ICLEI – Local Governments for Sustainability, also on the award selection committee.
An international association of cities and local governments, ICLEI members are 12 mega-cities, 100 super-cities and urban regions, and 450 large cities as well as 450 small and medium-sized cities and towns in 84 countries. One of them is Bremen.
Another ICLEI city also received honorable mention – Rio de Janeiro, Brazil. Last year Rio launched its first Bus Rapid Transit corridor, Transoeste, and expanded cycle sharing.
Other honorable mentions went to:
– Lviv, Ukraine for overall improvements to public transport, walking, cycling, and traffic calming for the EURO2012 soccer championship.
Armin Wagner, Senior Transport Advisor for GIZ (Deutsche Gesellschaft für Internationale Zusammenarbeit), said the award will stimulate the entire Eastern Europe region to do the same.
"Recognizing Lviv sends a strong signal to other cities in Central and Eastern Europe that the development of cycling and the preservation and expansion of public transport are crucial to fight rapid motorization and its negative effects," Wagner said.
– Rosario, Argentina for the adoption of a comprehensive new mobility plan, prioritizing circulation of public transport in central areas, developing an extensive network of bikeways and their plans to implement a bikeshare program.
Accepting the award, Argentina's Under Secretary for Public Works Diego Leone said, "Mexico City and Rosario are remarkable examples of the rising leadership and long-term commitment from Latin American cities towards sustainable transport, climate change mitigation and clean air."
The other award selection committee members are: the United Nations Centre for Regional Development, the Transport Research Laboratory and the Transport Research Board's Transportation in the Developing Countries Committee.
Copyright Environment News Service (ENS) 2013. All rights reserved.