WASHINGTON, DC, March 17, 2016 (ENS) – The Obama Administration is withdrawing the middle and southern Atlantic seaboard from its next five-year offshore oil and gas leasing plan after objections from the Pentagon and from coastal communities in Virginia, North Carolina, South Carolina and Georgia.
Secretary of the Interior Sally Jewell proposed the withdrawal Tuesday with Bureau of Ocean Energy Management, BOEM, Director Abigail Ross Hopper as they announced the administration's leasing plans for the years 2017-2022.
The proposed Outer Continental Shelf Oil and Gas Leasing Program for 2017-2022 does not schedule any lease sales in the Mid- and South Atlantic Program Area "due to current market dynamics, strong local opposition and conflicts with competing commercial and military ocean uses," Jewell said.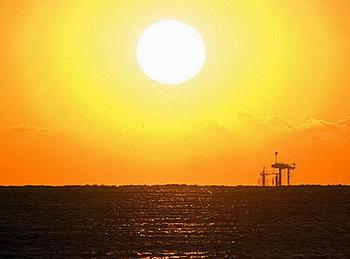 The proposal was informed by more than a million comments, 23 public meetings and extensive outreach with members of the public, non-profit organizations, industry, elected officials and other interested parties across the country, the officials said, many of the comments from those concerned about climate change.
The Surfrider Foundation and its 34 East Coast chapters worked for the past year along with other environmental groups, local communities and businesses as well as elected officials to fight Atlantic drilling because it would have made the East Coast vulnerable to oil spills.
"We are thrilled that the Obama Administration listened to the more then 1,000 coastal businesses, 80+ state legislators and 100+ coastal communities who protested against the original plan," said the Surfrider Foundation in a statement. "Through this decision, President Obama helps preserve the waters and marine life that surround our Eastern seaboard, along with the communities and people that depend upon these resources."
Currently, the Proposed Program evaluates 13 potential lease sales in six planning areas – 10 potential sales in the Gulf of Mexico and three off the coast of Alaska.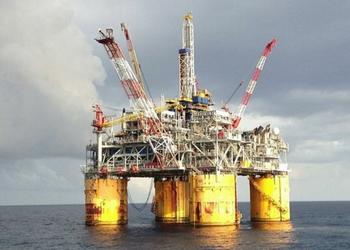 "This is a balanced proposal that protects sensitive resources and supports safe and responsible development of the nation's domestic energy resources to create jobs and reduce our dependence on foreign oil," said Secretary Jewell.
"The proposal focuses potential lease sales in areas with the highest resource potential, greatest industry interest, and established infrastructure.
"At the same time," said Jewell, "the proposal removes other areas from consideration for leasing, and seeks input on measures to further reduce potential impacts to the environment, coastal communities, and competing ocean and coastal uses, such as subsistence activities by Alaska Natives."
The Proposed Program continues a leasing strategy set forth in the current 2012-2017 Program that takes into account regional differences and information from each planning area, said Jewell.
Gulf of Mexico:
The Proposed Program includes 10 sales in the Gulf of Mexico, where resource potential and industry interest are high, and oil and gas infrastructure is well established.
The proposal continues a new approach to lease sales by proposing two annual lease sales that include all of the Western, Central, and the portion of the Eastern Gulf of Mexico not subject to the current Congressional moratorium.
Alaska:
The Proposed Program evaluates one potential sale each in the Chukchi Sea, Beaufort Sea, and Cook Inlet planning areas. The administration will take comment on other options, including an alternative that includes no new leasing, as well as other measures to protect natural resources and reduce conflicts with other ocean uses, such as subsistence activities.
During the public meetings to scope the Environmental Impact Statement, several North Slope communities noted additional areas that may not be appropriate for oil and gas leasing.
Using significant input and traditional knowledge from these communities, as well as other public comments and the best available science, BOEM has identified several areas where there is potential conflict between oil and gas activities and important ecological resources and subsistence activities.
These areas are labeled "environmentally important areas" in the EIS and are analyzed there. BOEM is seeking additional public input, particularly from Alaskan communities, regarding the resources and activities in those areas.
In a Joint Statement with Canada's Prime Minister Justin Trudeau last week, President Barack Obama announced principles for Arctic leadership, including a commitment to ensure that any commercial activities in the Arctic will occur only when the highest safety and environmental standards are met, including national and global climate and environmental goals, and Indigenous rights and agreements.
As BOEM continues offshore oil and gas planning, the agency will work with Canada to meet the world-class standard for Arctic stewardship set by the two nations.
President Obama in January 2015 designated portions of the Beaufort and Chukchi Seas off limits from consideration for future oil and gas leasing in order to protect areas of critical importance to subsistence use by Alaska Natives, as well as for their unique and sensitive environmental resources. In December 2014, President Obama similarly placed the waters of Bristol Bay off limits to oil and gas development, protecting an area known for its world-class fisheries and stunning beauty.
"We know the Arctic is a unique place of critical importance to many, including Alaska Natives who rely on the ocean for subsistence," said Jewell. "As we put together the final proposal, we want to hear from the public to help determine whether these areas are appropriate for future leasing and how we can protect environmental, cultural and subsistence resources."
Before the program is finalized and before any lease sales occur, the Interior Department will consider another round of public input on the proposal and its accompanying Draft Programmatic Environmental Impact Statement.
"Public input is paramount to our planning process, and the proposal benefits from extensive stakeholder engagement," said Director Hopper. "We will seek additional input from citizens, industry, other federal and state agencies and elected officials as we develop the proposed final program."
Environmental groups are pleased with the removal of the Atlantic from oil and gas leasing, but they are still concerned about drilling in the fragile Arctic environment.
Rhea Suh, president of the Natural Resources Defense Council, said, "By dropping the Atlantic from oil and gas leasing, the administration is standing up to Big Oil and protecting our coastal communities that rightly fear a BP-style disaster. Next, the president should finish the job, honor his historic climate agenda, and protect future generations by using his authority to permanently end the threat of drilling in the Atlantic and the Arctic."
BOEM currently manages some 5,000 active leases, covering more than 26 million acres on the Outer Continental Shelf – the vast majority in the Gulf of Mexico.
In 2015, OCS oil and gas leases accounted for about 16 percent of domestic oil production and five percent of domestic natural gas production. BOEM states, "This production generates billions of dollars in revenue for state and local governments and the U.S. taxpayer, while supporting hundreds of thousands of jobs."
Copyright Environment News Service (ENS) 2016. All rights reserved.