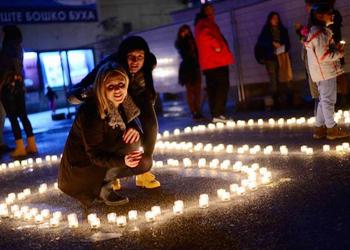 SINGAPORE, March 18, 2016 (ENS) – On Saturday, March 19 at 20:30 local time, hundreds of millions around the world will turn off the lights for Earth Hour to give the planet a rest from burning fossil fuels and demonstrate their desire to "change climate change," this year's theme.
This is the 10th year for this WWF initiative to motivate climate change action. In 2007, WWF-Australia inspired Sydney residents to show their support for climate action in the first Earth Hour event. More than 2,000 businesses and 2.2 million people went dark for an hour.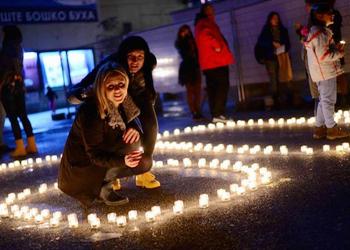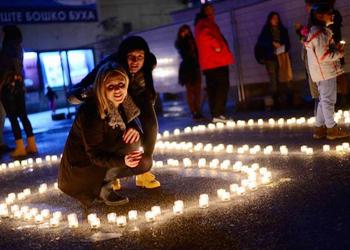 Each year since, a greater number of businesses, individuals, institutions and landmarks have participated. Last year, 7,000 cities in more than 170 countries and territories got involved.
"The world is at a climate crossroads," said Siddarth Das, executive director, Earth Hour Global, based in Singapore. "While we are experiencing the impacts of climate change more than ever, we are also witnessing a new momentum in climate action transcending borders and generations."
"From living rooms to classrooms and conference rooms, people are demanding climate action," said Das. "This 10th edition of Earth Hour is our time to ensure people are empowered to be a part of climate solutions."
This year, WWF Earth Hour organizers believe their campaign has helped persuade people to cool their demand for electricity generated by fossil fuels after 195 nations agreed in December to limit their greenhouse gas emissions under the UN's Paris Climate Agreement.
During its 10-year history Earth Hour has inspired many actions around the world that last "not for just an hour, not for just a day, not for just a year, but always," in the words of songwriter Irving Berlin.
* – Wales, UK, passed a sustainable development bill into law this week, after citizens lobbied the Assembly for the past three years using Earth Hour among other platforms.
* – WWF Uganda started the world's first Earth Hour Forest
* – More than 250,000 Russians voiced support for better protection of their country's seas and forests
* – Argentina used its 2013 Earth Hour campaign to help pass a Senate bill for a 3.4 million hectare Marine Protected Area in the country
* – Thousands of wood-saving stoves were distributed to families in Madagascar
* – Solar-powered lights were installed in three villages without electricity in India
* – In Paraguay, WWF used the Earth Hour platform to build public support to gain an extension of the logging moratorium, helping to reduce deforestation
* – Education programs for schools were launched in Thailand and Taiwan
* – Hundreds of thousands of LED lights were installed by Girl Scouts in the United States
* – More than 2,123 mitigation actions were submitted by Earth Hour City Challenge 2014 participating cities
And then there's the money. Earth Hour Blue is an all-new digital crowdfunding and crowdsourcing platform for the planet launched in 2014 to capture the power of the crowd and engage people around the world beyond the lights out event.
The crowdfunding section of the platform allows participants to financially support and deliver positive changes to the environment and communities all over the world.
On Saturday night, more than 350 of the world's most iconic landmarks will be turning out the lights, including: the Sydney Opera House, the Eiffel Tower in Paris, Taipei 101 in Taiwan, the Empire State Building and many Broadway theatres in New York City, the Smithsonian Institute in Washington, DC, San Francisco's Golden Gate Bridge, the Space Needle in Seattle, and dozens of the casinos on the Las Vegas Strip and in other cities across the United States.
"Earth Hour arrives at a pivotal moment. The threat has never been clearer but the momentum has never been so clearly on our side," said Lou Leonard, vice president, climate and energy, World Wildlife Fund, which is WWF in the United States.
"Last year was the warmest year on record and the first year the entire world agreed to act together to turn back the climate threat," he said. "But we can't stop here."
"As the lights go out from New Zealand to New York, it's time to do the work needed to make the Paris Agreement come alive. From the Clean Power Plan in America to a national cap-and-trade law in China, to a global system to tackle international aviation pollution, 2016 is the year where we can prove that a zero-carbon future is within our grasp," Leonard said. "It's up to all of us to do our part."
Earth Hour is not just for individuals – it's for cities, too. WWF's Earth Hour City Challenge is mobilizing action and support from cities everywhere in the global move to a climate-friendly future.
Cities are invited to report inspiring and credible commitments and actions that build climate resilient communities based on renewable energy and low carbon development. Recognition is the reward.
One city will be crowned as the 2016 global Earth Hour Capital, selected by an international jury of experts from among 124 participating cities across 21 countries.
Copyright Environment News Service (ENS) 2016. All rights reserved.
© 2016, News Editor. All rights reserved.