Obama Administration Promotes Aquaculture in U.S. Waters
WASHINGTON, DC, June 13, 2011 (ENS) – The United States needs to stop buying so much farm-raised fish from other countries and start producing its own, the Obama administration officials said Friday, releasing the first set of national sustainable marine aquaculture policies.
Foreign aquaculture accounts for about half of the 84 percent of seafood imported by the United States, contributing to the $9 billion trade deficit in seafood, said Commerce Secretary Gary Locke.
"Our current trade deficit in seafood is approximately $9 billion," said Locke. "Encouraging and developing the U.S. aquaculture industry will result in economic growth and create jobs at home, support exports to global markets, and spur new innovations in technology to support the industry."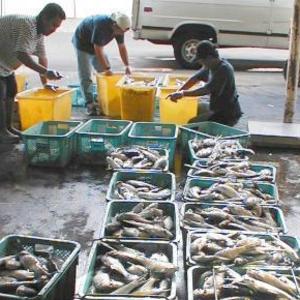 Moi, or Pacific threadfin, are sorted for market after harvest from an offshore aquaculture net cage in Hawaii. (Photo courtesy NOAA)
"Sustainable domestic aquaculture can help us meet the increasing demand for seafood and create jobs in our coastal communities," said NOAA Administrator Jane Lubchenco, PhD. "Our vision is that domestic aquaculture will provide an additional source of healthy seafood to complement wild fisheries, while supporting healthy ecosystems and coastal economies."
Global wild fisheries are in decline, with habitat such as estuaries in critical condition.
But the farming of fish that eat other fish, like salmon, does not help. Numerous studies have shown that salmon farming has negative impacts on wild salmon, as well as the forage fish that need to be caught to feed them.
Aquaculture can be more environmentally damaging than wild fisheries on a local basis. Concerns include waste handling, side-effects of antibiotics, competition between farmed and wild animals, and using other fish to feed more marketable carnivorous fish.
To maximize growth and enhance flavor, aquaculture farms use large quantities of fishmeal and fish oil made from less valuable wild-caught species, including anchoveta and sardine.
In 2009, aquaculture for the first time supplied half of the total fish and shellfish for human consumption,
"Aquaculture's share of global fishmeal and fish oil consumption more than doubled over the past decade to 68 percent and 88 percent, respectively," wrote Rosamond Naylor, a professor of environmental Earth system science at Stanford University and director of the Stanford Program on Food Security and the Environment in a 2009 study published in the Proceedings of the National Academy of Sciences.
"The huge expansion is being driven by demand," wrote Naylor. "As long as we are a health-conscious population trying to get our most healthy oils from fish, we are going to be demanding more of aquaculture and putting a lot of pressure on marine fisheries to meet that need."
The new aquaculture policies, which reflect the public comments received after draft policies were released on February 9, focus on:
encouraging and fostering sustainable aquaculture that increases the value of domestic aquaculture production and creates American business, jobs, and trade opportunities
making timely management decisions based on the best scientific information available
advancing sustainable aquaculture science
ensuring aquaculture decisions protect wild species and healthy coastal and ocean ecosystems
developing sustainable aquaculture compatible with other uses;
working with partners domestically and internationally
promoting a level playing field for U.S. aquaculture businesses engaged in international trade, working to remove foreign trade barriers, and enforcing our rights under U.S. trade agreements
Along with the Obama administration's new policy, the Commerce Department and NOAA announced additional steps in the future to support the development of the aquaculture industry through:
Developing a National Shellfish Initiative in partnership with the shellfish industry to increase commercial production of shellfish, which would create jobs, provide locally-produced food, restore shellfish populations and habitats, and improve water quality.
Implementing the Gulf of Mexico Fishery Management Plan for Aquaculture, which includes the regulatory infrastructure needed for offshore aquaculture development in the Gulf.
The domestic aquaculture industry – both freshwater and marine – currently supplies about five percent of the seafood consumed in the United States.
The cultivation of shellfish, such as oysters, clams, and mussels, comprises about two-thirds of U.S. marine aquaculture production.
Salmon and shrimp aquaculture contribute about 25 percent and 10 percent, respectively. Current production takes place mainly on land, in ponds, and in states' coastal waters.
"This new focus on helping us develop and expand sustainable aquaculture is welcomed," said Bill Dewey, a shellfish biologist and clam farmer of more than 27 years based in Shelton, Washington. "When done right, aquaculture can improve the environment, provide jobs and reclaim American dollars that are being spent on imported aquaculture products."
Copyright Environment News Service,ENS, 2011. All rights reserved.
Environment News Service (ENS) © 2011 – 2012 All Rights Reserved.