Obama Administration Plans for 60 MPG Vehicles in 2025
WASHINGTON, DC, October 1, 2010 (ENS) – The Obama administration served notice today that it is developing tougher greenhouse gas and fuel economy standards for passenger cars and trucks built in model years 2017 through 2025. A national program finalized in April covers cars from model years 2012-2016.
The program is in keeping with President Barack Obama's vision to reduce greenhouse gases and increase fuel efficiency and lead the world in the development of a new generation of clean cars and trucks through innovative technologies and manufacturing, the National Highway Traffic Safety Administration and the U.S. Environmental Protection Agency said in a joint statement.
"Climate change is the single greatest long-term global environmental challenge," the agencies said. "Cars, SUVs, minivans, and pickup trucks are responsible for 57 percent of U.S. transportation petroleum use and almost 60 percent of all transportation-related greenhouse gas emissions."
"Continuing the successful clean cars program will accelerate the environmental benefits, health protections and clean technology advances over the long-term. In addition to protecting our air and cutting fuel consumption, a clear path forward will give American automakers the certainty they need to make the right investments and promote innovations," said EPA Administrator Lisa Jackson.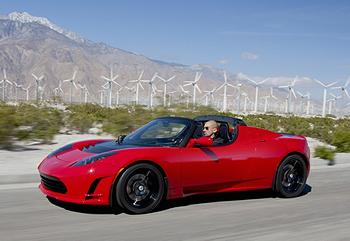 A Tesla electric roadster drives by wind turbines. (Photo courtesy Tesla Motors)
"We will continue to work with automakers, environmentalists and other stakeholders to encourage standards that reduce our addiction to foreign oil, save money for American drivers, and clean up the air we breathe," she said.
"We must, and we will, keep the momentum going to make sure that all motor vehicles sold in America are realizing the best fuel economy and greenhouse gas reductions possible," said U.S. Transportation Secretary Ray LaHood.
"Continuing the national program would help create a more secure energy future by reducing the nation's dependence on oil, which has been a national objective since the first oil price shocks in the 1970s," said LaHood.
Today's Notice of Intent meets the requirements of President Obama's May 21 Memorandum, which directed EPA and DOT to lay out a coordinated plan, to propose regulations to extend the national program and to coordinate with the California Air Resources Board in developing a technical assessment to inform the rulemaking process.
In response, the three agencies performed an initial assessment of potential future standards, which found annual greenhouse gas reductions in the range of three to six percent per year, or 47 to 62 mpg in 2025, are possible.
The agencies said their assessment demonstrates that "advanced technologies can be used to achieve substantial reductions in fuel consumption and greenhouse gases."
Based on this analysis and the assumptions employed, the agencies found that the per-vehicle cost increases for a 2025 vehicle ranged from $770 to $3,500 across the range of stringency targets and technology pathways.
The fuel savings achieved by MY 2025 vehicles meeting these more stringent targets would result in a net lifetime savings of between $4,900 and $7,400.
The greenhouse gas reductions ranged from 340 to 590 million metric tons and fuel reduction ranged from 0.7 to 1.3 billion barrels over the lifetime of MY 2025 vehicles.
In stakeholder meetings this summer, the agencies heard from the automakers, nongovernmental organizations, representatives from the National Association for Clean Air Agencies, the Northeast States for Coordinated Air Use Management, 10 state and local governments, and the United Auto Workers.
Sierra Club Green Transportation Director Ann Mesnikoff said today, "We welcome the announcement today that EPA and DOT can set a six percent per year annual decrease in global warming pollution for new vehicles between 2017-2025."
"Despite expected resistance from the auto industry, fuel saving technologies are available to get to, or surpass, 60 mpg in 2025," said Mesnikoff. "Consumers will save far more at the pump than the technologies cost. There is no reason to aim lower."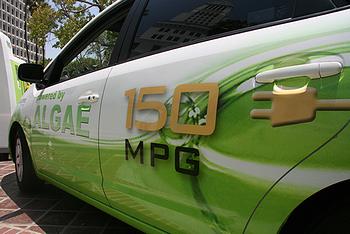 This Chevy Volt, an electric car powered by fuel made from algae, showed up at the Los Angeles Civic Center for an electric vehicle conference, June 2010. (Photo courtesy Mayor Antonio Villaraigosa)
Along with the Natural Resources Defense Council, the Union of Concerned Scientists and Environment America, the Sierra Club continues to call on the administration to set a standard of at least 60 mpg by 2025 and a global warming pollution standard of 143 grams per mile. The groups jointly have established www.GO60mpg.com to promote this effort.
Speaking for the Alliance of Automobile Manufacturers, a trade association of 12 major car and light truck manufacturers, Dave McCurdy said today the Alliance supports a single national program to improve fuel economy and reduce greenhouse gas emissions.
McCurdy said the Alliance is "committed to working collaboratively" with the federal agencies and the state of California to "achieve these goals in a way that allows consumers to choose and afford vehicles that fit their needs."
The Alliance will review the technical assessment's assumptions regarding factors that will impact vehicle fuel economy increases over the 2017 through 2025 time period.
"These include vehicle technologies and technology costs, the cost of gasoline, development of low-carbon fuels, and development of infrastructure to charge plug-in hybrids and battery electrics," McCurdy said, noting these assumptions "are based on very preliminary and incomplete data" and will be subject to change.
McCurdy said the federal agencies should now engage independent experts "to undertake a thorough analysis and balance the technological opportunities to improve vehicle and fleet fuel economy with the economic challenges they present."
The agencies analyzed four technology pathway scenarios that the industry could pursue to achieve more stringent targets, recognizing there are a wide range of pathways individual manufacturers could pursue.
One scenario relied upon advanced next generation gasoline vehicles and mass reduction, in other words, fewer cars on the road.
The second scenario focused on hybridization and electrification of the fleet with hybrid electric vehicles, plug-in hybrids, and fully electric vehicles, and the third was a blend of the first two.
The fourth pathway emphasizes electric vehicles and plug-in hybrids, with a lesser degree of emphasis on advanced gasoline, hybrid electric vehicles, and mass reduction approaches.
The agencies emphasize that the Technical Assessment Report reaches no specific conclusions regarding the levels of stringency to propose for MYs 2017-2025. The report is an important step in a continuation of the National Program, but significant work remains to be done to support a future federal rulemaking.
More information on the Notice of Intent, the technical assessment, and submitting comments is online at: http://www.nhtsa.gov/fuel-economy and http://www.epa.gov/otaq/climate/regulations.htm
Copyright Environment News Service (ENS) 2010. All rights reserved.