Admiral Allen Steps Down as Gulf Oil Spill Response Commander
WASHINGTON, DC, October 1, 2010 (ENS) – With BP's Deepwater Horizon oil spill capped and the equipment needed as evidence in ongoing investigations hauled up from the depths of the Gulf of Mexico, the man in charge of the federal government's oil spill response is moving on.
Today Thad Allen, a retired U.S. Coast Guard admiral, "disestablished" the National Incident Command he has headed since April 30, ten days after the explosion aboard the Deepwater Horizon oil rig that killed 11 men and triggered the largest oil spill in history.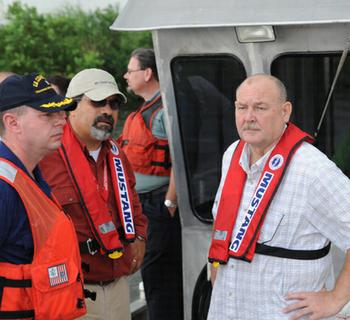 Retired U.S. Coast Guard Adm. Thad Allen, national incident commander for the Deepwater Horizon oil spill response, tours the marshes in Barataria Bay, Louisiana, August 31, 2010. (Photo courtesy USCG)
"I have transferred oversight of the BP oil spill response to Rear Admiral Paul Zukunft, the Unified Area Commander, in New Orleans," Allen said. "Response operations will continue under transition plans that have developed with our state and local partners. Unity of effort must continue to be our common goal. Our commitment to this response and the people of the Gulf of Mexico remains."
At the height of the spill response, as many as 47,848 responders, 8,044 vessels and 123 aircraft were deployed to the Gulf of Mexico to spot, track and recover oil.
"This response has been unprecedented in its scope and complexity and we cannot forget the 11 crew members that lost their lives," Allen said today. "As I transition to a new phase of my professional life, I want to thank the thousands of individuals from all levels of government, local communities and organizations, and the private sector who worked tirelessly to contain the discharge, shut in the well, clean up the oil and mitigate the impacts of the spill. It has been my honor to have served with them."
President Barack Obama said he is "profoundly grateful" to Admiral Allen for his years of dedicated service to the nation and for his "outstanding leadership" of the BP oil spill response effort.
"At a time when he could have enjoyed a well-deserved retirement from the United States Coast Guard, Admiral Allen stepped up to the plate and served his country when his skills and experience were urgently needed," the President said. "This unprecedented response effort simply could not have succeeded without Admiral Allen at the helm, and the nation owes him a debt of gratitude."
Now, as the response transitions from the emergency to recovery phase, the focus of operations has shifted to the beaches, marshes, wetlands and other sensitive coastal areas for cleanup and equipment removal while scientists continue to monitor the water for the presence of remaining oil.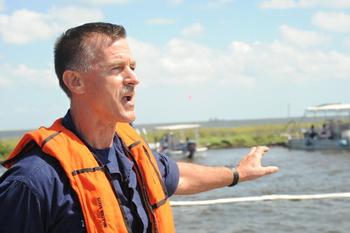 Rear Adm. Paul Zukunft, federal on-scene coordinator for the Deepwater Horizon response, September 21, 2010. (Photo courtesy USCG)
On September 20, the Unified Area Command consolidated Incident Command Posts in Houma, Louisiana, and Mobile, Alabama, into a Gulf Coast Incident Management Team located in New Orleans headed by Rear Admiral Zukunft.
The consolidation plan was approved by the Zukunft in consultation with gulf state governors, and state and local officials based on feedback provided by incident commanders on the status of response activities.
"While the risk posed by the wellhead has ended," Zukunft said, "we still have 25 thousand workers conducting clean up operations along 600 miles of shoreline and this consolidation of our command structure allows us to more efficiently support those operations while allowing federal agencies to redeploy hundreds of personnel where they are most needed."
Allen said that starting Monday he will join the Rand Corporation, a nonprofit research, analysis and policy group.
Allen will be based in the Rand office in Arlington, Virginia, and will focus his work on homeland security, ocean policy and defense policy issues.
His work at Rand will be concentrated in the Rand Homeland Security and Defense Center, a joint center of the Rand National Security Research Division and Rand Infrastructure, Safety, and Environment. The center conducts analysis to prepare and protect communities and critical infrastructure from natural disasters and terrorism.
Rand President and CEO James Thomson said, "Thad Allen has served the U.S. government and U.S. Coast Guard with great distinction. We are delighted he will continue to take on the most difficult policy challenges as a Rand senior fellow. His experience and expertise will be apparent in our research and analysis on an array of homeland security, environmental and national security challenges."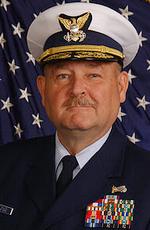 Admiral Thad Allen (Photo courtesy USCG)
Allen was scheduled to join Rand in May 2010, shortly after he retired as commandant of the U.S. Coast Guard. But his transition was delayed when he was asked by President Obama to manage the oil spill emergency response and clean-up, for which his leadership has been widely praised.
Allen became the 23rd Commandant of the U.S. Coast Guard in May of 2006 and was still Commandant when he was appointed National Incident Commander of the gulf oil spill.
Allen officially retired from the Coast Guard on June 30, but continued to serve as the National Incident Commander as a civilian and senior executive on the staff of Department of Homeland Security Secretary Janet Napolitano, who commended him today for his "strong leadership" and his "exceptional service."
While serving as the Coast Guard's chief of staff, Allen served as the principal federal official overseeing Hurricane Katrina response and recovery efforts in the Gulf Coast region.
Allen also served as commander of the Coast Guard's Atlantic forces in their response to the terrorist attacks on September 11, 2001.
Allen received his bachelor's degree from the United States Coast Guard Academy, a master of public administration from George Washington University and a master's degree in management from the Massachusetts Institute of Technology Sloan School of Management.
He is the recipient of two Homeland Security Distinguished Service Medals, the Defense Distinguished Service Medal, three Coast Guard Distinguished Service Medals, a Legion of Merit Medal and three Meritorious Service Medals.
Copyright Environment News Service (ENS) 2010. All rights reserved.