Obama Administration Lifts Deepwater Drilling Moratorium
WASHINGTON, DC, October 12, 2010 (ENS) – The moratorium on deepwater oil and gas drilling, imposed by the Obama administration in July in response to BP's catastropic Deepwater Horizon oil spill in the Gulf of Mexico, was lifted today six weeks ahead of schedule.
Interior Secretary Ken Salazar said it is "appropriate" that deepwater oil and gas drilling resume, provided that operators certify compliance with all existing rules and requirements, including those that recently went into effect, and demonstrate the availability of adequate blowout containment resources.
Lifting the moratorium clears the way for 33 affected oil rigs in the Gulf of Mexico to resume drilling operations.
"We have more work to do in our reform agenda, but at this point we believe the strengthened safety measures we have implemented, along with improved spill response and blowout containment capabilities, have reduced risks to a point where operators who play by the rules and clear the higher bar can be allowed to resume," Salazar said.
The recent safety rules include the Drilling Safety Rule, issued September 30 under an emergency rule-making process, which strengthens requirements for safety equipment, well control systems, and blowout prevention practices on offshore oil and gas operations.
"The oil and gas industry will be operating under tighter rules, stronger oversight, and in a regulatory environment that will remain dynamic as we continue to build on the reforms we have already implemented," Salazar said.
Secretary Salazar reached his decision after reviewing a report from Michael Bromwich, director of the Bureau of Ocean Energy Management, Regulation, and Enforcement, BOEM.
Bromwich prepared his October 1 report and recommendations based on public outreach and information gathering, including the eight public forums he held around the country in August and September to assess safety, spill response, and blowout containment issues.
"More needs to be done," said Bromwich, "and more will be done to continuously improve the safety of deepwater drilling and to bolster the ability of the government and industry to respond in the case of a major blowout. But we believe the risks of deepwater drilling have been reduced sufficiently to allow drilling under existing and new regulations."
The American Petroleum Institute, while pleased that the moratorium has been lifted, expressed concern today that a de facto moratorium could be created by delays in the processing and approval of permits, which could reduce production, government revenues and jobs.
API President and CEO Jack Gerard said, "Without additional resources and a serious commitment by the government to process and approve permits and other requirements expeditiously, the moratorium will give way to a de facto moratorium, which will continue to cripple the already hard-hit Gulf region and cost more than 175,000 American jobs a year."
"The oil and natural gas industry is committed to safe and environmentally responsible operations. Both the industry and regulators have added safeguards to ensure responsible operations," said Gerard. "Regulators need to quickly put in place a system that allows companies that show their compliance with new standards to resume operations immediately."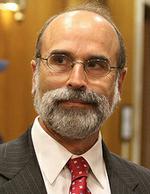 Michael Bromwich, director of the Bureau of Ocean Energy Management, Regulation, and Enforcement (Photo courtesy DOI)
But Bromwich, a former Inspector General for the Department of Justice, is not giving in to the industry's push for immediate approval of all drilling projects.
Now Bromwich is undertaking a review of the BOEM's use of "categorical exclusions" that exempt proposed offshore drilling projects from detailed environmental studies. The review will determine whether the categorical exclusion process is in full compliance with the National Environmental Policy Act.
The categorical exclusion process was established to cut the amount of unnecessary paperwork and delay associated with NEPA compliance. If a certain type of federal action would not normally result in any detrimental environmental effects, it is unnecessary to spend resources to repeatedly document that fact.
But in the past, projects may have been categorically excluded from environmental impact studies when they, in fact, posed environmental risks.
During the BOEM's review of categorical exclusions, Bromwich has directed the agency to restrict its use of categorical exclusions for offshore oil and gas development to activities involving limited environmental risk.
The public is invited to submit comments on the categorical exclusion process for Outer Continental Shelf Decisions no later than November 8, 2010. To submit electronic comments, go to http://www.regulations.gov. In the entry titled "Enter Keyword or ID," enter docket ID BOEMRE- 2010-0036, then click search. Follow the instructions to submit public comments and view supporting materials.
Alaska Governor Sean Parnell today called for an immediate lifting of the moratorium on shallow water drilling in the Beaufort Sea.
"If Secretary Salazar can lift the moratorium for wells in 5,000 feet of water, he should be able to do so for a shallow water well in the Beaufort Sea," Governor Parnell said. "While this is a step in the right direction, the 2011 drilling season in Alaska remains at stake. The industry needs regulatory certainty and predictability. Without certainty, it is very difficult for the industry to plan or invest, to the detriment of Alaska and the nation."
The State of Alaska last month filed a lawsuit against the Secretary of the Interior in U.S. District Court in Alaska to overturn the federal moratorium on offshore drilling in Alaska's Outer Continental Shelf.
"Today's decision offers no clear guidelines that pertain to Alaska," said Governor Parnell. "The Arctic moratorium violates federal law and our lawsuit against Secretary Salazar will proceed."
Director Bromwich said September 13 that no moratorium exists on shallow water activity, and that the time spent processing plans and applications is necessary to ensure that all information required by the new standards has been submitted and properly evaluated.
"I understand the frustration that people feel because we are not able to review and approve applications as expeditiously as we have in the past. But the central fact is that it has taken time to submit and verify the additional required information," said Bromwich. "We will not approve applications until and unless they fully comply with the new requirements. That will not make everyone happy, but it is the right way to proceed."
Copyright Environment News Service (ENS) 2010. All rights reserved.
Environment News Service (ENS) © 2010 – 2012 All Rights Reserved.