China Seeks Funds for Tree Planting at Three Gorges Dam
BEIJING, China, October 12, 2010 (ENS) – China has launched a tree planting program to counteract soil erosion along the Three Gorges Dam section of the Yangtze River, with two ceremonies held simultaneously on Friday in Beijing and Chongqing.
The program is aimed at raising funds from individual and institutional donors for planting trees on 253,333 hectares (978 square miles) along the banks of the Yangtze River in Chongqing, a city of more than 30 million residents.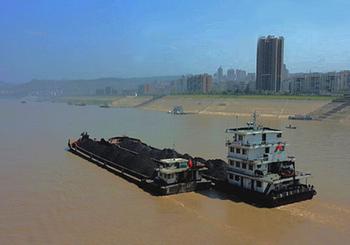 Coal carriers on the Yangtze River at Chongqing (Photo by Bilwander)
Jia Qinglin, chairman of the National Committee of the Chinese People's Political Consultative Conference, is the honorary chairman of the organizational committee of the program.
Vice Premier Hui Liangyu and Chongqing Party chief Bo Xilai attended and addressed the ceremony in Beijing.
Hui said the tree-planting program would be a great contribution to the afforestation and protection of the Yangtze River as well as a new probe for the bio-environmental protection of China's major rivers.
The vice premier acknowleged that the Yangtze River is still facing severe environmental deterioration and soil erosion, despite past afforestation efforts along the river.
In his speech, Bo said that Chongqing will take three to five years to increase the forest coverage in the dam area to 65 percent, from the present 22.2 percent.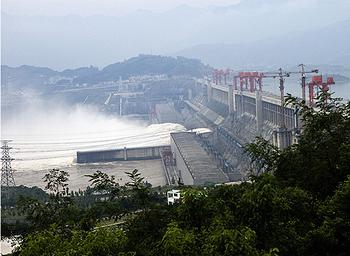 Three Gorges Dam, September 2010 (Photo by Tom Ommen)
Currently, he said, soil-erosion has covered over 20,000 square kilometers (77 square miles), or about 50 percent of the total area for which he is responsible.
Chongqing plans to raise over 10 billion yuan (US$1.5 billion) from institutional and individual donors for the tree-planting program, he said.
The Three Gorges Dam that spans the Yangtze River is the world's largest electricity-generating plant and provides flood control as well.
It began producing electricity in 2003 with six generating units operational and by 2009 it was producing electricity with 26 installed units.
Six additional generators in the underground power plant are not expected to become fully operational until 2011.
Coupling the dam's 32 main generators with two smaller generators that power the plant itself, the total electric generating capacity of the dam will eventually reach 22.5 gigawatts.
During construction, the dam flooded archaeological and cultural sites and displaced some 1.3 million people, and is causing significant ecological changes, including an increased risk of landslides.
Erosion in the reservoir, which occurs as the water rises, causes frequent major landslides. These include two incidents in May 2009 when 50,000 and 20,000 cubic metres (65,000 and 26,000 cubic yards) of material plunged into the flooded Wuxia Gorge of the Wu River.
Copyright Environment News Service (ENS) 2010. All rights reserved.
Environment News Service (ENS) © 2010 – 2012 All Rights Reserved.