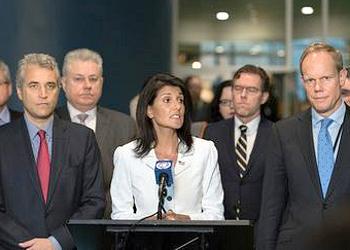 NEW YORK, New York, March 29, 2017 (ENS) – Nuclear powers, including the United States, Britain and France are among nearly 40 countries boycotting the first UN conference in more than 20 years on a global nuclear weapons ban treaty at the United Nations this week.
More than 110 other countries are participating, but none of them belong to the group of countries that possess nuclear weapons.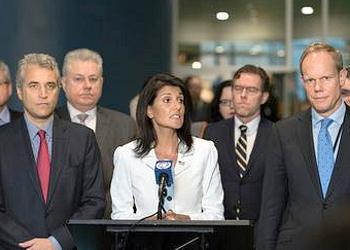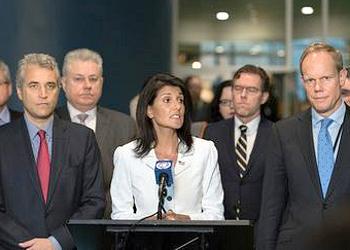 "There is nothing I want more for my family than a world with no nuclear weapons," said Ambassador Nikki Haley of the United States outside the UN General Assembly Monday as the talks began inside. "But we have to be realistic. Is there anyone who thinks that North Korea would ban nuclear weapons?"
"In this day and time we can't honestly say we can protect our people by allowing bad actors to have them and those of us that are good trying to keep peace and safety not to have them," Haley said.
Haley spoke as part of a group of about 20 ambassadors who did not join the negotiations, including South Korea, Turkey and several eastern European countries.
Russia and China, India and Pakistan also are boycotting the talks.
According to 2016 estimates, more than 15,000 nuclear warheads remain in global stockpiles.
Inside, the nuclear weapons ban talks are being led by Austria, Brazil, Ireland, Mexico, South Africa and Sweden, supported by hundreds of nonprofit organizations.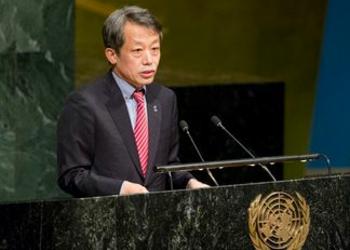 Kim Won-soo of South Korea, the UN High Representative for Disarmament Affairs, said that creating a world free of nuclear weapons is a common obligation of all States, both nuclear and non-nuclear, and called for their inclusive engagement.
Speaking on behalf of UN Secretary-General Antonio Guterres, he expressed hope that a legally binding instrument to prohibit nuclear weapons will strengthen the Nuclear Non-Proliferation Treaty and advance the world closer to the total elimination of nuclear weapons.
Yet Kim acknowledged that "defeatism and dismissiveness" now permeate international deliberations on disarmament, and warned that the public at large seems to be losing interest in the issue.
Indeed, it is hard to imagine these days a gathering of one million people in the street in support of nuclear disarmament, as the world witnessed in the 1980s, he said.
"We need to find a new way to inspire and motivate the public in support of disarmament, in the same way that they have been energized to respond to the challenge of climate change, an existential threat facing humanity," said Kim.
"The possession of nuclear weapons, which are linked with the threat of their use, is fundamentally incompatible with humanity's common aspirations for peace and security," Kim said.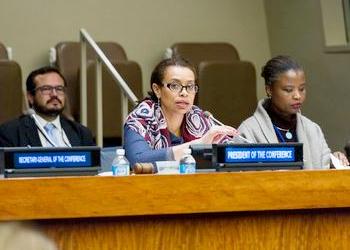 "Supporters of a legally binding instrument to prohibit nuclear weapons consider that it would be an interim or partial step towards nuclear disarmament because it would not include measures for elimination – matters that would be left for future negotiations," the UN said in a statement. "Rather, it would be aimed at contributing to the progressive stigmatization of nuclear weapons."
The nuclear weapons ban treaty talks opened Monday at UN headquarters and continue through March 31. The conference is scheduled to resume from June 15 to July 7.
Meanwhile, in Vienna, nuclear safety is being discussed over the next two weeks, where over 900 delegates from around the world are meeting at the headquarters of the International Atomic Energy Agency, IAEA.
The purpose of this event is to peer review the work carried out by countries to fulfill their obligations under the Convention on Nuclear Safety which came into force in 1996. The convention aims to achieve and maintain a high level of safety at nuclear installations worldwide through enhancing national measures and international cooperation.
Copyright Environment News Service (ENS) 2017. All rights reserved.
© 2017, News Editor. All rights reserved.