CHANGSHA, China, July 3, 2013 (ENS) – Animal welfare organizations from across China have agreed to work together against what they term the "criminal and cruel" dog and cat meat industry. Animal protection organizations have formed the Asia Canine Protection Alliance to end the dog meat trade responsible for the slaughter of millions of dogs each year.
In June, over 170 delegates attended the Fourth China Companion Animal Symposium in Changsha, Hunan province. They represented around 100 NGOs, covering grassroots Chinese organizations as well as international charities.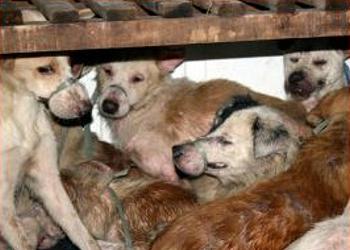 The symposium was hosted by the Animals Asia Foundation, an NGO devoted to improving the welfare of animals in China and Vietnam by advocating compassion and respect for all animals, and a member of the newly formed Asia Canine Protection Alliance.
Alliance members Humane Society International and the Changsha Small Animal Protection Association were co-organizers.
The event was timed to coincide with one event that the delegates want to fight. On June 21, the day of the symposium, the Yulin summer solstice dog-eating festival was underway.
This year, the dog-eating event went ahead in Guangxi Yulin province, despite increased local and international pressure to stop it. It is estimated that over 10,000 dogs are killed during the one-day annual event.
The dog meat tradition is not unique to Yulin. Other places in China, such as Zhejiang and Guangdong province, also are known for eating dog.
At least 10 million dogs are believed to be killed for consumption of their meat in China annually, most in south China and northeast China, according to the Humane Society International, although the ancient practice of eating dog and cat meat has become increasingly distasteful for China's growing number of pet lovers.
Dog meat production has evolved from small-scale household businesses to a multi-million dollar industry of illicit dog traders, according to the Humane Society International. The trade has been linked to outbreaks of trichinellosis, cholera and rabies. The World Health Organization recently cited the trade as a contributing factor in recent outbreaks of rabies in Indonesia and cholera in Vietnam.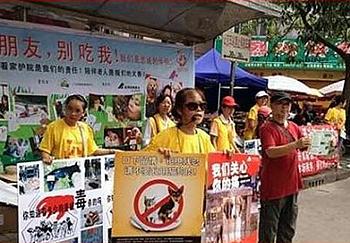 But as the industry has grown, opposition to it has also grown. Last year, a dog meat festival in Jinhua City, Zhejing province ended after opposition from Chinese animal groups.
Survey data presented to delegates at Changsha, collected from across 28 Chinese provinces, shows that the dog meat industry continues to rely on animals stolen from homes as well as strays.
Many such dogs are poisoned before being taken to markets and restaurants and are served with toxic residues still present in the meat.
Delegates shared evidence that criminality extends to every level of the dog meat trade from theft to transportation and sale. The findings contributed by delegates will be published later this year.
The delegates agreed a final resolution to work together across China towards common goals.
It specifies reducing demand by educating the public to the cruelty and health risks associated with dog and cat meat.
The animal welfare NGOs plan on working with the government to highlight and crackdown on the illegalities of the dog meat and cat meat trade.
Speakers included internationally-renowned experts alongside local activists. Everyone was encouraged to share experiences on how best to work within the law and with the government to combat illegal business practices by the dog and cat meat industry.
Best practices were shared to assist grassroots organizations in their growth and increased effectiveness.
In the seven years since the China Companion Animal Symposium started, the number of NGOs represented has more than trebled, which organizers say reflects the increased interest in animal welfare in China.
Copyright Environment News Service (ENS) 2013. All rights reserved.