New York Data Centers, Factories Get $100 Million for Energy Efficiency
ALBANY, New York, March 17, 2010 (ENS) – New York State is investing more than $100 million over two years to help data centers and manufacturers control energy costs and improve their competitiveness, the New York State Energy Research and Development Authority, NYSERDA, announced today.
Funding disbursed through the state's Industrial and Process Efficiency Program will support energy studies and capital improvements to increase energy efficiency and productivity and reduce waste.
"The investments NYSERDA is making in energy efficiency are absolutely critical for both improving New York's economy and protecting our environment," said Francis J. Murray Jr., the agency's president and CEO.
"New York is a great place to do business, and our funds will help leverage New York's benefits as a business location, while making the businesses that are here more competitive in the marketplace," he said.
To help manufacturers and data centers identify cost-effective energy saving options and educate these businesses on available funding, NYSERDA has awarded each of three companies $2 million.
Clough Harbour & Associates of Albany, Energy & Resource Solutions of New York, and Willdan Energy Solutions, also based in New York, will work with eligible companies to help them take advantage of the program funding, improve energy efficiency in their facilities, and reduce their overall cost of doing business.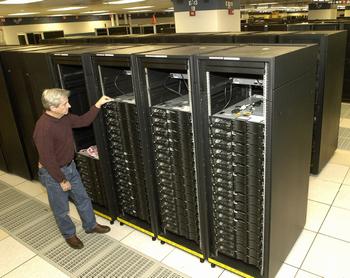 IBM lead engineer Don Grice inspects a supercomputer in the company's Poughkeepsie, New York plant. (Photo courtesy IBM)
Some New York companies are already moving to upgrade the energy efficiency of data centers. Last May, Syracuse University and New York State entered into an agreement to build and operate a new computer data center on the university's campus that will incorporate advanced infrastructure and smarter computing technologies to make it one of the most energy efficient data centers in the world.
Through its Smarter Planet initiative, New York-based IBM is working with the state and the university to ensure the new data center uses 50 percent less energy than a typical data center today, making it one of the greenest computer centers in operation.
"Energy use is becoming the largest single cost in operating data centers – with $2 billion per year wasted nationally due to inefficiencies – and IBM is dedicated to helping customers reduce electricity consumption to benefit their businesses and the environment," says Vijay Lund, vice president for development and manufacturing operations in IBM's Systems and Technology Group.
In 2009, NYSERDA invested about $4 million to improve the energy efficiency of manufacturing and data center facilities, reducing their energy consumption by nearly 41 million kilowatt hours of electricity – the equivalent of supplying nearly 6,300 single family homes with electricity for a year.
NYSERDA already offers incentives for all business sectors to retrofit existing buildings and incorporate energy efficiency measures into new buildings, but the $100 million announced today is being targeted specifically to data centers and manufacturers. These businesses are among the largest consumers of energy and have good potential for efficient growth, Murray said.
Funding for this new initiative is collected from electricity customers by their utilities through the System Benefits Charge. For this charge, each utility must collect a sum roughly equal to 1.42 percent of its 2004 revenue and submit this sum to NYSERDA every year.
The funding announced today uses $100 million of the $175 million raised annually by the System Benefits Charge through 2011, when the charge again comes before the Public Service Commission for reauthorization.
This initiative is part of New York's Energy Efficiency Portfolio Standard, a statewide program to reduce New Yorkers' electricity usage 15 percent of forecast levels by the year 2015, with comparable results in natural gas conservation.
On June 23, 2008, the Public Service Commission issued a decision establishing the New York Energy Efficiency Portfolio Standard and set interim targets and funding through the year 2011.
The state's utilities were required to file energy efficiency programs, and NYSERDA as well as independent parties, were invited to submit energy efficiency program proposals for Commission approval.
Between June 2009 and January 2010, the Commission approved 45 electric energy efficiency programs and 44 gas efficiency programs.
Copyright Environment News Service (ENS) 2010. All rights reserved.
Environment News Service (ENS) © 2010 – 2012 All Rights Reserved.